Giants v Swans – NAB Challenge (20th February)
Tom Mitchell went 2013 'beast mode' on everyone and now must be on your radar if not in your forward line after what he did tonight. Check out Calvin's take on what went down in Canberra.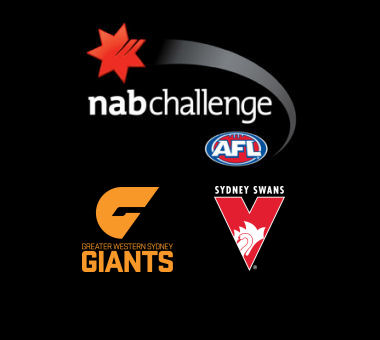 GWS Giants v Sydney Swans.
Canberra. Thursday 20th February, 2013.
Click here for AFL Match Centre.
SYDNEY SWANS
Yes that's right… Tom Mitchell (FWD/MID) went bloody bananas tonight posting a huge 138pts in 72% game time. He had 34 touches, 6 c and 2 sausage rolls (with sauce). MASSIVE!! Oh and did I mention he scored 91pts in the last half. Yes he did. Pig nomination? Ha ha c'mon… not yet. In other news from the night, Luke Parker who is also named as a FWD/MID like Mitchell this year… 2nd topped scored for the Swans with 98pts causing many coaches across the country to shuffle their teams tonight trying to squeeze the boys in.
In other news for the Swans, Tom Derickx provided us with a handy 65pts with 23 hitouts. He was pretty much the #1 ruck tonight and was on for 80% of the time against former ruck buddy (Mumford). Naismith took on some of the duties but Derickx certainly showed us he's not a bad option at this early stage of the year coming in at just $135,500 (Fantasy).
Gary Rohan finally got going after a slow start to finish on 58pts after scoring 23pts in the final term. Although he wasn't brilliant, he scored this in 71% game time and I believe the potential is there and he will still sit in my extended squad for now.
GREATER WESTERN SYDNEY GIANTS
Former #1 draft pick Lachie Whitfield showed he was in great touch. In just 67% of game time he had 25d and 3 goals for his 106pts whilst Toby Green racked up a casual 30 touches for his score of 101 (72% TOG). Shane Mumford clocked up 30 hit outs (82ts) against his old club and carried the majority of duties himself with Giles popping in from time to time.
Jed Lamb is on the radar for many coaches at the moment and was solid enough for now. He had 56pts from just 12 touches in just over half the time on the field. It's not pretty good and you'd be silly to cross him off completely just yet… But is he in the best 22?
Heath Shaw only scored 52pts from his 82% game time. A spud effort really and nearly spent the most amount of time on the field than anyone. Get of Heath or score some points!
Other than that, there isn't too much else to really mention. Coniglio (92pts) and Treloar (94pts) were all quiet impressive and knocked up solid numbers. These guys could both breakout this year. My money is on Treloar though. The kid is a magnet!
@CalvinDT – get around me