Bulldogs v Saints – NAB Challenge (19th February)
Ok, so it wasn't the prettiest game. In fact I wouldn't be surprised if no one had watched it, I wouldn't blame them. The conditions were shocking, the quarters were shorter and about 300 people rocked up.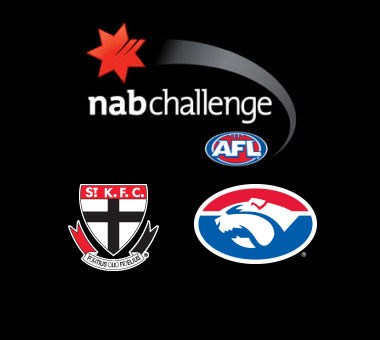 Western Bulldogs v St Kilda Saints.
Etihad Stadium. Wednesday 19th February, 2013.
Click here for AFL Match Centre.
Ok, so it wasn't the prettiest game. In fact I wouldn't be surprised if no one had watched it, I wouldn't blame them. The conditions were shocking, the quarters were shorter and about 300 people rocked up. However with 2 teams towards the bottom of the ladder looking to rebuild, we got to see some rookies in action who may actually get a chance in the real stuff.
Take into account that each quarter was shortened to 17.5 minutes, so the % TOG (Time on Ground) isn't the only thing to consider. They basically played 3 and a half quarters. Here's some of the key players I had watchlisted:
Bulldogs
Minson – After coming on as the sub in the second term, he dominated the ruck scoring 64 points in just 47% game time. Should be great again this season and amongst a lot of the injury prone rucks, Will looks a safe pick.
Liberatore – Kicked on from what he was doing towards the end of last season. 101 from 82% game time was a fantastic return, he's a great chance to lift his average well into three figures this year, similar to S.Selwood last season. If you had him in your team before tonight, his position should be very safe.
Boyd – Boydy had a monster last term, storming home with 56 points to finish with 120 from 83% game time. Hopefully this was a sign of him being at full fitness. I still don't think he's worth the risk in Fantasy or Dream Team, watch those calves…
Jong – One to watch! He was pick #9 in the 2012 rookie draft, but broke his leg after just 4 senior games. He scored 75 from 66% game time through the midfield. He's still looking to re-find his 2012 form and will come back through the VFL as a tagger. More likely to be an upgrade target, looked solid at just 155k in the Real Dream Team and 215k in Fantasy.
Hunter – He had a great first quarter, before ending up with 70 from 70% game time. He's at an awkward price and will be very reliant on the Dogs getting the ball forward, playing of the half forward flank. His success may match the teams, as can be seen by his first 2 quarters. 30 when the dogs were on fire, then just 3 when they got belted. I'd avoid the temptation, though he's certainly a player for the future.
Cordy – Played in the ruck while Minson was sub. He's put on a lot of kilos and will look to support Big Will throughout the season, very cheap for his potential. Had 11 hit outs and not one went to advantage, look to see what role he has in the Dogs next hitout. He managed 35 from 35% game time so he did well whilst on the park, hopefully he can find a way into the first team alongside Minson.
St Kilda
Dunstan – Struggled to find the footy in his first taste of the top level, managing 37 from 51% game time. He did however have a good role through the midfield and I am very happy to stick with him. Don't write him off even though he looked a little lost, he'll adjust. Roo sounded positive about his chances this year. His body is AFL ready and I expect to see him line-up in Round 1. The Saints need to blood their youngsters.
Billings – Riewoldt was very positive about him, and you can expect to see him in the team come Round 1. Even though his job security is solid, 15 points from 42% game time was nothing to write home about. He will play mainly up forward, which is not ideal in a team that will struggle. Not sure he will be worth the extra cost.
Templeton – Looked very good running through the midfield and up forward. If he gets named in round 1 certainly consider. 43 points from 56% game time capped off a great performance, he is cheap enough to at least place on the watchlist for St Kilda's next game.
Savage – Looked very good in the first term, then was in and out of the game. 75 from 78% game time was a solid return for someone priced at 364k. Didn't convince me enough to select him, nor did it make me want to write him off completely. Watch him closely in the Saints second NAB game.
Steven – Quiet early, then worked his way into it. Had a couple of corkies, not worth being concerned about. Did nothing to put people off picking him, and remains a good option for the Round 1 free hit. His 87 came from 77% game time.
Hickey v Longer – This was the battle to watch, and there was one clear winner. Hickey scored a massive 85 points from just 71% game time, while Longer managed 20 during just 19% game time. They subbed on and off for each other, which was quite disappointing as I was keen to see how they would fare on the field together. Richardson is clearly sold on using a sole ruckman, and Hickey seems to be ahead in the pecking order. Longer wasn't terrible when he came on, so leave him on your watchlist in case things change. However he is no Longer in my provisional team… Before I show myself out, I must point out that Hickey scored just 15 of his 85 points against Minson, even though they battled it out together for a full quarter. I reckon even I could get a few hitouts against Cordy, so be careful in reading too much into his score. He definitely presents us value if he dominates their next NAB Challenge game as well. Round 1 to Hickey.
A lot of people have culled the rookies who didn't get a show in the first round of games, however I wouldn't be so rash. It's in the second cycle of pre-season games that we must be watching team selections like hawks. Don't panic if a premium gets rested, however if a rookie isn't selected in a teams final game before the season proper, you're a safe bet to say they won't be playing in Round 1. Honeychurch and Fuller both missed tonight, however don't take them off the watchlist until we see the Dogs squad against Freo next week.
That's about all I could get out of the game, let's hope we see all the rookies we need to get a run over the next week. As much as you hear it's only the NAB, it all counts…