NBL Dream Team: Round 19 Preview
Rotnei Clarke dominated this weekend as we edged another week closer to the end of season and the all-important dream team finals. This week should be a big one with New Zealand and Sydney having double matches.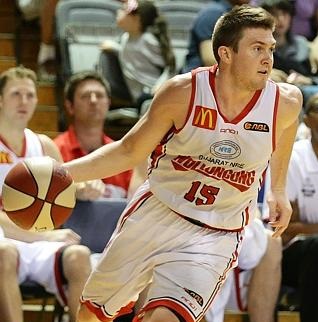 Rotnei Clarke dominated this weekend as we edged another week closer to the end of season and the all-important dream team finals. This week should be a big one with New Zealand and Sydney having double matches.
Big Scorers
Rotnei Clarke's 120 was the top score by miles this round after he had a good game against Townsville followed by an incredible game against Sydney. If you had him as captain rather than DJ then it was an even bigger bonus. Kevin Tiggs continued his solid run of scores with 72 while Rhys Martin was great value and got 60.
James Ennis bounced back and managed to be 3rd highest scorer with 68 off his single game. Perth's demolition of Adelaide meant that Daniel Johnson and Gary Ervin both scored 66, despite their exceptional second game in Melbourne. Anthony Petrie was good in both his games and got 62.
Gary Wilkinson and Thomas Abercrombie also deserve mention after they got 58 and 56 respectively from their single game.
Disappointments
Chris Goulding's 16 was a letdown for those who held him through the bye, while Jamar Wilson (12) and Demetri McCamey (8) both struggled in Cairns' loss. Tom Garlepp was missing his usual consistency with 12 and Charles Carmouche had a game best forgotten, getting 2.
Special mention goes to Peter Crawford who got -4. This made his three game total -6 and meant that he lost over $22K from his value.
Double Match Trade Targets
This round sees New Zealand and Sydney with double match games. Sydney players are a great option for trading in as they are easy keepers with the Kings also having a double match in both round 22 and round 23, the all-important dream team finals. New Zealand players offer great short term value as the Breakers also have a double match next round, but then they have single games for the rest of the season, so are best considered only if you've a few extra trades up your sleeve.
Sydney Trade Targets
Definitely: AJ Ogilvy has been outstanding this season and although he's scoring slightly less as the season continues you want him for guaranteed good scores through Sydney doubles. He's also the most affordable that he's been since round 4, so now is the time to grab him if you don't have him. Sam Young is also a must as he scores well every game. He's the most expensive he's been all year right now but I don't expect that it will go back down.
Probably: Ben Madgen has been in great form since round 13 and seems to have found the consistency in his game again. This is great for those people who grabbed him cheap but for everyone else it becomes a tough decision as he is now more expensive than his form suggests he should be. I'll be passing for the minute, just due to price, but his potential for huge scores makes him very appealing. Tom Garlepp has been a solid second to AJ all season and despite having some scores in the teens he also has scores in the 40+ range often enough to be expected. Garlepp is also affordable and his price is around his scoring output.
Possibly: Charles Carmouche had strung together a few good games before his 2 this round, but only scores above 20 about a third of the time. The main reason you would grab him is that his price is under $100K and you're crossing your fingers that he finds that occasional form that saw him smash out 102 in Sydney's round 4 double. Charles Carmouche has now returned to the USA and will not be playing again this season. Trade him out.
Unlikely: James Harvey has shown glimpses of his old form and has some potential to put up some good scores. Other teams are taking advantage of his reduced defence though and this is forcing Heal into giving him less court time. Cody Ellis showed has shown that he'll be a really good player for years to come. Just don't expect anything spectacular this year. He might put up a 40+ in a double if you're lucky. If you don't have him he's very cheap so could free up some money for you.
New Zealand Trade Targets
Definitely: I wouldn't classify any of the New Zealand players as definite keepers, mainly because they only have one game each week for the final 3 rounds, including the finals.
Probably: Mika Vukona is the cheapest he's been since round 7 and the best option from New Zealand. He'll have the occasional low score, usually due to foul trouble, but he always gives his all. Gary Wilkinson has been playing great basketball lately but he's now quite expensive and there's uncertainty around how Pledger's return will affect his game when it happens. Thomas Abercrombie has also been playing great basketball over recent weeks but has seen his price rise to a level where he is costly enough to become a risk. Kerron Johnson has recently been showing some the same form we saw at the start of the season and is the cheapest of these four, although still relatively pricey.
Possibly: Corey Webster has been getting more court time lately and could be worth a look, despite the fact that his cost is almost the highest it's ever been. Darryl Corletto is super cheap for someone of his shooting ability, but then he has been much more erratic this season so may not deliver.
Unlikely: Casey Frank has filled in admirably during Pledger's absence and although there's a chance he might be kept once Pledger returns, his court time and scoring is certain to suffer. Reuben Te Rangi has been playing some really good games lately, but he's expensive for someone who isn't guaranteed much court time making him a pretty big risk to get. Finally, as the youngsters have improved CJ Bruton has been needed less. However, he's minimum price and he's still CJ Bruton, so one never knows.
Other Trade Targets
I hope everyone is focusing on getting their final 10 stars all traded in, however if you're looking for something a little bit left-field to make you some money then Mustapha Farrakhan was one of the few Tigers who had a good game on the weekend. This comes after a mini slump for him and he's definitely a regular part of Melbourne's system so could be a good way to gain some quick money and a few bonus points in Melbourne's round 21 double.
Captain Choice
AJ Ogilvy is the best choice here and a lock for most. However there are options available if you feel like taking a gamble as Sam Young, Gary Wilkinson, Thomas Abercrombie, and Ben Madgen have all been scoring on par or better than AJ recently. These player's total points over the last four games are as follows:
206 – Gary Wilkinson
196 – Ben Madgen
184 – Thomas Abercrombie
168 – AJ Ogilvy
166 – Sam Young
Other Thoughts
I was very disappointed that I decided to trade Ennis to Johnson. I sold myself on the notion after all the discussion, where as if I'd stuck to my original plan I would have had Rotnei as captain.
I was cursing DJ and Ervin for their rubbish scores against Perth and then found myself cursing them again as they had an absurdly good game against the Tigers. Why couldn't it have been the other way around.
As much as it pains me given their current form I will not be trading any New Zealand players into my team. I only have 5 trades left and don't want to be left with none going into the round 23 grand final like I was last year.
I'm hoping that Madgen has a bad game somewhere between now and the finals so that I can afford to trade him into my team after Townsville's doubles finish.
On a different note, 4 of the 5 leagues I'm competing in are now top 20 leagues as DT Talk Tristan edged its way into spot 19.
Good luck all!
Tristan
Coach of the Statismathgicians