Jeppa's Juniors – 2014 Defenders
To complete the quartet, Jeppa brings us his best rookie defenders for 2014. Quality young defenders are few and far between this season so lets take a good look at the options available.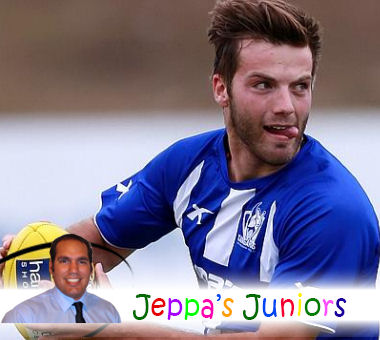 With very few defender rooks putting their hand up, I waited for the start of the NAB Challenge in hope for a couple to come from the clouds. None have been forthcoming. So I've looked outside the square but in doing so, the options are quite expensive. After researching every avenue, I am more convinced than ever that a fully loaded backline with a few rookies is the way to go this year.
Here are my top picks…
Alex Johnson
AFL Fantasy Price: $226,900
AFL Dreamteam Price: $228,700
Predicted Average: 62
After an ACL injury ruined his 2013 season, Johnson is back into full training and on track to play in the Swans third NAB Challenge game (source). He was a part of the Swans 2012 premiership team and plays as a very mobile third tall. At this stage, Johnson might not have enough match fitness to warrant Round 1 selection but I expect him to be a regular in the Swans 22 throughout the year. I know he's expensive but it's all about his job security and he should average above 60. Consider.
Tom Cutler
AFL Fantasy Price: $176,100
AFL Dreamteam Price: $112,800
Predicted Average: 62
Cutler is a strong-bodied running half back similar to Andrew Walker. He's very athletic and can play a variety of roles but is still a little raw. With Brisbane losing more than a handful of 1st to 4th year players in the offseason, Cutler is ahead in the pecking order than he probably should be. He got a run in Thursday's NAB Challenge game and had 15 possessions, 1 mark, 2 tackles and 45 Fantasy points in just 52% game time. The Lions look set to pick a very strong squad in their next preseason game against the Suns so if Cutler is named then I'd say he'd be in Leppitch's calculations for Round 1. Let's hope he performs well because we need a cheap D8!
Nathan Wright
AFL Fantasy Price: $213,300
AFL Dreamteam Price: $228,700
Predicted Average: 64
Wright is a solid youngster who will be a regular in the Saints lineup this season. He has the tools to become an effective running defender and/or midfielder and I'll be very interested to see how new coach, Alan Richardson intends to use him. He averaged only 42 Fantasy points from his 8 games as a small defender last year but with another preseason under his belt and a little more confidence in his ability he should average in the mid 60's. He's named for the Saints in their NAB Challenge game tonight so watch him with interest. Job security is again the major perk here.
Jeremy Laidler
AFL Fantasy Price: $135,500
AFL Dreamteam Price: $167,200
Predicted Average: 62
Laidler was recruited by the Swans to add to their backline depth. He's a solid competitor that can definitely force his way into the Swans 22 but I suspect his opportunity will come in the latter stages of the season when suspensions and/or injuries strike. Laidler has had a fantastic preseason to date and has barely missed a session. He's been rewarded with selection in the Swans first NAB Challenge game tomorrow night so watch his role and expect him to make an instant impression. Fingers crossed he does enough throughout the NAB Challenge to warrant Round 1 selection.
Luke McDonald
AFL Fantasy Price: $243,900
AFL Dreamteam Price: $177,800
Predicted Average: 79
Jackpot! There is a lot of love within the Roos hierarchy for this young halfback. Check out the smile on Brad Scott's face during his post match interview when asked about McDonald (source). McDonald was named in the bests for the Roos on Saturday after racking up 20 quality possessions and taking 5 marks from 67% game time. He's guaranteed a spot in the Roos lineup for Round 1 and beyond so do yourself a favour and lock him in for both Fantasy and Dreamteam! The kid can play.
Tom Clurey
AFL Fantasy Price: $163,500
AFL Dreamteam Price: $119,200
Predicted Average: 65
A preseason injury to Jackson Trengove may give Clurey an opportunity early in the homes and away season. He has impressed many throughout the summer and he would have learned a lot in the Power's preseason game against the Crows last Sunday. If I were to harp on the negatives, Clurey wasn't very physical for a key defender and he did look rushed when he had the ball in hand. He did however, finish the game with 19 possessions, 7 marks, 2 tackles and 80 Dreamteam points. I'm scrapping the barrel here but he's worth a punt if a key defender at Port is out with injury for the start of the home and away season.
Kade Kolodjashnij
AFL Fantasy Price: $252,000
AFL Dreamteam Price: $192,800
Predicted Average: 74
When you think of Kade Kolodjashnij think of a Fantasy favourite in Grant Birchall. 'KK' is a hard running half back with clean hands, a dead eye of a left foot and an impressive sidestep. He's also got an amazing vertical leap and is an elite runner. Champion Data ranks Kolodjashnij as the best young defender from last year's draft pool given his athleticism, ball winning ability and disposal efficiency. I am very confident that he'll be able to match it with the big boys at AFL level this season and we'll be able to determine if he's worth his weight in gold when he suits up for the Suns in their next preseason game (source). For now, I'd lock him in.
Christian Howard
AFL Fantasy Price: $135,500
AFL Dreamteam Price: $169,300
Predicted Average: 74
Howard is another running defender that can push up and play on a wing. He hasn't had a convincing career to date but was a high draft pick in 2009 so the talent is definitely there. He scored an impressive 102 against the Cats back in 2012 and also had a couple of scores in the 80's during that same season. Howard's got healthy competition in Goodes, Pearce, Fuller etc so his spot in the senior side is far from guaranteed. The biggest attraction with Howard though is his price. If he can stay injury free and get some constancy in his game then I think he'll be a great cashcow. Howard hasn't been named for the Dogs NAB Challenge game tomorrow night as he is just coming off a hip injury but he will feature at some point. Put him on your watchlist!
Rhyce Shaw
AFL Fantasy Price: $246,400
AFL Dreamteam Price: $254,000
Predicted Average: 68
Shaw just falls under the $250,000 rookie classification and becomes a solid option given his job security as a Swans defender. He's put an injury ravaged 2013 season behind him and is very keen to play in all of the Swans upcoming NAB Challenge games in order to be cherry ripe for Round 1 (source) thus the signs are positive. Coaches should note that Shaw has averaged only 52, 65, 66 & 70 in the past four seasons so is he worth $250,000? Probably not. Never the less our options for cheap defenders are slim so he needs to be considered.
Sam Shaw
AFL Fantasy Price: $197,700
AFL Dreamteam Price: $209,800
Predicted Average: 59
Shaw had a horror run with injuries last year but made a positive return in the Crows NAB Challenge game a few days ago. He played as a key tall in defense and gathered a few loose possessions to finish with 60 Fantasy points. Quick, athletic talls that can play multiple positions are hard to come by in the AFL and the Crows are very happy to have Shaw at their club. Sanderson has stated that the loss of Shaw last season affected team balance and he was sorely missed (source). Yes, he's expensive and I doubt he'll average more than 60 but he's a decent option none the less.
Matt Fuller
AFL Fantasy Price: $151,800
AFL Dreamteam Price: $112,800
Predicted Average: 70
Another year, another mature age recruit gets drafted from Norwood. Fuller joins Terlich, Sam Rowe and Puopolo as recent Norwood signings and there are high hopes for him. He's a strong bodied, hard running defender that can break the lines and kick it a mile and I expect him to get plenty of senior opportunities at the Bulldogs this season. McCartney says Fuller uses the ball exceptionally well and appears to be very content in his ability (source). He's named for tonight's NAB Challenge game against St Kilda so we'll all get a good look at him first hand but to be frank, he is almost a lock at D7 or D8 in both Fantasy and Dreamteam.
Alan Toovey is on track for a Round 1 return (source) and he'll be welcomed back with open arms by the Collingwood faithful. He's expensive in both Fantasy and Dreamteam and will take a bit of time to hit top gear so this a quick note to make sure that you don't include him in your starting teams. Ryan Schoenmakers is in a similar boat to Toovey. He's expected to suit up in a practice game closer to the season proper (source) but even when he's up and about he wont give you the returns you need to justify his price.
Other rookie priced defenders that could come into Fantasy and Dreamteam contention include Zak Jones, Brodie Martin, Luke Thompson, Matthew Buntine, Clay Cameron, Seb Tape, Darcy Gardiner, Jackson Ramsay, Taylor Hine, Daniel McStay, Josh Bootsma, Lachie Plowman, Tom Langdon, Jake Kolodjashnij, Lewis Roberts-Thompson, Jimmy Webster, Kamdyn McIntosh, Daniel Pearce, Will Langford and Jed Bews.
Look out for my post NAB cup analysis on the defender rookies that performed well, those that struggled and maybe one or two that snuck under the radar!
Remember you can follow me @JeppaDT for all rookie relevant topics and more!