Dockers v Eagles – NAB Challenge (18th February)
It's only NAB right? Lets see what Anthony can take away from the Fremantle Dockers and West Coast Eagles first competitive hit out.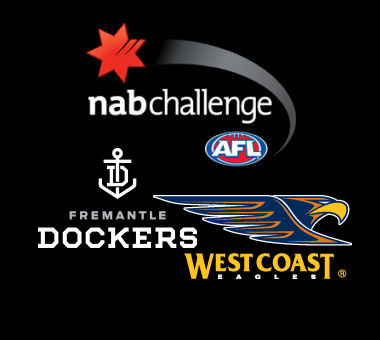 Fremantle Dockers v West Coast Eagles.
Joonalup. Tuesday 18th February, 2013.
Click here for AFL Match Centre.
It's only NAB, It's only NAB, It's only NAB… these are the words chanting through my head as I'm watching West Coast trounce Fremantle 148 – 64.
It's only NAB, nothing to get excited about right?
Nah… Plenty to get excited about as far as DT is concerned! Lets see how it looked!
Both teams went in fairly strong with only a few out of their best 22 missing.
Waters, Gaff, Nic Nat and Brennan missing from West Coast
Mayne, Crowley, Ibbotson, Clarke, Pearce and Suban missing from Fremantle
As always with NAB games, player management is still in play, so it always helps to compare scores to time on ground to get a better indication of players performance.
Players of mention.
Xavier Ellis – ($135,500 MID) Definitely one to get a bit excited about. Started the game with the ball on a string. Can't see him getting that much free range in the season proper but it was good to see him playing with confidence. 72 points is an excellent return from 48% Time on Ground. Still not at full match fitness but is being given every chance to find his spot in West Coast's best 22 come round 1. Even if it's wearing a vest.
Dean Cox – ($526,000 RUCK) Every year I hear people writing Cox off with every excuse. "He's too Old", "He's being phased out". "Blah blah blah"… Cox has turned up to this season 5kgs lighter and running everywhere. Played this game sharing the ruck duties with Sinclair and Lycett but still managed 74 points with only 40% TOG!
Jack Darling – ($374,500 FWD) We see the articles every year of players getting 'more midfield time'. Looks like it may have actually been true about Darling! 94 points from 78% game time with stints through the middle. Getting involved in chains of disposals up the wing saw Darling adding a lot more +6 combos to his score!
Aaron Sandilands – ($244,500 RUCK) At his price I think it's really hard to look past the big 211 this year. Solid performance with 71 points from 72% TOG. Most encouraging thing about his game for mine was that he started and finished the game strong. Looking fit and looks to be firing for round 1.
Nathan Fyfe – ($530,900 MID) 103 points from 75% TOG in a team who touched the ball 100 less times is pretty impressive. Continued to fight hard all day so it's good to see the hunger is there. Can hopefully take his game to a more consistent scoring level and this was a great start. Only concern could be a slight knee injury sustained after coming down awkwardly from a mark in the last quarter.
Matthew Pavlich – ($393,900 FWD) Only came on in the second half but really impressed for mine. Looking super fit and scoring 46 points from 41% TOG
A few others players who impressed for me were Paul Duffield ($419,00 DEF) 46 points for 45%, Dom Sheed ($235,800 MID) 61 points for 56% TOG (side note, he got better as the game went on, is AFL ready), Luke Shuey ($479,300 MID) 109 points from 69% TOG and Chris Masten ($533,400 MID) 101 points from 77% TOG.
Just a few players possibly on radars who will have to lift to earn a spot in any of your fantasy sides.
Colin Sylvia – ($443,600 MID/FWD) Oh Colin, 29 points from 73% TOG looks a lot like change of clubs hasn't changed much else. Mayne mentioned during the telecast that he was behind the ball fitness wise compared to the rest of the group and needs to lift. May see some WAFL time early on.
Scott Gumbleton – ($280,400 FWD) Someone else who may see some WAFL time this year, 39 points from 82% TOG but didn't get much opportunity up forward. Did not play to the conditions early on and was caught out with the flight of the ball too easily too many times.
Josh Kennedy – ($466,600 FWD) 51 points from 76% TOG. In a team who dominated the scoreboard, especially early on, we'd expect to see a much better output than this.
So not much at all to take from this game from a Fremantle point of view. To be honest they looked a couple of weeks behind in their preparation so we'll keep watching to see how they progress over the rest of NAB.
West Coast was interesting to watch here. Adam Simpson's game style is showing in possibly a very fantasy friendly way. Around most stop plays and set ups we find one player hanging back in a sweeping type role for a relief or 'get out of trouble' disposal. That role was played today by Ellis, Yeo ($314,600 DEF) and Sheppard ($274,700 MID) who all had very decent fantasy outputs.
The other interesting stat to note is the rise in tackles laid (which is a very welcome +4 to any score). With 5 players laying 5 or more tackles. Priddis ($519,300 MID) and Cripps ($298,100 FWD) with 9 and 8 respectively.
Once again, it's only NAB, it's only NAB, but theres a lot to be excited about…