Suns v Bombers – NAB Challenge (17th February)
Tonight Warnie sat down on the couch watching Fox Footy with his Bombers taking on the Suns. Laptop in hand, he followed the scores and wrote this AFL Fantasy review of the game.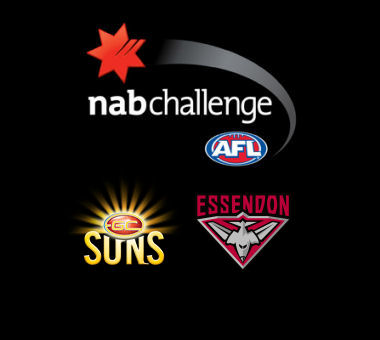 Gold Coast Suns v Essendon Bombers.
Metricon Stadium. Monday 17th February, 2013.
Click here for AFL Match Centre.
Sitting down on a Monday evening watching my team play in a NAB Challenge match was a pretty decent experience… apart from the point by Gazza on the siren. There was plenty of AFL Fantasy relevant players to keep an eye on.
For the Bombers, Jobe Watson, Brendon Goddard and my new mate Paul Chapman didn't suit up tonight. First round draftee Kade Kolodjashnij, human meatball Dion Prestia, ruckman Zac Smith and the injury riddled, yet cheap, forward Nathan Bock were missing for the Suns. Prestia was on Fox Footy and said that Bock was aiming for a round three or four return. Put a line through him! For your initial squad at least.
The big numbers came from David Zaharakis (MID, $444,700) racking up a massive 43 disposals – 28 kicks, 15 handballs – to knock out a 145 point game. At that price, he's right in that midpriced range, but he should be on our radar. He ran hard, got plenty of clearances and could possibly spend a bit of time in the midfield in the season proper.
Scoring 108, I'm not going to claim him as 'my boy' as Footy Rhino was on board before me, but I was a proud Michael Hibberd (DEF, $472,300) owner last year and I have been talking him up all pre-season (even to some jeers from Roy and Calvin). Seriously, he loves a +6 and mark my word – he'll be a top 6 defender at the end of the season. A 90+ average isn't out of the question. I'm ready for a lot of people to jump on board!
David Swallow (DEF/MID, $377,000) is a former number one draft pick who has spent a fair bit of time last season playing off half-back. Tonight he played predominantly through the midfield and when the Suns coaches/players were int he Fox Footy box, it sounds like that will be his role this season. Calvin is a big fan and I think at that price he'll be a solid selection. 88 points.
Other high scorers from the game included Ben Howlett (103), Brent Stanton (96), Danny Stanley (93), Gary Ablett (92) and Matthew Shaw (92). There's no stress on Gazza's score there… no reason not to pick him based on this performance. Stanton was massive in the first half scoring 76 points. He went missing in the second half. Howlett could come under consideration as a FWD/MID after he scored his 103 from just 66% time on ground.
Most of us were keen on checking out Jack Martin (MID, $268,300). He scored 62 points from 74% time on ground. Martin looked flashy in parts – having a very busy second quarter of 31 points – but consistency looks to be an issue. With the premium on his price, I think I'll be looking elsewhere.
The other rookie under consideration was Essendon's Fraser Thurlow (RUC/FWD, $115,200). He played second ruck to Ryder and looked confident with 15 hitouts and 11 disposals. Thurlow scored 54 points from just 39% time on ground and if the Bombers upgrade him to fill the hole that Bellchambers has left, then there's our R4. The way Joe Daniher looked size wise and how he presented early, he is the future of the Essendon forward line. He might get in the way of Thurlow's selection.
Anyway… they're probably the main points from the game. Both clubs have a bit to offer us this year and I'll be watching their second NAB Challenge game closely.
Discuss your thoughts on the game and players in the comments.
FOLLOW ME ON TWITTER: @WarnieDT.
Follow @WarnieDT