Crows v Power – NAB Challenge (16th February)
Our Port man Dunny got down to Richmond Oval to watch the mini-Showdown with his AFL Fantasy glasses on (along with his teal and black) to report back to the DT Talk readers on what he saw. Crouch, Wright and Polec were the big stories from today.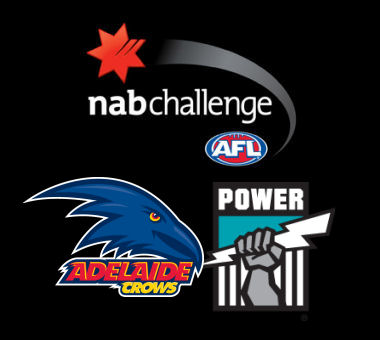 Adelaide Crows v Port Adelaide Power.
Richmond (SA). Sunday 16th February, 2013.
Click here for AFL Match Centre.
Shortly after I got to Richmond Oval I heard that Boak, Wingard and Lobbe all pulled out of the squad.  This meant that there was now  no chance for this to even be a competition.  As a result the Crows scored a very easy win.  However, what it did mean was that it really reduced the relevance of the Power intel that we could gain.
Adelaide were probably the most relevant as their team was fairly close to a full strength lineup really.  Danger did absolutely nothing to stop me from picking him.  He looked smooth and did everything he needed to do.  Similarly Sloane certainly did very well too.  But we already knew that about these guys.  One of Adelaide's new forwards Betts had a very good game, but he didn't have a great deal of opposition.  His new forward Pods didn't do enough for me.  He was up against an inexperienced backline and couldn't hold too many marks, he held 6, but probably dropped more, once Tex comes back I can see him in the SANFL.  He went down to half back to get a few kicks in the last quarter.  Lewis Johnston was certainly a lively forward leaping all over the place.
Probably the big story for Adelaide was Matt Crouch.  He had a fantastic game.  I liked the way he moved and the way he got and distributed the ball.  7 kicks, 16 handballs and 6 tackles certainly did enough for me to think that he can play and should get games for Adelaide.  Does he fit in with their guns back in the side?  Not sure.
Mitch Grigg burst onto the scene at the end of the season last year.  Today he seemed to bob up a fair bit and had 10 kicks and 6 handballs, but unfortunately didn't do much more which meant he didn't get to 50.  Another success story from last year was Richard Douglas, he continued on today, I was very impressed with him and he scored right on 100.  Calvin's boy from last year Matthew Wright had 135 and was pretty much left to run free for the entire day.  A massive 23 and 13 with 2 goals sounds familiar to what he promised at this time last year too.  Keep an eye on him.
Port sent out a bunch of rookies and I guess that is what we like to see.  However, what it means is that these guys get a lot more of the ball because the regular ball winners like Boak, Ebert, Cornes, Gray etc were all not there.  Let's be honest, you aren't going to win too many games when you have Paul Stewart as your key forward!  The guy we all came to see was Jared Polec, he wasn't the best in the first half, but after half time he really came good.  He was sort of sweeping up across half back and got a lot of plus 6's.  However, when required he was in and hard at it.  He scored 87 and 42 of them were in a fantastic 3rd quarter.  The other guy I wanted to see was Matthew White.  He was touted as being quick and a few times I certainly saw this.  73 points was nice and 34 of these were in the last quarter where Port actually played well (and they were with the stiff breeze).  11 kicks and 6 tackles was very nice.  Both of these guys started on the wing in the first half and both spent time at centre bounces.  When the guns come back, this won't be the case.
Jarman Impey was Port's first draft pick last year and he certainly showed me that he was a good choice.  He only scored 43, but he did have 10 kicks and really seemed to get it more as the game went on.  He played forward in the first half and down back in the second half.  I think that he won't play much early on in the season and will spend time in the SANFL I think, but he certainly has potential and should be kept on your watchlist.
Tom Clurey is filling in for an injured Trengove across half back.  He was ok with 80 points.  13 and 6 with 7 marks was good, but I don't think the coach would like the way he was tentative at a few contests.  This could cost him game time.
Of the rest of the team Broadbent was very good, but he was the key player in the backlines.  Ollie Wines started as the sub and I realised he was on when I saw a crunching tackle.  He simply picked up where he left off, with the team that was out there he looked like he was one of the more experienced guys.  One dark horse to keep an eye on is Andrew Moore, he is a guy that was a top draft pick a few years ago and he is starting to deliver.  He showed a bit today and may be another one to watch.
The only injury of note was to Brent Renouf who limped off in the third, he came back on, but didn't last long before he was subbed out.  He is of no fantasy relevance other than he is Lobbe's only competition, although he is only on the rookie list.  With Redden on the LTI list, Renouf may be elevated as backup.
Overall it was a walkover and the score probably flattered Port who got some goals late in the game.  Also, the time on ground for the rookies at Port were probably well overstated to what they will get in the real season.
I look forward to seeing a more full strength Port later in the Challenge to see what really happens.  Adelaide gave us more of an indication of what they will look like, but even they had guys out.
I will be back to review the Power v Bombers game next week, in the meantime give me a follow on twitter @pkd73