Roos v Blues – NAB Challenge (15th February) UPDATED AFTER A KIP
Luke McDonald pushes claims for 'Best 22' as Blues survived a late rally to be saved by Ziebell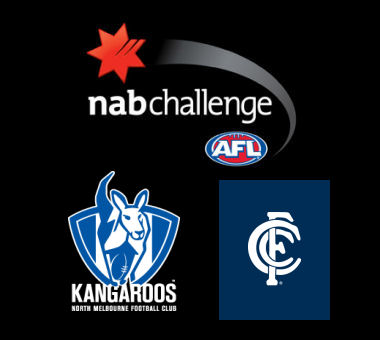 North Melbourne Kangaroos v Carlton Blues.
North Ballarat. Saturday 15th February, 2013.
Click here for AFL Match Centre.
I was hung and tired after beers with the Pig when I originally wrote this, so I woke up early and watched the second half again and realised it wasn't that bad haha.
What I Liked:
Luke McDonald– Believe the hype. McDonald may come at an inflated rookie price of $243,900, but his DPP with back-line eligibility makes him an extremely tempting prospect. He looked right at home on 'the big stage' or as close as we can get to a big stage at this time of the year. He did enough justify being considered in the best 22 for North. McDonald finished the game with 22 possessions, 5 marks and a handy 73.
Jack Ziebell– Unfortunately Ziebell is only classed as a midfielder because we would all be selecting him in any other position. He always looking on the verge of breaking out and started the pre Season in that fashion collecting 29 touches, 6 marks and a spectacular 12 tackles for 147. He is awkwardly priced at $513,100, but could certainly be a unique selection that pays off.
Ryan Bastinac– Can find the ball, as we witnessed in round 23 vs the Pies last year with 34 touches and a thumping score of 132. He had a good start to the pre season with 31 touches and 10 marks for 126. interestingly priced at $463,200
Joel Tippett– Will struggle to find a spot in a full strength side, but did his job in the back line with 6 marks and 57 points.
Daniel Currie– The fact he played.
Andrejs Everitt– Making his debut for the Blues, Everitt was a solid contributor with 3 goals and 84 points, while picking up 17 touches in a variety of positions over the ground. He is a $325,500 defender and is a walk-up into the Blues best 22.
Brent Harvey– Evergreen Harvey played well for 87 in what appeared to be limited minutes. Continues to defy the 30+ rule.
Nick Dal Santo– Did enough to grab our attention with 28 touches and 91 points on debut.
What I didn't like:
Dale Thomas– Not getting to see how his surgically repaired ankle is coming along.
Sam Docherty– Injury has forced my to put a line through him on my watch list.
Daniel Currie– The way he played, although to his credit, he did present well up forward. Unfortunately, with our 4th ruck position in mind, I am not sure his return of 1 goal and 9 hit outs for 33 points were enough to convince the North coaching staff to select 2 rucks in the best 22. I am holding out hope in the fact that the Roos are keen on playing 2 rucks this year, so he still has a chance to grasp the opportunity.
Shaun Atley– Has a chance this pre Season to sneak into our back lines, but his return of just 34 from 12 touches won't get it done.
Robin Nahas– With Mitch Clark injured, I was hoping Nahas would dominate pre season and force his way into the Roos team and be an easy forward line replacement. He was not influential for 12 touches and 48.
Marc Murphy– Did not start the way I would have liked for a guy who is walking into many of our teams as we seek a return to the 110 average days. Has some work to do after collecting just 17 touches for 62.
Patrick Cripps– Quiet on debut with 12 touches and 38.
Dylan Buckley– Looked good out there but I think he will struggle to find his way into the best 22 at the star of the year. There are better cheap MID options.
In Summary, Ziebell earned an unexpected spot on the watch list (even as a mid) while fingers crossed McDonald keeps up the good work.
Follow me on Twitter @RoyDT