Hawks v Lions – NAB Challenge (13th February)
While Crutt was dominating the DT Talk Writers Mock Draft, he also kept one eye on the Hawks v Lions game. Here are some of his AFL Fantasy thoughts from the second NAB Challenge match.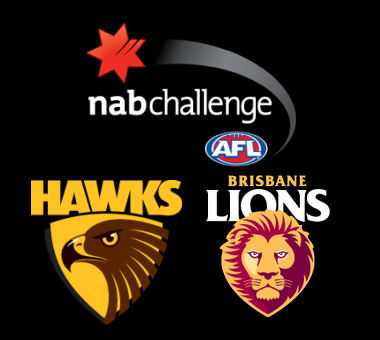 Hawthorn Hawks v Brisbane Lions.
Etihad Stadium. Thursday 13th February, 2013.
Let's get the team lists sorted. Everyone's boy, Tom Rockliff (MID – $558,800) doesn't play, leaving the inexperienced Lions another seasoned veteran short. He, Redden, Rich, Moloney, Adcock, Simon Black, Michael Voss and Nigel Lappin aren't playing. This could be a long night for the Lions. Hawthorn isn't playing Hodge, Lake, Gibson or Buddy Franklin.
Jarryd Roughead (FWD – $470,100) is a funny dude – he wins the toss and tells Barry Hall straight after that he elects to bowl. He has a relatively quiet first half – just 32 DT points, but joins in the party in the second. Jack Gunston (FWD – $415,400) kicks the first two goals, and looks to be pushing up the ground as well. I'll try not and get too excited, but he could be anything. Sam Mitchell (DEF/MID – $517,700) is playing off half back with stints in the middle as well. He's a lock for mine.
Shaun Marsh is looking solid, and it would be good to see Steve Smith make another ton – Oh, it's quarter time at the footy. The hawks are dominating, and there's pretty little to get excited about.
Young hawks Alex Woodward (MID – $115,200) – it's great to see him back – Derick Wanganeen (MID – $115,200) and Mitch Hallahan (MID- $115,200) are playing through the middle and off half back – Wanganeen actually is looking pretty good. He breaks the lines, provides some dash – and Clarkson loves those kinds. I'm certainly expecting Woodward and Hallahan to get a few games this year as well – Hallahan especially looks pretty composed, plus he ended up with a game-high 9 tackles.
Matt Suckling (DEF – $314,400) still has that beautiful kick on him – you know the hawks want the ball in his hands. Kicks a huge supergoal… +9 DT? Still, he has been relatively quiet – but that's not his fault – the ball has barely entered the lions half! When the ball does go forward for the Lions, young Marco Paparone (FWD – $226,700) looks lively up forward for the Lions, and he kicked their first. Sam Mayes (FWD/MID – $395,100) is keeping busy, he has tackled strongly as well – has 5 tackles to half time as part of his 40 DT points.
Ben McEvoy (RUC – $410,200) looks like a great fit at Hawthorn, taking strong marks in defence. Also pushed deep forward and it looks like his ability to run all game will suit the hawks style. Dayne Zorko (FWD – $400,100) is playing through the middle and looks at home, pity he has no help in there.
It's hard to get a grasp of young Lion James Aish (MID – $246,600). WIth Redden, Rockliff, Rich, Moloney and a host of other senior Lions out, and the smashing the Lions are copping (oh yeah – it's 93 to 9 at half time) he is nearly in there carrying the rest of the kids! Has 9 touches to half time.
Jonathan Simpkin (MID – $360,600) is a ball magnet. I was quite bullish about him last year – but this year he might just be too awkwardly priced. Still, 14 touches and 68 DT points to half time is nothing to be scoffed at!
Gunston starts the second half like he does the first, and is presenting nicely. He should be considered strongly. Apologies for my lack of spruiking up the Lions – but the score is 107-9 with 7 minutes to go in the third quarter.
The second half was not worth watching – you certainly should take it with a grain of salt for your 2014 research. Players of note were Mitchell (120), McEvoy (93), Gunston (119), Suckling (77 – he worked his way into the game nicely in the second half), Hallahan (70), Aish (66) and Zorko (54 – went missing in the second half – but this was the most one-sided game you'll ever see – he had no help whatsoever).
For the record, Hawthorn won by 131 points.
All in all, was a pretty tough game to review. The class of the hawks and the inexperience of the lions meant that intensity was down and the game was incredibly one-sided. The most important aspects to take out of it was Zorko playing in the guts and looking lively, McEvoy has slotted in very nicely and looks to again be a premium ruck option, Jack Gunston will be an absolute superstar and it wouldn't surprise me if he elevated himself to premo status sooner rather than later, and Sam Mitchell was everywhere – he should be an absolute lock.
Anything catch your eye? Anything you'd like to add? Leave a comment.
Give me a follow on twitter – @cruttonhutton.