Club-by-club AFL Fantasy Pre-Season Wrap
You will have heard the odd piece of info on how a player is going, however a lot can slip under the radar. Just before the NAB Challenge kicks off tonight, Matt gives you a look at some of the news for each club during the pre-season.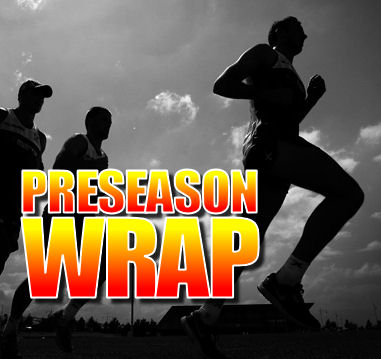 You will have heard the odd piece of info on how a player is going, however a lot can slip under the radar. That's why I'm here to help. Not sure how your most popular players have traveled over the pre-season? Injury concerns? Let them be no more! With the NAB Challenge getting underway today, footy is back. Let's see how each club has been travelling…
ADELAIDE
Taylor Walker has made good progress, but won't make Round 1. Expect the Crows to be very cautious with him, however he is vital to their team structure. Keep him in mind throughout the season, expect a return after Round 5. He should release Dangerfield from his occasional forward line role. Scott Thompson has only just returned to training so may not be at full fitness.
BRISBANE
Zorko has taken a huge step forward in his fitness levels, and is up there with the best in the club. With a new coach on board, it would be no surprise to see him move his huge talent into the midfield, with Brisbane's plethora of small forwards. Watch closely in the NAB. Rocky has recovered fine from back problems earlier in the season, while rookies Taylor and Aish are showing no signs of fatigue and will feature strongly in the NAB Challenge. One to watch is Leuenberger. We all know how much he improved in the last half of 2013, however he has gone on record stating that he felt he was only 75% fit. 75 percent! He missed almost of all the last pre-season, however he's had no setbacks this year. Picking the number 1 ruck is tough this season, however I reckon Leuey can get back in the 90's. Don't worry, he is still Brisbane's number one ruck. Both him and Hanley will be held back for the first NAB Challenge game, however they will feature later on in pre-season. Nothing of concern.
CARLTON
Murphy is 3 months ahead of where he was last pre-season. This makes a massive difference in fitness levels, so expect him to return to premium like figures this year. Dale Thomas continues to tell us he will be ready for Round 1, however I want to see him during pre-season first. Dare I say Waite is fully fit for once? Ok, forget it.
COLLINGWOOD
Seedsman and Scharenberg are the only major injury updates from Collingwood, as they head into the opening NAB Challenge with a strong squad. Aside from the fact that Beams is killing it and Swan has signed a new deal, there is nothing major to report. Cloke is one to watch to see how the new marking rules help his game.
ESSENDON
We all know Tom Bellchambers is down and out for a couple of months, and there is some talk of this helping Fraiser Thurlow. I can't really see him cracking that much game time, however we will get a close look at him during the NAB. Certainly monitor him, however Ryder will be the biggest benefactor. Chappy has stated that he won't play every game this season, and even though we knew it wouldn't happen it still hurts to hear. I won't be starting him, however if he smashes it in Round 1 with our free hit, he has to come into contention. Surely his rests will come after the bye, not before.
FREMANTLE
Fremantle have a clean slate on the injury front, and will be looking for another big season. It will be no surprise to hear that it was Mundy and Barlow shining in their first proper intra club hit out. There have been no problems documented on Sandilands, so expect to see him get managed during the NAB as we get a good gauge on how he's travelling. Clarke is expected to be fit and will rotate in the ruck with him, expect them to share the points. Morabito is being managed carefully and will most likely return through the WAFL. Let's pray he can get back to AFL level, he deserves it.
GEELONG
Joel Selwood was the big story of the Cat's pre-season, however he is insistent on the fact that he will be ready for Round 1. Regardless, he has missed a big chunk of pre-season, and with a history of slow starts he should be passed on early. Definite upgrade target. I believe the forgotten man of this pre-season is McIntosh. Let's not forget that he averaged 90 back in 2009, and was averaging 90 before injury in 2012. The Cat's have been extremely cautious with him, however he has been up and running for most of pre-season, a first in his Geelong career. He is easily their number one ruck when fit, and we can expect to see him in action during the second NAB Challenge game for the Cats on February 28. We're all jumping on board Sandilands, but McIntosh should be a safer bet early on. Both should be upgraded, so hopefully Geelong won't rest Hmac until after their bye. Hawkins has enjoyed a painless pre-season and must be on everyone's radars.
GOLD COAST
You heard about Prestia's setback last week, but aside from him there isn't much to report on Gold Coast's injury front. Swallow is still expected to have a role of half-back, so don't pencil him in for a massive breakout like his brother. Ablett hasn't missed a beat, and if the Suns are to make the finals they will need him in midfield. The last thing you should be doing is writing Fantasy's Bald Jesus off.
GWS
GWS are going into the NAB Challenge with a clean injury list, although we have heard that O'Rourke is struggling with a back problem and should be avoided to start the season. With their young guns now heading into their third full pre-season, we can expect some breakout year's to occur. I would keep a close eye on guys like Shiel and Greene, much like Prestia last year.
HAWTHORN
Hawthorn have no new injury news to hurt fantasy managers, naming a strong squad for their first pre-season game against Brisbane on Thursday. The big news for us is that Suckling is named amongst that NAB Challenge squad, so we will get a great look at how he is travelling. Expect him to be fit and firing. Interestingly Dayle Gartlett has not been named, so I don't expect him to get much game time early. He has a lot to work on.
MELBOURNE
Melbourne will be sweating on the fitness of all their big blokes, however we will know more once their second pre-season game rolls around. Not one of Hogan, Clark or Dawes will play in their first Nab Challenge game, but hopefully all will be fit for Geelong on the 28th. Clark is the biggest concern, so we really want to see something from him to suggest he is past his foot problems. EDIT: Clark has just been ruled out for 3-4 weeks with a hamstring injury. Has to be off our radars to begin with! Tyson was nursed through the start of their pre-season training, however he hasn't missed a beat since Christmas. Watch him very closely during the NAB, certainly one to consider in Fantasy if he scores well.
NORTH MELBOURNE
Harper is North Melbourne's only recent injury setback which won't affect us, with Swallow obviously still missing. It should give Ziebell his chance to shine, so watch how well he plays during pre-season. Other than that there's not much to report at the Kanga's, monitor Hansen's role throughout the NAB.
PORT ADELAIDE
We were informed of Redden's setback last week, and we have also heard from Hinkley that Lobbe thrives on being the sole ruckman. He has a massive tank and tackles all day, so have him right up the top of your ruck watchlist. Wines, Ebert and Wingard all dominated during Port Adelaide's intra club hitout, so don't expect them to ease up this year. Be wary of what I like to call breakout blues. It doesn't matter whether it's first year, third year or fifth year, it is extremely hard to back up such an improvement as the opposition will make plans to stop you. Chad Wingard, prove me wrong.
RICHMOND
Richmond have named Cotchin, Deledio and Martin for their first Pre-season hitout, so all look to be at full fitness. I think Martin could play in a half-back role throughout the season, which may curtail his scoring. There's no doubt he has potential to be a massive DT scorer, but while he continues in that role a high 90's average might be his barrier for now. Ellis is flying, beware the breakout blues! No other news of concern at the Tiger's.
ST KILDA
St Kilda haven't suffered any major injury setbacks either, and will go into the pre-season games with a reasonably fit list, as most clubs seem to be doing. Billings missed the first part of pre-season, and returned to full training last month. Hopefully we will see him at some point during the NAB Challenge. If we don't he must become a downgrade target. Markworth has only just returned to full training so I would steer clear of him to kick-off the season, with an appearance towards the middle of the year likely. Downgrade option for sure. I can see Riewoldt being a top 3 forward once again, so don't write him off after such a great pre-season. I reckon Steven is ready to take the next step in becoming a midfield premo, so definitely consider for our free hit in Round 1 with Montagna suspended. Longer and Hickey will fight it out for the number 1 ruck during the NAB Challenge, so monitor how they play together.
SYDNEY
Sydney don't anything major to report on the injury front either, with Franklin returning to full training and will appear in the NAB. One to monitor for mine is Tom Mitchell. The kid is an absolute gun and will one day be our lock in captain. He scored 144 in his first full game!!! He is at least a month, if not more ahead of where he was last season and will hopefully make a return during pre-season. If he does, I will be locking him into my teams. I won't deny there's a lot of Zorko about him, the difference is Sydney will actually get the ball forward. Already going against my breakout blues theory, but you have to have one of your own in their somewhere! Expect an average in the 90's for sure.
WEST COAST
Aside from Beau Waters regulation injury setbacks, there's no real concerns for West Coast either! After having a disastrous season last year, not helped by an injury crisis, their key players are back up and running. Wellingham is in hot form and should be closely monitored in his midfield role. Shuey is back and firing while Priddis never loses that magic touch. Both dominated the Eagles intra club with Selwood also hot. I'd be very wary of his tagging role early on however. Naitinui is feeling great and will feature during the NAB, and must be the best value pick in the rucks this year. He will average at least 90 if he stays fit and has never felt better. Surely a lock!
WESTERN BULLDOGS
Finally we get to the Bulldogs. Unfortunately Murphy has been ruled out for 8-10 weeks with an elbow injury, so he is a no go zone. However it may pass an opportunity onto another Dog to get a run of half-back, perhaps Goodes can continue his work from last season. Monitor who the Bulldags are playing the ball to off the half back flank, they need a replacement quarter back! Boyd is apparently enjoying a massive pre-season and can never be ruled out. Those old man calf injuries were hopefully a one off! Higgins has unsurprisingly suffered a set-back and you just can't pick him, while Griffen is carrying back tightness. Hopefully we will see him at some point during the NAB.
So that's a wrap! The first of 18 games in 18 days kicks-off tonight, and DTTALK is the only place to be for all the fantasy coverage! We will be bringing you an article for every game, giving you all the fantasy news you need to know. It's your pre-season research done for you! Also keep an eye out for our Mock Draft kicking off tomorrow night, we are here to help your draft league's as well! It's great to have the footy back, I can't wait to sit back and enjoy it. Cheers.