Cats v Magpies – NAB Challenge (12th February)
Footy is back in the form of NAB Challenge and it's our chance to have a look at potential AFL Fantasy recruits in some practice matches. Warnie sat down to watch the opening game and here's a few words about what he thought!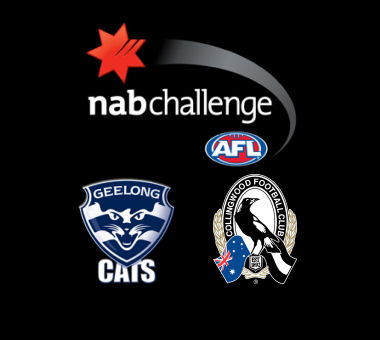 Geelong Cats v Collingwood Magpies.
Simmonds Stadium. Wednesday 12th February, 2013.
Click here for AFL Match Centre.
Ohhh yeah! How good is it to have the footy back? It was great to be able to turn on the TV and see the game we have missed in this long off-season back, especially with quite a few AFL Fantasy players we have on the radar.
Before the game even started, Alex Fasolo's stocks dropped due to not making the 26 and being an emergency. He was probably never going to play and he is probably being managed, but really it's not great signs for him regardless. As we knew before the game, Hamish McIntosh wasn't going to suit up and he might have be to be crossed off our lists now. Dane Swan 'loves preseason' and we didn't see him tonight, but there's nothing to stress about there.
As a whole, the game was played fairly loosely with plenty of posessions being racked up by both sides; however there was a massive tackle count – especially in the first half.
As we thought before this game, the biggest lock of the season will be Dayne Beams (MID, $498,800) who scored 115 points. He went about his business racking up 35 disposals (22 of them were handball… get that K:H ratio up!). Tomorrow Lefty has Steele Sidebottom (MID, $523,000) coming up as one of his leftfielders and hello… there shouldn't be too many complaining about that one! He ran through the midfield, spent time coming out of the backline and even sat up forward kicking a goal. A great all round game. Check out the article in the morning.
Former GWS player Taylor Adams (MID, $445,400) had 15 kicks and 16 handballs on his way to 116 points. After this performance, I think we'll see him in Collingwood's best 22. Calvin is excited about Josh Caddy (FWD/MID, $343,500) and there was enough to like about him. He was hard at it and with 84 points, he remains on the watchlist.
Don't write off Heritier Lumumba (DEF/MID, $475,400) as an option in defence. He spent a fair bit of time running up the ground and I wouldn't be surprised if he was one of the top defenders come seasons end. Scoring 95 points, Cam Guthrie (DEF, $301,00) performed much better than what he is priced at thanks to his 19 touches and a massive 8 tackles (equal second best tackle count on the ground).
Clinton Young (MID, $218,300) didn't see much of it – only 9 disposals – but he was clearly managed throughout the game. Even though he just scored 35 points, don't cross him off your watchlist yet. On the other hand, after starting as sub and coming on a few minutes into the second quarter, Scott Pendlebury (MID, $611,200) showed class with his 99 points. When he came on in the second quarter, he had 39 points by half time. Beast! Swan who?!
Unfortunately there were a couple of injuries to report. George Burbury lost a few teeth and broke his jaw and draftees Nathan Freeman (hamsting) and Tim Broomhead (hand) were both subbed out.
What did you get out of the game? Discuss in the comments.