52 Pick-Up 2014 – Defenders
Welcome to the 2014 version of 52 Pick Up – the players who, just because they couldn't be crammed into the Deck of Dream Team, doesn't mean you should gloss over them! Crutton kicks off his series with the defenders.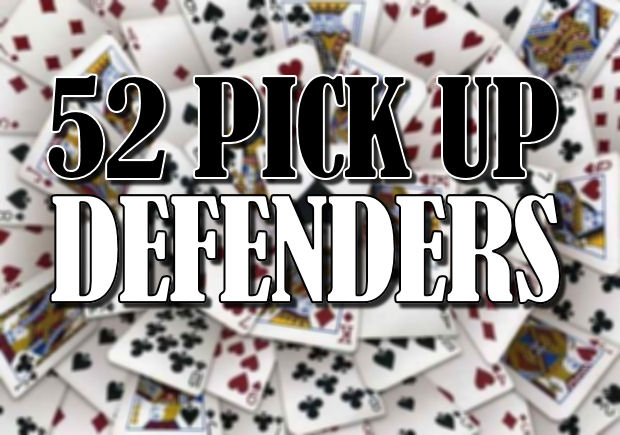 Welcome to the 2014 version of 52 Pick Up – the players who, just because they couldn't be crammed into the Deck of Dream Team, doesn't mean you should gloss over them!
52 Pick Up aims to bring you players, who may be fantasy superstars already, but may not, who might have peaked earlier in their careers, or maybe are yet to peak. These players are selected based on their potential ability for 2014 – both in standard AFL Fantasy and AFL Dream Team – and also in draft style leagues.
Jarrad McVeigh (SYD)
Position: Defender/Midfielder
2013 Average: 97.7
AFL Fantasy Price – $529,900; Real Dream Team Price – $534,100.
In my opinion – he should be your first picked defender this year. Yes, he comes with the inflated price tag – but what you have here is a consistent, proven performer who plays a dream team friendly game. In 2007 – he averaged 60.4 from 22 games. In 2008 – he averaged 83.9. Since then, he hasn't averaged less than 80, and has played every game for the last 3 years – where he has averaged at least 88, with a career high of 97.8 in 2013. He'll sit off half back, picking up those delightful +6's, but he can also go forward and kick a goal. He is a tackling machine, averaging a very healthy 3.5 per game in 2013 and averaged just over 27 disposal per game in 2013, at a DT friendly K:H ratio of 1.44:1.
Final Word: LOCK HIM IN.
Jimmy Bartel (GEE)
Position: Defender/Midfielder
2013 Average: 95
AFL Fantasy Price – $514,900; Real Dream Team Price – $519,000.
DISCLAIMER: This is not a Jimmy bashing. I love Jimmy as much as the next. BUT – here is food for thought: every year since 2007, Jimmy Bartel's DT average has decreased. EVERY YEAR. Yes, the heights of 2007 were dizzying; when he averaged 114.4, but that is now nearly a 20 point drop off since then. Although he is still a wonderful player and vital cog in the Geelong side, he is not the midfield general he once was. He is often now entrusted with kick in duties, and plays deep in defence. Chris Scott has flagged Bartel for a permanent forward role in 2014, and with this role – can you be sure what he will produce, and are you willing to spend that money? Will still be a good scorer in 2014, and I expect him to get the odd huge score – but based on last year's results as well, he will likely have a few quiet games. At that price, it might be worthwhile not starting with him and picking him up for cheaper when you start upgrading.
Final Word: Can the money be better spent elsewhere?
Michael Hibberd (ESS)
Position: Defender
2013 Average: 87.1
AFL Fantasy Price – $472,300; Real Dream Team Price – $476,000
For the first time in his short career, the mature aged Hibberd strung 22 games together in 2013, and averaged a very healthy 87 points per game. I personally had Hibberd for the entire year, and couldn't have been happier with my choice. He sits of half back picking up +6's and is rarely tagged. He is the epitome of a loose man in defence – and it's fantastic to watch. Five times in 2013 went over 100, and only twice scored less than 66.
Final Word: Pick him knowing you will generally get 80+ from him per week – consistency is key in your backline.
Pearce Hanley (BRL)
Position: Defender/Midfielder
2013 Average: 85.55
AFL Fantasy Price – $463,700; Real Dream Team Price – $467,300.
Pearce Hanley is one of my tips to break out in a big way this year. In fact, I think he has the ability to be the highest ranked defender come the end of the year. Since he has become a regular in the Brisbane side, he has played 64 of a possible 66 games, and his DT average has gone from 80.1 in 2011, to 82.4 in 2012 to 85.5 in 2013. His kick to handball ratio in 2013 was an amazing 2.2:1, averaged 21.5 disposal per game and also kicked a very handy 16 goals. Was tagged out of the Collingwood game in round 10 last year – but that was the most one sided game of footy you will ever be likely to see. He has the ability to break lines, and uses the ball amazingly well for someone who (you haven't heard?!?) didn't grow up playing the game. I'd be expecting to see him play through the midfield this year, so make the most of being able to select him as a defender – it might not be the case much longer.
Final Word: Value. Fit him in – Pick him before you pick Bartel.
Bachar Houli (RIC)
Position: Defender
2013 Average: 85.2
AFL Fantasy Price: $461,800; Real Dream Team Price: $465,400
The first thing I notice about Bachar Houli is his consistency. He has played 64 out of 66 possible games since crossing from Essendon to Richmond, averaging over 82 points per game in that span. After a sluggish start to 2013, where he scored 54 and 38 points in his first 2 games, he scored less than 70 on just 2 occasions after that. If we ignore those first 2 games, his stats compare with the best defenders out there. Between Rounds 3-23, he averaged more than 23 disposals per game, and had a DT average of nearly 90. He had 5 scores over 100, including a season high of 120 (albeit against Melbourne). Steven Morris gets the number 1 tagging role on the opposition small forwards, leaving Houli to pick up a half forward type, who he likes to run off and set up play. Look for him to continue his DT friendly role, and with the tigers on the improve, Bachar Houli looks a good bet to be one of the top 10 defenders by seasons end.
Final Word: If you're after a POD start him, knowing he will seldom let you down.
Trent McKenzie (GCS)
Position: Defender
2013 Average: 80.8
AFL Fantasy Price: $438,100; Real Dream Team Price: $441,600
Trent McKenzie is the epitome of POD. Entering his 4th year, he has proven to be one of the most durable and consistent young Gold Coast Suns. He has played 57 of a possible 66 games, which, for a young player entering a new system, shows how highly he his rated. The thing is with the Suns, is they want the ball in his hands. You might know he has a nickname? He has a massive kick on him, so whether it be from taking the ball deep in defence, or roaming around half forward, his team mates will be looking for him. In 2013, he missed the first 4 games with a knee, however returned to the team in Round 5 and averaged 90.5 in his first 8 games. His back half of the season was disappointing, especially for those who picked him up after his start of the season, when he averaged just over 65, with a high score of 81. Early in January this year he sustained an ankle injury at training, deemed not to be too serious, but it did modify his program. Keep an eye on him over the NAB challenge, knowing these is more upside to downside to his potential if he can rekindle is early 2013 form, he his priced well unders.
Final Word: Risk/Reward selection – if he is playing NAB challenge, watch closely.
Grant Birchall (HAW)
Position: Defender
2013 Average: 80.5
AFL Fantasy Price: $436,300; Real Dream Team Price: $439,700
Grant Birchall. For some reason, I (despite being a Hawthorn supporter) can never find a spot for him in my side. However, I'm sure we all remember his start to 2013 – he averaged a whopping 119.75 in his first 4 games, including a massive (career-high) 151 in the Round 4 win over Fremantle. However, I think the white-hot form that he started the season in was, in actual fact, a detriment to the rest of his season. In the next 5 games, he was given close attention by opposition forward taggers, who inhibited his run and carry off half-back, after seeing how damaging he was at the start of the season. He went on to average less than 61 points per game for the next 7 weeks, culminating in a knee injury and red vest against the Eagles in Round 13, followed by 7 weeks on the sidelines. Despite the up and down roller coaster season that was Grant Birchall in 2013, don't forget what he is capable of. He averaged 89.6 in 2011 and 88.6 in 2012. With fellow damaging half-back flanker Matty Suckling returning in 2014, I think we will see yet another consistent season from the Hawthorn veteran.
Final Word: Tough to start with 3 hawks in the backline (assuming Sam Mitchell and Suckling get a gig) – but is a proven, consistent performer – that's if you can forgive him for 2013.
Aaron Mullett (NM)
Position: Defender
2013 Average: 74.3
AFL Fantasy Price: $402,600; Real Dream Team Price: $405,700
Now Aaron Mullett is a real smoky in 2014, less heralded than the other North Melbourne defender who should be on your watch list (see below). Aaron Mullett played a total of 9 games in his first two seasons at Arden Street, averaging 51.1 point per game in that time. He entered his third season coming off a strong pre-season, and his production reflected that. In 2013, he played every game, cementing a spot in the North Melbourne backline, capable of going forward and snagging the odd goal. In fact, he kicked 14.1 for the season, and ending with a solid 74.2 points per game average. He started the season on fire, with scores of 89, 102, 98 and 83 (the first three games were also against the Pies, the Cats and the Swans!). He typically entered a form slump mid-season (not to be unexpected for a 21 year old), when between Round 11 and Round 17 the only time he exited a score from the 60's was a lowly (un-sub affected) 33 against the blues. I think he would have learnt a lot from the 2013 season, and like many of the young kangaroo kids, he is capable of playing forward and back, and running through the midfield, which, for a defender eligible player in AFL Fantasy/AFL Dream Team, is extremely enticing.
Final Word: Monitor NAB Challenge and early season form – he could turn into a keeper at a very reasonable price tag.
David Swallow (GCS)
Position: Defender/Midfielder
2013 Average: 69.6
AFL Fantasy Price – $377,500; Real Dream Team Price – $380,000
It's time. It's time for David Swallow, the number 1 pick from the 2010 Draft, to live up to his potential. Yes, he has been injury riddled and struggled to string games together, but when he is fit, there is no doubting the player he can be. Now entering his 4th season, in a midfield that contains GAJ, Prestia, O'Meara and plenty more talented kids, David Swallow can nearly fly under the radar and show what he is capable of. Interesting to note that his DT average has decreased every year since his debut, and he has struggled to stay on the park. However, in 2012, before he was injured against GWS in Round 7, he averaged a very healthy 88 points per game, which included an average of nearly 23 disposals and a goal a game. He didn't quite live up to expectations in his 3rd season, however, now entering his 4th, and I think he has the potential to finally break out.
Final Word: Track his NAB Challenge closely – is a bargain and a potential keeper if he is fit.
Shaun Atley (NM)
Position: Defender
2013 Average: 67.5
AFL Fantasy Price: $365,800; Real Dream Team Price: $368,700
Unless you've been hiding under a rock, on Mars, listening to Daft Punk and/or Madonna this pre-season (I don't know what the kids are listening to these days), you've heard about the potential breakout year from Shaun Atley. Both Brent Harvey and Brad Scott have told reporters that they expect big things from Atley in 2014. He been tipped for a stint in the engine room, and from all reports, has flourished this preseason. His dream team averaged increased from 60.4 points per game in 2012 to 67.5 points per game in 2013, however the most important thing worth noting is his durability. 22 games in each of those seasons, and in fact, he only missed 6 games in his first season as well, in 2011. He has never scored 100 points in a game, however one would expect that will change in 2014. Was pick 17 in the 2010 AFL draft, it is now time for him to start showing why he was highly regarded – and I think he can do it.
Final Word: Potential break out year, at that price, he is certainly worth considering.
Elliot Yeo (WCE)
Position: Defender
2013 Average: 58
AFL Fantasy Price: $314,600; Real Dream Team Price: $317,100
One of the (many) home sick kids who left Brisbane at the end of 2013, Elliot Yeo was one the cubs whom the lions desperately wanted to hang on to. They knew what he was capable of, and Yeo might be the biggest loss of the lot who left them. The eagles swooped, and have found themselves a handy half-back/wingman (not the nightclub kind – but I'm sure this rooster will do alright once the sun goes down) who is ready to slot into the side. With Beau (tough as nails, but his body fails) Waters struggling to stay on the park, I can see Yeo being groomed into his replacement over the course of the next year or 2. You might notice, I've used no stats in this blurb, (his stats certainly don't scream relevance in AFL Fantasy – he averaged a tick over 58 from 19 games in 2013) – a sea change might just do him the world of good, and there is no doubt of the potential he has.
Final Word: Might be a season too early, but should be on your watchlist – also a handy depth/speculative pick in draft style leagues.
Jackson Thurlow (GEE)
Position: Defender
2013 Average: 59.8 (4 games)
AFL Fantasy Price: $265,500; Real Dream Team Price: $261,100
Jackson Thurlow played 4 games in his debut season in 2013, and (somewhat surprisingly, despite appearing to be a good downgrade option) ended up in many AFL Fantasy sides. The thing to remember with Geelong, is they have such a strong list, and despite the promise a young player might show (with the exception of Joel Selwood in 2007), they are not likely to string many games together. That being said, Thurlow was the cats first round pick in the 2012 NAB AFL Draft, and appeared to fit in nicely at the Cattery in his first season. Must be something to do with him being a Tassie boy I guess. Thurlow has the opportunity this year to slot into the best 22 of the Geelong side, with the departures of Josh Hunt, Joel Corey etc, and the aging players of James Kelly, Corey Enright and others possibly being rested regularly, with this now young again team bristling with talent.
Final Word: Somewhat awkwardly priced – if he is playing early in the season, keep an eye on him.
Sam Darley (WBD)
Position: Defender
2013 Average: 59.5 (4 games)
AFL Fantasy Price: $264,400; Real Dream Team Price: $260,000
With Bob Murphy out for (at least) the start of season, an opportunity arises for the young, skilful and highly regarded Sam Darley. After crossing from the GWS at the end of last season, the doggies are stockpiling their young pups and will certainly give them all a chance throughout the course of 2014. He is highly skilled, and can provide dash off half-back. However, will he play enough games? Third year in the system gives me hope that he may play more than the first and second year players, so keep an eye on him!
Final Word: Very much a speculative pick, the fact that he his entering his 3rd season in the AFL system should see him held with higher value than similar priced draftees – if he is given the opportunity.
Next week it's the midfielders! Follow me on Twitter: @CruttonHutton.