Jeppa's Juniors – 2014 Midfielders
There's an abundance of rookie priced midfielders this season and as usual Jeppa has left no stone unturned. We guarantee there are a few young midfielders in this article that you haven't considered!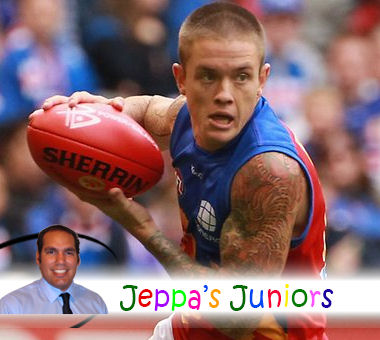 Like the forwards, there are numerous rookie midfielders to choose from this season. Some are expensive thus a little risky, others are from left field and of course there are plenty of value options too.
Here are my best rookie mids for this year…
Dom Sheed
AFL Fantasy Price: $235,800
AFL Dreamteam Price: $162,800
Predicted Average: 74
My boy! Yep I'm claiming him early. Sheed is a strongly built, in and under midfielder who has drawn comparisons to Simon Black. He won last year's Larke Medal after being judged the MVP of the Under-18 Championships. Whispers in the West say that Sheed is very much in the frame for a Round 1 debut however, coach Adam Simpson isn't building him up at this stage and wants to see what he can do in the NAB Cup (source). Sheed is expensive in both Fantasy and Dreamteam but his job security and a dominant display in the NAB Cup will justify the extra spend.
Viv Michie
AFL Fantasy Price: $193,900
AFL Dreamteam Price: $214,100
Predicted Average: 77
A new club and clean slate with coach Paul Roos will do wonders for Michie who left Fremantle due to a lack of senior opportunities. Michie won Peel Thunder's fairest and best last season after averaging 26 disposals, 4 marks, 4 tackles and 96 Fantasy points. He'll be used as an inside midfielder at Melbourne so based on last year's WAFL stats he should average 75+ Fantasy points at AFL level. With so many new faces it's hard to gauge where Michie sits amongst the Dees midfielders at the moment so sit tight and watch his performances closely in the NAB Cup.
James Aish
AFL Fantasy Price: $246,600
AFL Dreamteam Price: $182,800
Predicted Average: 66
Aish will play plenty of senior games this season and we'll get our first look at him this Thursday night when the Lions take on the Hawks. Aish is a very effective user of the footy off both sides of his body and is excellent in tight. He's played in Norwood's last two SANFL premierships and that senior experience has helped fast track his physical development. Even though Aish's job security is very high, he averaged just 16 disposals in the U/18 championships last year, which will provide little return for a player of his price. With other value midfield options available, Aish is a long shot at this stage.
Alex Woodward
AFL Fantasy Price: $115,200
AFL Dreamteam Price: $119,200
Predicted Average: 64
Two knee recos in two years. It's been a long hard road for Woodward but let's hope 2014 is his year. He's a strongly built in and under midfielder who has gained praise from Sam Mitchell as one to watch this season (source). Woodward has trained extremely hard all preseason and he's been rewarded with selection in the Hawks first NAB Cup game on Thursday. I'm a huge wrap for Woodward but it's likely he'll be given a few games in the VFL before been named in the seniors. Put him on your watchlist regardless.
Luke Dunstan
AFL Fantasy Price: $216,800
AFL Dreamteam Price: $127,800
Predicted Average: 73
How much you lift bro? Word is, 18-year-old Dunstan lifts more than the third and fourth year players at St Kilda! This man-child is set to play a lot of senior footy this year. He was a standout performer during the Saints intra club game last Saturday playing as both an inside and outside midfielder. Coach Alan Richardson said that Dunstan has had a fantastic preseason to date and if continues the way he's going then he'd play games early on (source). At $127,800, Dunstan is a lock for Dreamteam and a very wise investment for Fantasy. Lock him in!
Matt Crouch
AFL Fantasy Price: $203,200
AFL Dreamteam Price: $112,800
Predicted Average: 79
When I heard Nathan Van Berlo ruptured his Achilles tendon earlier this year, my first thought was opportunities for Matty Crouch. Brother of Brad averaged 38 disposals in the TAC Cup last year and is king of the clearances. Brenton Sanderson has already said that Crouch will be given plenty game time in the NAB Cup (source) so lets hope he is able to take on the bigger bodies and perform well. By seasons end, I suspect that Crouch will be one the best cashcows of the year and at worst, he should be on everyone's midfield bench at this stage of the game.
Christian Salem
AFL Fantasy Price: $241,200
AFL Dreamteam Price: $172,800
Predicted Average: 68
One of the greatest compliments in football has to be, being named as the next Luke Hodge. Salem has a dead eye of a left foot and he aint bad off his right either. He made an impression during the Dees intra club match last week (source) and is doing all the right things to be named for Round 1. His hefty price tag in both Fantasy and Dreamteam is a big negative and to be honest there are far more value midfield picks than Salem. That's not to say Salem won't perform well…he'll still produce a decent average!
Jack Martin
AFL Fantasy Price: $268,300
AFL Dreamteam Price: $217,800
Predicted Average: 80
Martin needs just a handful of possessions to burn the opposition. He's a great decision maker, spots up targets on both sides of his body and doesn't hesitate going in for the hard ball. Martin played only 12 NEAFL games last year but was named in the bests in 8 of them…this kid is a serious talent. He has no job security issues and will rotate between a wing and half forward flank. The Suns will likely 'manage' him throughout the year so be prepared for a scheduled rest or two. Priced at almost $270,000 for Fantasy, Martin gives you very little value but he is definitely worth a look in Dreamteam.
Mitch Hallahan
AFL Fantasy Price: $115,200
AFL Dreamteam Price: $119,200
Predicted Average: 63
Hallahan was named joint winner of the J.J Liston Trophy (VFL B&F) last year and he's making a strong case for regular senior selection at the Hawks this season. Shiels, Simpkin and Sewell are a few mids that are constantly under pressure to perform at Hawthorn hence why I think Hallahan could be an good option. He averaged 22 disposals (11 contested), 4 marks and 4 tackles playing as an inside midfielder in the VFL and has completed a full preseason to date. Senior opportunities will hinge a lot on his NAB Cup form so if he does really well on Thursday and beyond expect him to be named for Round 1.
Dom Tyson
AFL Fantasy Price: $218,400
AFL Dreamteam Price: $250,700
Predicted Average: 64
Paul Roos is a big fan of Tyson (source) and he'll play plenty of senior footy as a result. The No. 3 pick in the 2011 draft never got going at the Giants but a fresh start and excellent mentor in Roos could change all that. He'll line up on a wing for the Dees and will play a similar role to Andrew Gaff. Stats wise Tyson may struggle for consistency but he's one of the more elite kicks at Melbourne. Pick him with caution because I suspect that his scores will be a bit flat to start the year while he learns his role for his new team.
Claye Beams
AFL Fantasy Price: $187,400
AFL Dreamteam Price: $198,800
Predicted Average: 74
Beams is a must have this season! Even after sustaining an ACL injury early last year, Beams has been killing it on the training track and will take part in Round 2 of the NAB Cup competition. Like his brother Dayne, Claye has the football smarts, wins the contested ball and is very skillful. New coach Justin Leppitsch feels Beams will be like a new recruit for the Lions (source) and plans to use him in the midfield. Beams is determined to succeed and says that he is playing for his livelihood this year (source) so expect big things!
Xavier Ellis
AFL Fantasy Price: $135,500
AFL Dreamteam Price: $163,900
Predicted Average: 79
Ellis joined West Coast in the off-season as a free agent and is highly regarded by new coach Adam Simpson. His pin point left foot will make him a value addition to the Eagles half back line (source) as long as he can stay injury free. Ellis has managed only 8 games in the last two seasons after countless soft tissue injuries so please note that he is a risky pick. He has trained very well over the summer months thus far and should be named to play in the NAB Cup at some point. If he performs well for the remainder of the preseason we'll all be forced to pick him.
Clinton Young
AFL Fantasy Price: $218,300
AFL Dreamteam Price: $231,600
Predicted Average: 73
After injuries restricted his form last season, Young has a lot to prove to the Collingwood faithful in 2014. Buckley will want the dashing wingman to run and carry the ball as often as possible this year and use his raking left foot to maximum effect. The problem I have with Young is that he does not win enough of the football. His best season to date was with a dominant Hawthorn side in 2012 where he averaged only 18 disposals, 5 marks, 3 tackles and 81 Fantasy points. Young has been named for tomorrow's first NAB Cup match against the Cats so watch him closely. At this stage Young does not feature in both my Dreamteam and Fantasy sides due to his price and lack of value however, that could change post NAB Cup if he performs well.
Jared Polec
AFL Fantasy Price: $135,500
AFL Dreamteam Price: $169,300
Predicted Average: 69
The silky left footer struggled to live up to his Top 5 draft expectations at Brisbane and requested a trade home at the end of last season. The support of family and friends in Adelaide has had a positive effect on Polec's attitude towards football and there's been a lot of preseason praise for the youngster (source). Even though he looked very sharp playing on the ball in Port's intra club game on Saturday (whites no. 21, video link), Polec is set for a half back role at Port this season. He's too cheap to ignore in Fantasy but I would wait and see if he provide decent value in Dreamteam before locking him in at $169,300.
Josh Kelly
AFL Fantasy Price: $260,200
AFL Dreamteam Price: $207,800
Predicted Average: 72
Kelly is another gun midfielder to arrive at the Giants. He averaged 27 disposals (68% efficiency), 5 marks and 4 tackles in the U/18 championships last year and was ranked elite by Champion Data in disposals, uncontested possessions, score involvements and score assists. He should debut in Round 1 this season but the Giants will manage his workload throughout the year. Kelly is far too expensive to be considered for Fantasy but is worth a look in Dreamteam. If he scores well in the NAB Cup and looks a class above then I'll consider him.
Patrick Cripps
AFL Fantasy Price: $230,300
AFL Dreamteam Price: $152,800
Predicted Average: 72
Carlton surprised many by selecting Cripps at pick 13 in last year's draft but it shows you how desperate they were for a young in and under midfielder. At 190cm and 88 kilos, Cripps is a big boy and has drawn comparisons to David Mundy. Initially, I thought he'd be given a year in the VFL to develop his game but with Judd out for 8 weeks and Malthouse stating publically that Cripps fits into the best 22 at Carlton (source), he now has to be considered. At this stage, I wouldn't spend that much on him in Fantasy but he's very tempting for Dreamteam. Let's wait and see how he goes in the NAB Cup.
Jesse Lonergan
AFL Fantasy Price: $224,400
AFL Dreamteam Price: $248,300
Predicted Average: 70
Lonergan has been forgotten by many but trust me, he is a player worth considering. The big-bodied midfielder started 2013 with a broken wrist and suffered numerous hamstring injuries in the second half season. He's put last year's injury setbacks behind him and had a fantastic preseason thus far. Lonergan is quite pricey as far as rookies go but racks up the possessions, loves to tackle and is a certain starter for Round 1. He stated earlier in the year that he'll rotate between the midfield and half forward flank (source) so expect a few goals amongst his stats also. Put him on your watchlist. You'll thank me later.
Brandon Jack
AFL Fantasy Price: $187,500
AFL Dreamteam Price: $194,800
Predicted Average: 64
Here's a sneaky pick for you! Brandon Jack was one of the most improved players at the Swans last year and he'll be looking to make more gains in 2014. He averaged only 36 Fantasy points from 9 games in 2013 but he started 4 matches in the green vest and was red vested in another. With Bolton and Morton retiring and Lamb moving to GWS I think there is a spot for Jack in the Swans starting 18.
If you missed DT Talk's Mad Monday podcast this week then you missed an exclusive on Jonathon O'Rourke. Timmy Mohr has confirmed that O'Rourke has recently suffered a back injury and is very unlikely for Round 1. On the plus side we'll have an excellent downgrade target during the season so keep your eye on him. 
By the sounds of it, Nathan Freeman will be working on areas of his game in the VFL before he cements a spot in the seniors (source). I find this hard to believe because he's an elite talent and in my opinion Freeman should be in the Pies Round 1 team. We will definitely see the pacey midfielder at some point this year so lets wait and see what happens. Another high draft pick in a similar boat to Freeman is Marcus Bontempelli. The Bulldogs will wrap the lean teenager in cotton wool for at least the first half of the season but he should feature in the latter rounds.
Other rookie priced midfielders that could come into Fantasy and Dreamteam contention include Eli Templeton, Harry Marsh, James Battersby, Darcy Lang, Jed Anderson, Tom Temay, Anthony Morabito, Blake Acres, Dean Towers, Billy Hartung, Nick Graham, Harry Cunningham, Jamie Bennell, Dylan Buckley, Jarred Jansen and Nick Robertson.
Look out for my post NAB cup analysis on the midfield rookies that performed well, those that struggled and maybe one or two that snuck under the radar!
Keep an eye out for my defenders article tomorrow!
Remember you can follow me @JeppaDT for all rookie relevant topics and more!