Warnie's Pre-NAB Challenge AFL Fantasy team
For the last few years Warnie has posted his pre-NAB Cup team. This is always a far cry from what he fields to start the season but it includes players in his thoughts along with some of the 'hyped' players floating around.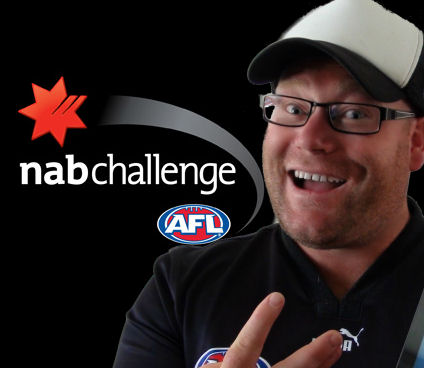 This is the last Sunday for a long time where there won't be any footy! So I thought this would be a perfect time to release my AFL Fantasy pre-NAB Challenge team for this year.
Now being perfectly honest here, I haven't really put together a team for myself until the last couple of days. In between doing our AFL thing as 'The Traders', keeping DT Talk ticking over and being back at work… I have pretty much said to myself I won't cut my list of approximately 100 names down until I've seen some NAB Challenge games and have an idea of some best 22's, etc.
There's been plenty of great pre-season content on DT Talk and some fantastic teams being posted in My Team to give people an idea of what players are looking likely. Chad's Drawing Board team picker has been brilliant and some of the ownership figures in there gives a bit of a view of what players are being selected.
The NAB Challenge starts on Wednesday night and if you weren't aware, we're getting 18 games of footy over the 18 days following that. Each team will play twice and all games are broadcast live on Fox Footy. Brilliant for our AFL Fantasy study – but maybe not so much for my relationship!
So anyway, I've whacked together a squad that you can pick apart, rip into, copy or just go 'meh' to. It's going to be a fair way off what I'll look at as my 'starting squad' however there are a lot of names I think will make the cut for me. By the way, this isn't the round one free hit team… this is me selecting a team to 'start' the season with; ie. how I'll look to start round two.
Here it is, an early February version of the Warne Dawgs.
My structure is something that I'm not 100% sure on. I thought I would actually go a bit deeper in the backline and just have one 'rookie' on the field. Jarrad McVeigh and Sam Mitchell are pretty close to being locks with the obvious one in Matt Suckling. I am very keen to have Michael Hibberd as a POD whist Bachar Houli is certainly in calculations back there. I'm finding it hard not to have Luke McDonald… but hopefully I can work out who will be the best guys to fill those last 3-4 positions. Structure here may change.
After thinking that I could start without Dane Swan and Gary Ablett, I've included the pig after hearing Calvin tell me every day I need him. Whilst he's not a 'lock' I think he'll stay… it's just that these two trades per week means that value is important. We can get the Swan's of the world in. The value of Jobe Watson, Dayne Beams and Dale Thomas can't be ignored and I am pretty close to throwing away the key on Brandon Ellis. He'll definitely average mid-90's. The cheapies/cash cows will sort themselves out, but those names I like at the moment.
When the news broke of Redden's injury, I am sold on Port Adelaide's Matthew Lobbe at the moment to sit next to Aaron Sandilands. His numbers were great coming home last year. Also, he was talked up about his game yesterday in the intra-club, so he sits there now. Bench – geez… I am probably overspending. Thinking I can throw R4… but at this stage, they're there. Currie might come in for Nankervis to free up some coin as I believe both have about the same (limited) chance of playing.
My forwards feel vanilla. Dangerfield, Martin and Franklin will appear in most teams I'm thinking from the get-go. If Mitch Clark is fit, then at that price he has to get a gig. Fasolo is another who may pop in there too. I'm all over Paul Chapman as a fellow bald man and now he's a Bomber, he's a must for me! Around these guys, the NAB will tell us more.
Currently I have $51,700 sitting in the bank. As I've said… this will change a lot and the big thing is that it's really 'a' side, not so much 'my' side. That may be revealed at a later date! You can head on over to fantasy.afl.com.au and pick your team and if you want to play against me (or Roy or Calvin), you can add us to your league as a celebrity (yeah, their words… not ours!).
Stay tuned to DT Talk for HEAPS more content over this pre-season and throughout the year. Be ready for the onslaught of NAB Challenge stuff too starting Wednesday evening! Boomshakalaka!
Follow me on Twitter: @WarnieDT.