Jeppa's Juniors – 2014 Ruckmen
It's been a big week of Fantasy analysis for Jeppa and the craziness continues with his best rookie ruck options for 2014. If you're serious about your Fantasy then this is a must read.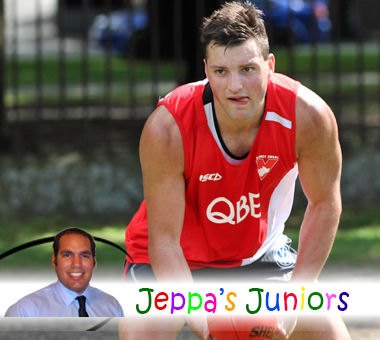 After a heap of research into every rookie priced ruckman ($250,000 and under), our options are few and far between. I've narrowed down the best options to just a handful and that includes big Sandilands. Let's hope a young beanpole stands up during the NAB Cup!
Aaron Sandilands
AFL Fantasy Price: $244,500
AFL Dreamteam Price: $270,800
Predicted Average: 87
Sandi is proven Fantasy gold. Before last season, the big fella averaged 90+ four years straight. He's had his best preseason in years and will likely feature in at least two NAB Challenge matches (source). The problem with Sandi though is his durability. 7 games in 2013, 12 in 2012 and 13 in 2011 does not sit well with me and as a result I feel that he is not an automatic starter especially in Dreamteam. His injury risk is very high given his age and size but his potential means he's too good to pas up. I've currently selected Sandi as my 3rd ruck in both Fantasy and Dreamteam to avoid the disappointment of a scheduled rest, ¾ time red vest or first quarter injury. A must have one way or another.
Billy Longer
AFL Fantasy Price: $194,400
AFL Dreamteam Price: $239,000
Predicted Average: 63
After requesting a trade to St Kilda in the offseason, more opportunities will be given to Billy the Kid. At 20 years of age, Longer is still very raw and has a heap to learn but new coach Alan Richardson appears keen to play both he and Hickey in the Saints 22 (source). Longer's agility and strong hands means he'll spend more time forward than in the ruck but if Hickey goes down with an injury then he's the main big man at the Saints. There's no doubt that Longer will develop into one of the league's premier ruckmen in a few years so let's hope the Saints fast track his development with plenty of senior games in 2014. He'll be a very popular third ruck choice this season but those that select him shouldn't expect an average greater than 65.
Majak Daw
AFL Fantasy Price: $226,600
AFL Dreamteam Price: $259,500
Predicted Average: 69
The genetically blessed Daw is set for a huge 2014 season. Brad Scott describes Majak's best as 'unstoppable' and his talent is too good to ignore (source). He showcased his potential in Round 7 last year after an 18 disposal, 8 mark and 6 goal game against the Dogs (128 Fantasy points!). Daw will play predominately as a deep forward this season and pinch hit in the ruck when Goldstein needs a rest. Aerobically, the 23 year old has improved but only slightly so expect a few red vests. With very few ruck rookies showing promise, Daw comes into serious calculations given his job security and Ruc/Fwd DPP. Don't rule him out!
Toby Nankervis
AFL Fantasy Price: $170,700
AFL Dreamteam Price: $112,800
Predicted Average: 62
Nankervis is the only ruckman drafted last year likely to get a run in 2014. Mumford's off season departure sees Pyke take the reins as the number 1 ruckman at the Swans and I believe Nankervis is number 2. The young Tasmanian will have competition from Tom Derickx but I believe he's got him covered.  With an abundance of tall forward stocks, Sydney appears likely to play Pyke as their sole ruckman and use Tippet part time on the ball when the big Canadian needs a rest. Pyke has been recovering from a knee injury for the majority of this preseason and is a little underdone meaning Nankervis could feature early. Watch him closely in the NAB Cup.
Daniel Currie
AFL Fantasy Price: $115,200
AFL Dreamteam Price: $119,200
Predicted Average: 63
If Todd Goldstein picks up an injury between now and Round 1 then lock in Daniel Currie. Currie didn't suit up at all last season but was very close to selection in May before a thumb injury ended that hope. I have no doubt that Currie has what it takes to make an impact at AFL level. He was named in the bests for Werribee 10 times from 17 games last year so the talent is definitely there. Currie has been challenged by Brad Scott to force his way into the side (source) and I am almost certain that he'll be rewarded for his hard work with a few senior games at some point this season.
Here are my comments on a couple of rookie listed ruckmen…
If your strategy is to select the cheapest 4th ruck available then pick Fraser Thurlow. He's a ruck/forward DPP but won't play early in the season even though Bellchambers is out for 3 months with an ankle injury. The Bombers will use Ryder and Daniher in the middle so unless an injury strikes one of these two, Thurlow will be biding his time in the VFL. Interestingly, Essendon recruiter Adrian Dodoro did say that Thurlow would be able to play when called upon (source). Watch this space!
By the look of a recent SwansTV article (source), Sam Naismith will need to string together some good performances in the reserves before being considered for a senior game. Assistant coach Stewart Dew stated that Sammy can learn off those with senior experience and then start to challenge for a position. Naismith is fit again after injury interupted 2013. He won't play Round 1 and he'll need to be promoted to the senior list via a long term injury or an early retirement before he can be given an opportunity. In summary, stay away early on but put him on your watchlist if a serious injury strikes Pyke or Nankervis.
Other rookies priced ruckmen that could come into Fantasy and Dreamteam contention include Michael Apeness, Jack Leslie, Jonathon Ceglar, Stefan Martin and Ben Brown.
Look out for my post NAB cup analysis on the ruck rookies that performed well, those that struggled and maybe one or two that snuck under the radar!
If you missed my forward rookie options for 2014 then check it out here. More rookie analysis is coming soon!
Remember you can follow me on Twitter @JeppaDT for all rookie relevant topics and more!