Lefty's Leftfielders 2014 – Drew Petrie aka 'The Dish'
Drew Petrie is the first of Lefty's Leftfielders for this year. He's one of the guys we normally skim past and dismiss form our starting squads as they're not a premo and not a cash cow. Should the North Melbourne forward be a fantasy option this year?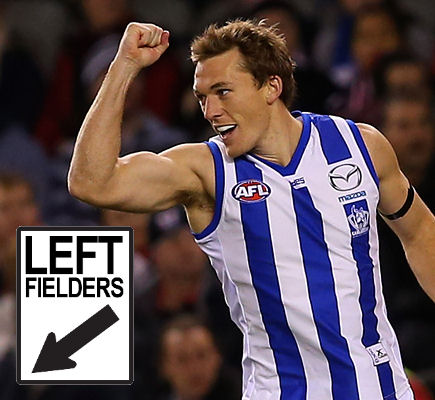 G'day,
Hope you all have enjoyed your summer, I have to say watching Mitchell Johnson make the England team (apparently South Africa, Scotland, Wales and New Zealand are all in England?) look like bunnies in the Ashes has been great fun.
But the real stuff is just around the corner – and that means it is time to start looking at our squads and working out where we can get an advantage over the pack.
Enter the Leftfielders. Those guys we normally skim past and dismiss from our starting squads. The guys we look at and say 'he's not a premo, he's not a cash cow" but with a little more research suddenly appear more enticing.
Last year in the Leftfielder's section we found some pearls in Kieren Jack, Nick Riewoldt, Craig Bird (rounds 10-16 averaged over 100 !) and even guys like Moloney did his job for our teams early.
We also found some cheap nasty costume jewellery (ie they looked very pretty at first but turned out to be worthless) like Nick Suban, Stefan Martin etc. In fact the best thing Stefan did all season was finally get injured and force me to trade him out about round 8 from memory.
But that's all part of the rollercoaster ride of going unique I guess, you are pretty unlikely to get all the calls right but it is very satisfying winning that head to head match in your league thanks to your unique pick.
I have used the team picker stats from the excellent DT Live to select my 'Leftfielders'. I have set the parameter that they must be in less than 15% of teams on the site to qualify. (To put this in perspective with 18 players in a league, 15% ownership is less than 3 owners of that player in your league by average)
Anyway, welcome to the first edition of Lefty's Leftfielders – first up on Lefty's Leftfielder's is Drew Petrie.
Name: Drew Petrie
Club: Kangaroos
Position: Forward
AFL Fantasy Price: $464,600
AFL Dream Team Price: $468,300
Bye Round: 8
Percentage owned: 0.3%(!!)
Argument For
In 2013, Petrie played 22 games for an average of 85.7 which continues his amazingly resilient run of at least 21 games in 10 of his last 11 seasons, with only his injury ruined 2010 season (2 games) breaking his run. This guys plays week in, week out and delivers at a consistently high standard.
On 5 occasions in 2013 he scored 100 or more and put up between 83 and 100 on a further 8 occasions. That is at least 83 in 13 of the 22 games which is a great return from a forward. ie over 60% of games returned over 83 points.
With 3 scores over 118 last year including a high of 136 versus St Kilda, 'The Dish' cashes in when having a good day which is exactly what you want from an effective POD to win you that tight league game against your mate.
The Kangaroos first 4 opponents in 2014 and Petrie's 2013 scores against them are:
| | |
| --- | --- |
| Team | 2013 Scores |
| Essendon |  134 |
| W Bulldogs |  110 |
| Port Adelaide |  83 |
| Sydney |  31 |
Obviously the big concern here is he score in the Sydney game, from memory Richard's followed him all day like a shadow and the Roo's didn't kick to Petrie very well at any stage. The Swans won by 40 odd points and the ball didn't spend a lot of time in the Kangaroo's forward half either which all contributed to his paltry total.
I really like the look of the Kangaroos team this year, the addition of Del Santo is clever, the development of the 'newer' mids like Bastinac, Gibson, Cunnington etc all look like good players and will help out the likes of Swallow, Ziebell and Wells. In the forwards Black and Tarrant continue to improve and are becoming more of a scoring threat and also seem more aware of how to create space and avoid allowing the 3rd man up on Petrie all the time. Lindsay Thomas getting over his goal kicking yips means defenders have to pay him more attention also and can't just zone off.
The Kangaroo's penchant to play 1 lone ruckman is helpful for Petrie as well, he gets to spend short stints in the ruck where he has shown a real liking for tackling. Those +4's can add up really quickly and make a big difference to his total score.
Note : North play the Giants, Bulldogs, Crows and Melbourne in the last 4 rounds of the season ie DT finals time. Personally I would be a bit nervous coming up against a team with any North player with that run of games, let along a proven goal scorer like Petrie…….
Argument Against
Obviously there has to be a downside and risk otherwise everyone would already have picked him. He had a low of 31 and scores of 50 and 57 in 2013 which is obviously a big concern. The Kangaroos lost all three of these games, 'The Dish' only kicked 1 goal from all three of those matches just outlining even further how important he is to their chances this year.
Another potential concern is whether the Roo's will alter their focus on big Drew with the development of Black, Tarrant (and to a smaller degree even Majak Daw)? Despite Petrie's past efforts the Roo's have fallen short too many times and there may be a change in their game plan to make it a more varied attack? Personally, I don't think this will be the case but is certainly something to keep an eye on.
He most likely won't make you much money as he is priced bang on his average. Will the Roo's probable increase in success translate to improved scoring for Petrie? I think so but that might be just my optimistic view.
Having the bye round of 8 isn't ideal for those trying to manage their squad to avoid too many from each bye week. (I on the other hand may look to 'tank' in one of the bye rounds and if so 8 is the perfect one in my opinion.)
Lastly, the Dish isn't any spring chicken. At 31 years of age he is definitely approaching the twilight of his career and that is something you need to consider if he is 50/50 for your team. (Although like I alluded to earlier this guy seems immune to soft tissue injuries)
Lefty's Call
I think North will win more games (lets face it they have to win some close ones eventually!) Better delivery to The Dish via Del Santo and a freed up Wells should result in more +12's, and if they continue with Goldstein as sole ruck Petrie should continue to benefit from ruck knocks and extra tackles at stoppages when big Todd is resting forward/benched.
RDT – Very unique, very hardy and has proven ability to go large. Plus gives you someone to watch from Kangaroo's matches as I am struggling to fit any others into my initial squad (MacDonald maybe). Given we only have 30 trades a fwd we can set and forget who averages high 80's is like gold. Better value than say Buddy in my opinion as you won't (hopefully!) have to spend any trades for suspensions, injuries etc which Buddy has shown a prevalence for. Yes Buddy is cheaper I know and is capable of monster games – but if Buddy only plays his 4 year average of less than 18 games in the season (2010-2013) you need to consider who is actually worth more given the 30 trade limit?
Fantasy – pretty simple here. If The Dish goes bang round one load him in when setting up your round 2 'actual' starting squad. If he goes for below 80 then probably don't start him in your squad in round 2 as he will be cheaper in round 3. This (unfortunately) is about as much research as you need to do for AFL Fantasy with the unlimited trades until round 2, although I guess with only 2 trades per week you need to work out in advance which two you will be targeting after their round 2 price drop,( most likely any uber premiums who score 20-30 below their average in round 1). The above point re Petrie's durability is obviously far less critical in Fantasy with the luxury of two trades each week.
There you go, the first of the Leftfielders for the year. Hope this article has given you something to think about, he won't be for everyone but he is locked in my Round 1 squad barring injury.
Cheers
Lefty
Feel free to give us a shout on twitter, @Lefty113
p.s. I really like Petrie's chances this year for the Coleman. ($34/1 at the moment btw….)