Jeppa's Juniors – 2014 Forwards
Jeppa's back and primed for another big year as our resident rookie expect. Over the next two weeks he will look at the best rookie options in each position, starting with all the value forwards. This is not to be missed!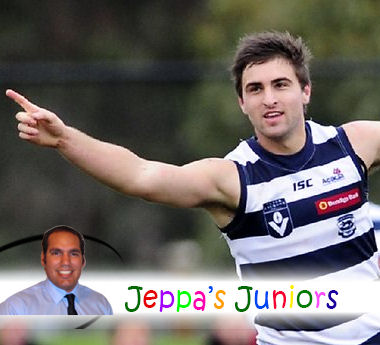 What a big couple of weeks it has been in the world of Fantasy! Both AFL Fantasy Classic and The Real Dreamteam have opened for business and we are now aware of all rules, pricing and prizes! Personally, I'm excited to have two forms of the game that I love…my wife isn't though.
Like every preseason, the challenge is to find rooks that will score well and earn you the big bucks fast. There's an abundance of rookie forwards this season and thus strategy comes into play. How many rookie forwards do I start? What's their job security? At this stage, there is too much talent to ignore so I'll likely be starting with three rookie forwards on my field in both Fantasy and Dreamteam.
In no particular order, here are my best forward rookie options for 2014…
Jack Billings
AFL Fantasy Price: $257,400
AFL Dreamteam Price: $202,800
Predicted Average: 72
Billings is a very skilful half forward worthy of Pick 3 in last year's draft. When you think of Billings, think of a young Stevie J…creative in front of goal, clean by foot (left and right) and a match winner. The Saints are in a rebuilding phase and need to develop their young list so expect Billings to play a large chunk of the season. As a Fwd/Mid his appeal increases but his price will put off many especially in Fantasy. If he does well in the NAB Cup he may be too hard to ignore.
Shane Kersten
AFL Fantasy Price: $115,200
AFL Dreamteam Price: $119,200
Predicted Average: 67
Expect Kersten to play a key role for the Cats in 2014. He'll be used as a second lead up forward alongside Hawkins and Vardy thus not attracting the best opposition defender. Kersten is very quick, has a strong pair of hands and can kick it a mile. He averaged over 3 goals a game in the VFL last season which will carry over at AFL level with Selwood, Stevie J, Duncan etc putting it lace out on his chest all year. Even after a slight injury this preseason (source), pencil in Kersten as your 8th Forward in both Fantasy and Dreamteam because his job security is arguably the best all the rookies yet to play an AFL game.
Alex Fasolo
AFL Fantasy Price: $208,400
AFL Dreamteam Price: $239,300
Predicted Average: 68
This classy half forward will add some flair to the Pies forward line in 2014 given his exceptional foot skills and goal kicking capabilities. Fasolo got through the Pies intra club match on Saturday unscathed and is on track for Round 1 but he is no walk up after Elliott and Dwyer both had excellent seasons last year. At this stage, I am sceptical about spending over $200,000 on a player limited to a forward 50 role and coming back from serious injury. Additionally, Fasolo doesn't hit the big scores too often and will probably average around 70 this season. If he fires during the preseason competition then I'll need to reassess. A 'safe' option if he can stay injury free.
Lewis Taylor
AFL Fantasy Price: $189,700
AFL Dreamteam Price: $112,800
Predicted Average: 71
This Geelong Falcons product is an inside and outside, ball winning midfielder who reads the play exceptionally well. Taylor finished equal 1st for clearances per game in the Under 18 Championships and had the highest average for uncontested possessions in the TAC Cup. With a mass exodus of young players during the trade period last year, Taylor is in the best 25 at Brisbane. He is still recovering from a foot injury suffered at the end of last season but should be ready for Round 1. In summary, Fwd/Mid Taylor is a LOCK for Dreamteam at the bargain price of $112,800 and a worthy of Fantasy pick even with a $189,700 price tag.
Gary Rohan
AFL Fantasy Price: $138,400
AFL Dreamteam Price: $176,600
Predicted Average: 60
Rohan returned from a long layoff in Round 21 last year but ran out of time to make an impression before the season's end. Fortunately, he's managed to complete most of the preseason to date and looks set for a big year. There's no doubt that Rohan is in the best 22 at Sydney but there is a lack of Fantasy scoring potential regarding this lightning quick red head. He's averaged less than 55 Fantasy points in all four of his AFL season's and has never cracked the ton. Even with his job security, is he still a smart pick? Probably.
Jesse Hogan
AFL Fantasy Price: $265,600
AFL Dreamteam Price: $212,800
Predicted Average: 68
When you win the B&F for a VFL club as an 18 year old, it means you've got game. Hogan averaged 15.1 disposals, 7.1 marks, 1.9 tackles and 2.6 goals for Casey last year and he'll be a focal point in the Dees forward line this season. He's currently recovering from a jarred knee and is yet to rejoin the main training group but should be ready for Round 1. Even though he is priced over $200k in both Fantasy and Dreamteam, I suspect Hogan will impress during the NAB Cup against the bigger bodied key defenders thus you'll need to consider him.
Jed Lamb
AFL Fantasy Price: $243,400
AFL Dreamteam Price: $245,400
Predicted Average: 72
He's expensive but a new club and more opportunities will see Lamb significantly improve on his 45 average from last season. Unlike his time at the Swans, Lamb will avoid the green vest and play a major role in the staring 18 as a high half forward (source). @RLGriffin85 covered Lamb in one of our Decks this preseason and in summary he feels that there are more pro's than con's (check it out). The problem for me at this point is can he consistently score above 75 to justify his price? Let's wait and see.
Dayle Garlett
AFL Fantasy Price: $162,600
AFL Dreamteam Price: $112,800
Predicted Average: 64
Bad boy Garlett copped a reality check after been overlooked in the 2012 draft and worked hard last year for Swan Districts playing predominately as a small forward. He averaged 12.4 kicks, 3.5 handballs, 5.9 marks, 1.6 tackles, 2.5 goals and a massive 102 Fantasy points in the WAFL and there is no reason why he cannot carry these stats into the AFL. Clarko has been quoted as saying that Garlett is talented enough to be named for the Hawks in Round 1 so keep and eye on this Fwd/Mid! At $112,800 I think he is a Dreamteam bargain but I'm baulking a bit at the $162,600 price tag for Fantasy. Time will tell if Garlett can secure a spot in the Hawks 22, Mitchell says he's still got a lot to learn!
Daniel Markworth
AFL Fantasy Price: $115,200
AFL Dreamteam Price: $119,200
Predicted Average: 68
Markworth missed last season due to a knee reconstruction but thankfully 2014 looks to be his year. He has returned to full training and will be working very hard to make a name for himself amongst his young teammates. Markworth is a medium sized forward who can comfortably play on a wing. He comes dirt cheap in both Fantasy and Dreamteam so if he performs well for the remainder of preseason he could take a forward role vacated by Ahmed Saad. Watch this space!
Mitch Clark
AFL Fantasy Price: $213,300
AFL Dreamteam Price: $236,000
Predicted Average: 80
After overcoming a foot injury that kept him for the majority of last season, Clark will play some part in this year's NAB Cup (source). The big fella has been nominated by Paul Roos as a forward and part time ruckman for the 2014 season so I'd expect an average of around 80. Clark is priced over $200K in both AFL Fantasy and Dreamteam but the hit you take on cost is justified by his job security. Normally, I'm against selecting key position players but I'm prepared to make an exception on Clark. He's agile and very good at ground level for a big man, he has really good hands and if he spends 20% of ground time in the ruck his Fantasy value jumps up a notch.
Nathan Bock
AFL Fantasy Price: $135,900
AFL Dreamteam Price: $180,300
Predicted Average: 76
Bock comes very cheap this year after missing all but six games in the past last two seasons. Fortunately, the Suns vice captain has been running pain free since November and undertaken most of the preseason. With Rory Thompson, Warnock, Day and May all vying for key defender roles, I'm pretty confident that Bock will be used as a key forward in 2014. If he has a successful NAB Cup campaign then he'll be a very popular selection in both Fantasy and Dreamteam. Keep an eye on this All-Australian veteran!
Tim Broomhead
AFL Fantasy Price: $184,300
AFL Dreamteam Price: $119,200
Predicted Average: 77
This young South Australian started last year behind the eight ball after contracting Glandular Fever. He only managed to make his first VFL appearance in mid May and from his 13 reserve matches, Broomhead averaged 14 kicks, 7 handballs, 5 marks, 3 tackles and a goal a game playing as a midfielder. In the Pies intra club match last Saturday, Rodney Eade said Broomhead performed very well! It's going to be hard for him to break into the Collingwood midfield but if he does, he'll be one of the best value picks this year. Ultimately, I'm a big fan but we've got to wait and see if Bucks has him in his early season plans.
Jarman Impey
AFL Fantasy Price: $208,700
AFL Dreamteam Price: $112,800
Predicted Average: 66
Impey has already made an impression at Port Adelaide in his first preseason and if he continues to work hard he could find himself in the mix for a half back role at the start of the home and away season. He's quick, has excellent foot skills and is rarely tackled. Ken Hinkley gave Wines and Neade plenty of opportunities last year so I expect Impey to feature at some point this year. He's probably too expensive for Fantasy but a worth a forward bench spot in Dreamteam. Put him on your watchlist!
Ben Lennon
AFL Fantasy Price: $233,100
AFL Dreamteam Price: $157,800
Predicted Average: 74
For the past three seasons, the first draft pick selected by Richmond (Conca, Ellis & Vlastuin) has seen a fair chunk of senior action in their first year. Will this trend continue with Ben Lennon? Put simply, yes. Lennon is a traditional half forward flanker who is strong overhead, excellent off both feet with a ready-made AFL body. With Matty White moving to Port and Nahas now at North there appears to be a half forward spot up for grabs. Let's hope Lennon raises eyebrows during the NAB Cup.
If Tom Boyd is currently in your team, trade him out immediately! Boyd's first year in the AFL will be a steep learning curve and his Fantasy scoring will be too inconsistent as a result. Most key forwards average less than 60 in their first year (Jeremy Cameron 58 av. in first season) and since he is priced over $200,000 in both Fantasy and Dreamteam, the money can be far better spent elsewhere. Sure, there will be the odd game where he kicks a small bag of goals but more often than not, Boyd will struggle to match it with the likes of Darren Glass, Alex Rance, Zac Dawson, Ted Richards etc.
Troy Menzel, Jake Stringer and Ben Kennedy are a few players priced just under $250k that would be looking to build on their first year of AFL. All three players saw the green vest on multiple occasions last season hence their value. I expect Menzel and Stringer to take on bigger roles at their respective clubs this season but Kennedy may struggle for regular senior action with an abundance of excellent forward/midfielders at Collingwood. Don't put a line through these three just because of their price!
Other rookie priced forwards that could come into Fantasy and Dreamteam contention include Mitch Honeychurch, Taylor Garner, Michael Close, Tim Membrey, Marco Paparone, John Butcher, Liam McBean, Lewis Roberts-Thomson, Robin Nahas, Stefan Martin, Sam Lloyd, Spencer White, Zac Merrett, Dean Towers, Tim O'Brien and Jay Kennedy-Harris.
Look out for my post NAB cup analysis on forward rookies who looked the goods, those that struggled and others that snuck in under the radar!
Keep an eye out on dreamteamtalk.com during the week for my spin on the best Defender rookies for 2014.
Remember you can follow me on Twitter @JeppaDT for all AFL Fantasy news and more!