Dane Swan – Deck of Dream Team 2014
In a vacuum, you can't go wrong with Swanny. You pick him, he pumps out points – that's the contract. But we have to look at the big picture, and there's a combination of negative factors that's tough to argue against…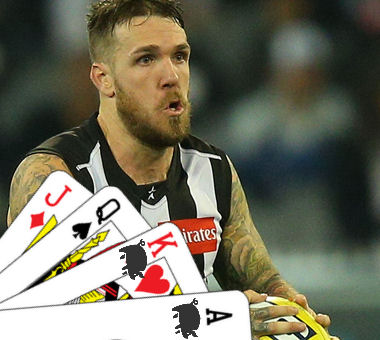 Name: Dane Swan
Club: Collingwood
Position: Midfielder
2014 AFL Fantasy Price: $636,600
2014 Dream Team Price: $641,600
Bye Round:  Round 8 (shared with Adel, Geel, North, GCS, Rich)
2013 Average: 117.5
2013 Games Played: 22
Predicted 2014 Average: 116
Why should I pick him?
Instead of seeing how many ways I can phrase "he's a dead-set gun', I'll just let you marinate with this stat:
Dane Swan is the greatest fantasy player the league has ever seen. He's averaged 106.3 DT points per game over a 219 game career – almost a full 6 points better than his nearest rival in Michael Barlow (100.8).
As Calvin says, when you buy a Swan, you actually get two – more often than not, despite all the week-to-week variables and options, the analysis usually comes back with Dane Swan as your best Captain bet. He's averaged north of 117 for the last five straight seasons, and, including finals, he's averaged the most DT points per game in each of the past four seasons. Every. Single. Year.
If you pay top dollar for this rolled-gold jet, you know what you're going to get. A 110+ average, a season-long keeper, and a perma-Captain to lean on each week.
Why shouldn't I pick him?
In less than a month, Swanny lands on the wrong side of 30 – a significant red flag we raise when debating the merits of those on the fantasy radar. While Swan is normally the exception rather than the rule, it's inevitable that there's going to be a dip in scoring as he gets older. After a 16-point drop off from his 2012 output, it's possible (if not probable) that we've already started to see the slow decline of the great Dane.
Below is a graphic of his key averages over the bulk of his time of Collingwood – you'll notice that it fits the Career Arc theory nicely. If you subscribe to that concept, then you'll be expecting another small decline in 2014, after his average has more or less plateaued over the last 5 years while he's been in his absolute prime.
He did have wrist surgery in the off-season – see the graphic photos here – although I don't expect this to be an issue. But for full disclosure, he'll only start full contact training in the coming weeks as a result of the surgery, although this could be considered as a positive more than anything else – he's been cleared to run all pre-season, so his tank will be unaffected. Actually, it might improve his aerobic capacity if anything, and this would be a very handy time to enhance that particular trait, with the interchange cap coming into effect in 2014.
More than anything, the biggest reason not to pick the brightest star in the fantasy world has nothing to do with Dane at all.
We have just 10 Mid slots, and each is precious real estate. As we know, the best rookies in fantasyland are generally midfielders, so there's 4-5 slots instantly designated to the most encouraging young talent in the game. That leaves just 5-6 spots for Premium midfielders, and that's assuming you haven't talked yourself into an obscure midpricer along the way.
None of this is ground-breaking news – this has been a tactical nuance that we've always manoeuvred around in our starting squads. What is unique to 2014 however, is the avalanche of underpriced midfielders on offer. Beams, Watson, Cotchin, Murphy, Thomas – the list goes on, and we simply can't fit them all in.
So do you still pick Swan for the Captain factor and in the comfort of knowing he'll be a certain Top 10 midfielder – despite the likelihood that he'll start to decline over the coming seasons – but knowing it's at the expense of missing out on one of the raft of high-value Premiums, many of whom have a serious chance of re-establishing themselves in that elite Top 10 bracket themselves? Or do you make the tough, cold-blooded call and scroll past his name?
Deck of DT Rating.
ACE – In a vacuum, you can't go wrong with Swanny. You pick him, he pumps out points – that's the contract. You'll also have a Captain option you can always fall back on, a serious asset to have if you care at all about your mental health approaching lockout each week.
We have to look at the big picture though. The combination of negative factors – the irresistible high-value options littered throughout the midfield market, and the likelihood that he's begun the drop-off phase of his Career arc – is tough to argue against. It just seems like the smarter play is to overlook Swanny initially, stock up on the underpriced midfielders and the value they hold, then snap up the DT Pig as an upgrade target once his price has inevitably dipped at some point throughout the season.
It's all good in theory… but can you bring yourself to overlook the best DTer the fantasy world has ever seen?
FOLLOW ME ON TWITTER: @Tbetta9 for all things fantasy.