Billy Longer – Deck of Dream Team 2014
It's been a long(er) series in the Deck of Dream Team. With the penultimate card being dealt, Griff takes a look at Billy Longer, and his place in the Billy's hall of fame.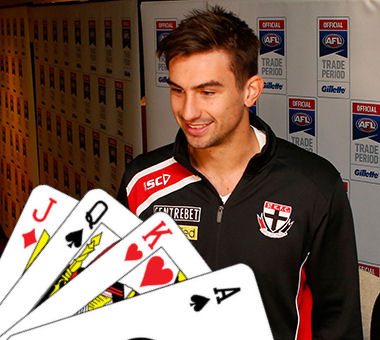 Name: Billy Longer
Club: St Kilda
Position: Ruck
2014 AFL Fantasy Price: $194,400
2014 Dream Team Price: $239,000
Bye Round: 10 (Lions, Essendon, Fremantle, Melbourne, St Kilda, Swans).
2013 Average: 43.8
2013 Games Played: 4
Predicted Average: 61
Why should I pick him?
Billy. What a wonderful name. There are so many famous Billy's. Brownless. Elliot. Idol. The Kid! Such icons of Billy's. Longer of course, is not one; not yet. He has a fair way to go before he can stake his claim as a star. So why is everyone so excited?
After languishing in the NEAFL for the majority of the 2013 season, Billy decided to pack his bags and seek opportunities elsewhere. Along with a number of young Lions players, Longer was desperate for greater senior game time, and when St Kilda gave up Ben McEvoy for Shane Savage, it became apparent that Billy would be heading to the Saints.
With the Saints main ruckman gone, Longer is seen by many to be the go-to man in red, white & black. Priced only $60k+ above many rookie priced rucks, he can be viewed as great value should he manage to play every game this season. The former pick 8 has every opportunity to excel at St Kilda. Their ruck stocks appear to be very thin, helping his chance to play senior games. He will never have a better career opportunity to stake his claim in a best 22, and make you money whilst he does it. He dominated in hit-outs at NEAFL level last year, but he really needs to replicate this form in the AFL.
Despite averaging 45 hitouts per game in the reserves last year, and 11 disposals, he needs to back that up at senior level. And he needs to get more outside ball. Only one in five of his taps go to advantage, which hinders his ability to get follow up possessions and points. Dominating the ruck at reserves level is very different to going to to toe with monsters like Shane Mumford, Aaron Sandilands & Dean Cox. Which brings us to…
Why shouldn't I pick him?
Oh, so many reasons.
Having only played 9 games in two years, four of which were last season, Longer is an untried, unknown entity and it could be a devastating to many fantasy coaches if he doesn't live up to his expectations. Having only scored above 59pts on two occasions in his nine games, Longer is not a proven scorer. Just looking at My Team or the Drawing Board stats, it's clear thatcoaches already feel that Billy could well be worth a starting ruck position. Unfortunately, if he fails to (A) play often and (B) score well, their season may be over before it starts. Once the season is underway, it will be very difficult to find over $200k+ to upgrade him to a decent, reliable starting ruck. It's downright scary what sort of season one could have from starting Billy Longer on your field is it all goes wrong.
Billy has a history of injuries, just enough to put you off trusting his body. He failed to test fully at the 2011 draft combine due to a hamstring complaint, and he injured his medial ligament in 2012 playing in the reserves, whilst the Lions were 'managing his workload'. Last year, actually, he wasn't injured last year and he played all year in the NEAFL as he wasn't seen as good enough to play alongside Matthew Leuenberger in the team that finished twelfth. Billy played no games after round ten at senior level last year, despite being fit, and in decent form. He'll need to impress in the preseason to have any chance of fulfilling his potential this year.
Despite the perception that he will be the walk-up number one ruckman, Longer has competition for that mantle in former Gold Coast ruckman Tom Hickey, who played 12 games with the Saints last season. Despite himself only having played 24 games, Hickey still has 166% more senior games experience than Longer. And yes, Rhys Stanley is expected to spend more time in the forward half of the ground this year, but he can still chip in as the in-fashion forward/ruck at the Saints, which does make the need for a second ruck less important.
And don't forget, he shares his byes with other semi-popular discounted ruckmen like Aaron Sandilands, Tom Derickx, Sam Naismith, Stefan Martin & Toby Nankervis, so you even have to be careful which bench fodder you pair him with.
Deck of DT Rating
JACK – Longer is unknown. He's untried. He's going to need to score consistently and play every week to even be considered value as a bench ruckman given his starting price. There is no way you should even consider starting him on the field. My advice? Stick him on your ruck bench in the R3 position and hope he gets games, but don't start him on the field; or it will be one hell of a longer season.
FOLLOW ME ON TWITTER: @RLGriffin85 for all things fantasy, and a lot of things which are not.
Side-note: Billie Piper's middle name is Paul! Go figure.