Matt Suckling – Deck of Dream Team 2014
Last year his season ended before it began. In the past though this guy is a proven scorer from the half back line for the Hawks. He comes at a discount and for that very reason I say… get on!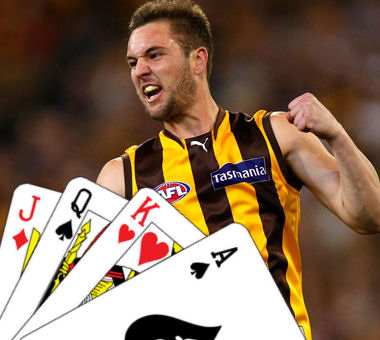 Name: Matthew Suckling

Club: Hawthorn
Position: Defender
AFL Fantasy: $314,400
AFL Dream Team: $316,800
Bye Round: 9
2012 Average: 83
2012 Games Played: 22
Predicted Average: 82
NOTE: Previous season average and games above are for 2012 as Suckling missed all of 2013 with an ACL.
 Why Should I Pick Him?
Underpriced value is what I see in Suckling. He is priced at an average of about 60 whereas his averages over the last couple of seasons he played are 91 and 83.  His stats in those two years were certainly very solid and once he gains back confidence on that knee I see him getting back to a very similar level to that of his past.  He averaged 20 and 21 disposals in his last two seasons, 6 marks and around 2 tackles per game.  This should be the end of the argument right there.  A guy who can average over 80 that is priced under 60…. look no further!  But… in the interest of completeness… let's keep going.
There are so many players in the backline of the Hawks now that are going to get the attention of the "forward taggers" of other clubs I think that a guy coming back from injury is more likely to be let off the chain.  I can see those taggers going to guys like Lake and Birchall and especially Mitchell (when he plays back) before they go to Suckling.  His raking left foot out of defence (which sometimes sees him drift forward for a goal) will attract attention, but not in the first instance.
Keep an eye on the Hawks during the NAB Challenge and this way you will be able to see how he is being used.  But if Birchall makes the move upground as he was starting to do last year (but he did attract a tag which he couldn't shake) this leaves a spot wide open for Suckling to walk into (although Guerra's retirement also leaves a spot vacant).  The love of the Hawks to chip the ball around out of defence says to me that the great left boot of Suckling will be relied upon a lot and he will get a heap of it.  He may not get a great deal of time in the NAB as they work him back in from his injury but this is what happens with all players so there shouldn't be anything to worry about there.
Why Shouldn't I Pick Him?
One word… Injury.  Last year he missed the entire season after doing his ACL in the NAB last year.  Coming back from an ACL doesn't always mean that they will jump back to where they were before.  Obviously we don't want people to reinjure themselves, but you certainly need to be wary of the guy coming back from injury.  For this reason he needs to be carefully watched in the preseason.
Brian Lake.  The backline has changed since Suckling has been on the scene.  The Hawthorn backline now has Brian Lake, Grant Birchall and Matt Suckling in it as well as having Sam Mitchell and sometimes Luke Hodge float back across there.  It will be interesting to see how that group all work together.  Last year Birch was floating up to the wing on occasions and this may happen more this year with Suckling back.  So that should help out with Suckling's scoring.
In his last full season (2012) he had 7 scores over 90 but there were 11 scores under 80 of which 2 were less than 70 (with a 31) in there this tells me that he can be a very inconsistent scorer.  For a defender that is priced at an average of just under 60 though, 11 scores over 80 should be more than enough to say that he is certainly worth that risk, you just need to be ready for a bit of a rough ride.
Deck of DT Rating: Queen. The reasons he isn't a king is that he has the risk of reinjury and that inconsistent scoring that we saw in that last season.  There could also be a lack of confidence with his repaired knee which is only natural.  However, there is just too much upside in this guy at that price to not seriously consider picking him.  I will be surprised if I don't see this guy in every team that I play against throughout the early part of the season while we are trying to make some cash.  He should be in your backline as he is a proven scorer who is at a very healthy discount!  Lock and Load!
FOLLOW ME ON TWITTER: @pkd73 for all things AFL Fantasy.  I will bring you everything I can, especially from the Adelaide based teams, both in the pre-season and of course during the year!  To discuss the deck on twitter use #deckofDT