Jed Lamb – Deck Of Dream Team 2014
Did you forget to eat lamb for Australia Day? Shame on you. Luckily Griff is here to feed you more Lamb than you can handle; of the Jed variety that is.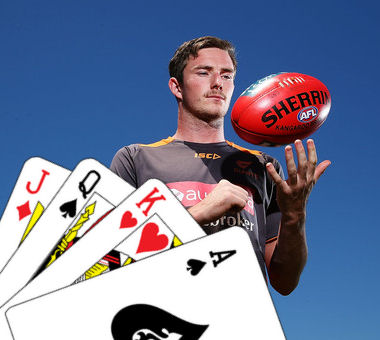 Name: Jed Lamb*

Club: GWS Giants
Position: Forward
2014 AFL Fantasy Price: $243,400
2014 Dream Team Price: $245,400
Bye Round: 9 (Carlton, GWS, Hawks, Port Adelaide, West Coast, Western Bulldogs).
2013 Average: 44.9
2013 Games Played: 12
Predicted Average: 68
*Before we start, I want to make it clear; Jed's last name is Lamb. Many media outlets have used this fact for creative puns in their stories, but Dream Team Talk is above this sort of childish humour, so you won't find any of that here. Just kidding.
Why should I pick him?
Ewe would be crazy not to consider Lamb in your 2014 teams. He may be an off-cut from premiership contenders, but he is a prime piece of meat for your fantasy selection. He won't stew in the Giants reserves; he will be lead to the slaughter of senior selection each and every week. Described by his new coach as "a player we think is on the verge of stepping in and playing a major role in our forward line, whether it be a high half-forward flanker or a crumbing goal-kicker" Jed will be playing in the Giants best 22 within two shakes of his namesakes tail.
Lamb chopped himself from the Swans, and joined the cross-town rivals in orange during the trade period. When asked why he choose to join the Giants over the Swans, Jed said he was told by Cameron "if I'm fit and playing good footy, more than likely I'll be playing seniors". How many other young forwards can you have that level of confidence in their place in team plans?
Even better for Lamb, he should be able to shake the green vest which haunted him last years at the Swans. Managing 12 games in 2013, after two injury interrupted years at the Swans, Lamb was marinated for his first four matches in a green vest. With the Giants needing to work young players like Jono O'Rourke & Josh Kelly into senior football, Lamb will have a number of players in front of him likely to start as the substitute. This is good for him, and good for us. Jed may have only averaged 45pts last season, but that was heavily affected by the green vest. Starting as the sub, Lamb averaged a meek 22pts in his five games. In his full hit-outs, Jed averaged 61.2pts.
Lamb will likely be playing a high half-forward flanker role this year, which means he won't be hanging around the goal square waiting for Kurt Tippett to drop a contested mark to get an opportunity to touch the footy. He doesn't shank his shots at goal, kicking 9.6 last season, and isn't afraid to lay a tackle. All good signs from a young footballer who was a first round one pick in 2010.
Why shouldn't I pick him?
At this stage of the season, it's actually hard to see why you shouldn't pick Lamb. At some stage of the NAB Challenge an cheaper player may come to the fold and present themselves as an alternative to Jed, but you may need to question their job security. Nathan Bock, Gary Rohan & Alex Fasolo all present alternative options to Lamb, but at their price, there is really no harm in picking more than one.
He hasn't been a huge scorer in his seven full games, scoring a few 50s last season, however his 84 in round 21 last season against St Kilda does show his potential.
He has had a few injuries in his three years in the system, so there is that to worry about, but as he's still more expensive than many rookies, you've got room to move if he does get injured.
Deck of DT Rating
JACK – It's impossible to see Lamb fail to increase on his 2013 season, or more so, his vest affected 2013 season. A cheap player being guaranteed game time who is certain to improve a minimum of 20pts, head-hunted by a team who needs him to fill a void in their team structure. Pick Lamb Australia. You know it makes sense.
FOLLOW ME ON TWITTER: @RLGriffin85 for all things fantasy, and a lot of things which are not.