Fantasy TDU S6 – Wash up
Stage 6 is over, and the TDU is finished for another year. This article is your chance to comment on what you thought about fantasy cycling, and if you want to do more …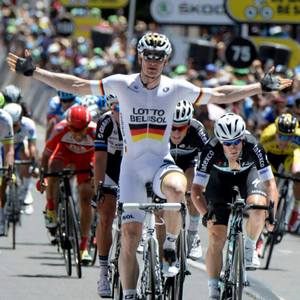 Stage Review
Andre Greipel won the stage fairly easily in the end with the only train that formed up properly.  Kittel disappointed his owners again, finishing 76th and 27 seconds behind Greipel.
There were lower scores across the board as some of the GC riders finished outside the top 20 finishers or were traded out for sprinters.
Caleb Ewan finally emerged to finish 15th and get his first fantasy points – at least this suggests he is over his crash.
The Jerseys:
The GC was won by Gerrans, from Evans and Ulissi – solid scorers for their owners throughout the tour.  Then came Porte and Haas. Haas was a great fantasy performer – running at 3.3 pts per credit per stage, for the 2 stages in my team.  It will be interesting to see how he develops over the rest of the year.
The KOM was won by Adam Hansen.  Porte and Gerrans picked up lower level placings for their owners.
Gerrans also won the Sprint jersey, from Ulissi, Evans, Haas and Greipel.  So their owners doubled up here.
Jack Haig took out the young rider – which is a good return for his 3 credits.
Gerrans performance throughout was very good for his owners – I had him for all 6 stages and he averaged 2.2 points per credit per stage which is pretty impressive.
Orica Green Edge also won the team title to round out a dominant performance for them.
DTTalk ProCycling League
Congrats to tiltraise and his Lanterne Rouge Cycling on winning the league, and for finishing 24th overall.  That's impressive first up.  Also congrats to Grouse Mate and Gorillas for getting to the podium in the DTTalk league.
My team finished fourth, it might have been different had not Kittel failed me twice.  But that's fantasy sports – if only …
Review, where to from here
Here is your opportunity to comment on the game and what you would like to see done differently.  And also whether you want to do any other cycling events this year.
My two cents:
It would have been helpful if the game was open earlier than a week before – there was a lot to try and understand with the rules, rider prices, and to study rider performances if you were a rookie.
As with most fantasy games it is important to get a good start, because everyone's teams tend to become the same over time.
I like that I learned a lot about some cyclists that I would never have taken much notice of if not for fantasy cycling.
I liked TDU because it was in our time zone and information was available, plus it only went for a week.  I think 2 trades a day over a 3 week grand tour might become a bit of a chore.  I wouldn't want to write an article everyday for 3 weeks.
That's it from me.  Good luck.  If you have any questions of comments please post below or contact me by twitter on@NixTrader.