Trent Cotchin – Deck of Dream Team 2014
Happy Australia Day! Today is Anthony's last Deck of Dream Team for the year and he's chosen it to try talk us into someone who he believes is one of our next uber premiums Trent Cotchin!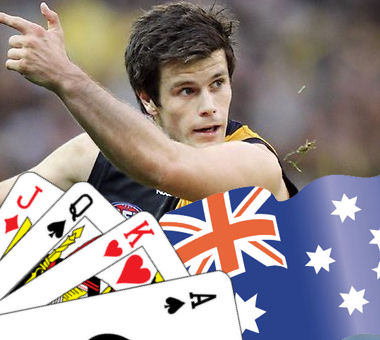 Name: Trent Cotchin
Club: Richmond
Position: Midfield
AFL Fantasy: $511,300
AFL Dream Team:
Bye Round: 8
2013 Average: 94
2013 Games Played: 22
Predicted Average: 110 – 130
Why should I pick him?
I believe that Trent Cotchin is another one of our underpriced bargains hiding in the mids. While $500K isn't exactly cheap, if all goes right then think of it as getting a $600K mid for $500K.
Cotchin finished 2012 like a steam train coming home with a 130 point average in his last 4 games. The Tigers gave him the captaincy and we all locked him into our 2013 line up's thinking we had a front row seat to the birth of a new super premium, watching as he managed a 110 point average over his first 4 games.
Then round 5 comes against Freo and Cotchin limps from the ground, holding his knee/ankle, as fantasy coaches everywhere held their breath while his score was frozen on 84.  Being the champion that he his Cotchin plays on the next week under duress. Unfortunately his score did suffer here only posting a 62. Cotchin then had a week off to rest before his next game but clearly still showed signs of struggling, not topping 100 again until round 16.
While he wasn't exactly playing terribly, it's safe to say that he wasn't playing at his peak and producing the numbers that we should be expecting.
Add to this that he also wore the vest once and this is why I'm thinking Cotchin's price could be considered discounted.
"It just shows he can't handle a tag"
This is something I've been hearing a lot lately as coaches are trying to explain Cotchin's sub-par last season. If the above reason doesn't satisfy and we're still leaning towards the "can't handle a tag" reasoning then I'd like to show some numbers from last year. With some of the best taggers on him last year, Cotchin was still able to produce. 101 on Carrazzo, 121 on C.Jones, 119 on Lower, 105 on Raines and an impressive 144 against Fremantle. Cotchin has proved that he can more than handle a tag, but now with a young Tiger's midfield growing in confidence around him you can bet they'll be finding more ways of getting the ball into their captains hands!
Lastly here's one of the biggest reasons I think you should pick Cotchin. One of the things I love about AFL Fantasy is that it makes us pay attention to players from other teams who we wouldn't really be watching. Regardless of who you follow, we've all got on and supported Heppell, Ellis and B Goodes over the years. Put Cotchin in you're team and you'll find yourself seeking him out during every Richmond game, cheering every disposal. You will be completely rewarded in getting to see the continuing growth of one of the most exciting young players coming through the game. You'll marvel at how he goes about it and be able to tell your kids and grand kids one day how you watched the season where Cotchin became elite!
Why shouldn't I pick him?
Cotchin is sitting at a very awkward price range at the moment. For a player of his potential he should definitely be higher but there are a lot of bargains in the mids this year so he may not suit your structure.
Also as structure is concerned, you are not picking a player like Cotchin to make cash, sure his price will rise but he is a keeper and should be sitting in your mids all season if all goes well. So sharing his round 8 bye with fellow keepers such as Johnson, Selwood, Swallow, Swan, Pendlebury, Beams and GAJ could prove problematic.
That's really all I have with why you shouldn't pick him… unless last years injuries concern you? I really can't think of anything, this kid is a gun!
Deck of DT Rating – KING
Cotchin is an ACE waiting to happen. Last year was a set back but it will happen. Just watch his dt average growth! 2010 – 74, 2011 – 93, 2012 – 110, 2013 – 94. I will be rolling the dice and playing Cotchin in place of one of those higher priced R8 bye mids and using the extra cash elsewhere. With any luck i'll also be writing a completely bias 'ACE DoDT' article on him this time next year after he averages the 130 this year we all know he's capable of!
Happy Australia Day everyone!
FOLLOW ME ON TWITTER:  @Anthonydsmith86 and don't forget to hashtag #DeckofDT