Fantasy Cycling TDU S5 – Ritchie's Revenge
5 Stages down, 1 to go. Time to trade in some big gun sprinters …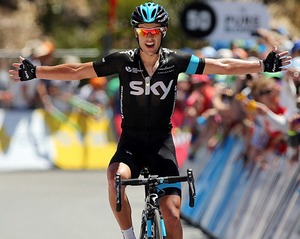 Stage 5 Review
Three times Evans, Gerrans and Porte have duked it out on hilltops this month.  Gerrans won the national titles on Mt. Buninyong, Evans won Stage 3 on Corkscrew Hill and yesterday Richie Porte won Stage 5 on Willunga hill.
Evans chased Porte alone and wore himself out attacking.  He eventually lost time, but nobody can accuse him of not having a crack. Ulissi and Gerrans finished second and third. Gerrans is now GC leader with 1 sec over Evans.
Fantasy managers were pretty happy with the outcome – all their big names were in the top 20 finishers and are also high up in jersey competitions.  A special mention to DTTalk league member Tiltraise who is up to 28th in the world overall standings.
Another highlight of the day was the ride of Jens Voigt.  42 years old, in a 3/4 man breakaway for most of the day, first over the top of Willunga the first time.  Even when his group was finally caught with about 10km to go – Jens went on a solo break.  After being finally passed he still had enough energy to slap hands with spectators up Willunga for the final time.  In the words of the man himself  "I'm m**** f***** Jens Voigt they're not gonna catch me" – see youtube interview from last year :
http://www.youtube.com/watch?v=Nqc9OEfhfW8
Here is a shot of the 3 riders who will probably make up the GC podium – Evans leading Ulissi with Gerrans tucked in behind – about 500m from the finish at Willunga.  However the real reason for posting this photo is because I am in the background.
 Stage 6 – Adelaide Circuit
The next stage is 86 kms around a flat street curcuit in Adelaide – 18 laps of 4.75 kms.  There are 2 intermediate sprint points and I think these will attract attention from riders in jersey competitions.
It's is going to be a sprint finish with Greipel and Kittel likely to fight it out.  Viviani looks the most likely of the rest of the sprinters now that a few have dropped out.   Ewan might even get a placing, but he has finished in the 100s the last 2 stages so he may still be feeling effects of his fall.
The biggest issue for me will be getting enough credits for Greipel and Kittel, and which riders to trade out – given most will still be scoring points from their jersey placements.
That's it from me.  Good luck.  If you have any questions of comments please post below or contact me by twitter on@NixTrader.  Also post your trades and your views on how the stage will play out.  It would be good to see what trades people are making.