Gary Ablett Jnr – Deck of Dream Team 2014
The deck wouldn't be complete without AFL Fantasy legend, Sweet Merciful Jesus himself – Gary Ablett Jnr. The Little Master has averaged at least 111 points a season since 2008.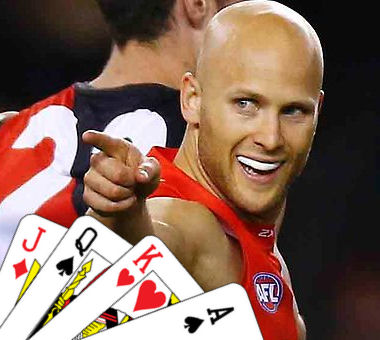 Name: Gary Ablett Jnr

Club: Gold Coast
Position: Midfielder
AFL Fantasy Price: $621,200
AFL Dream Team Price: $626,100
Bye Round: 8
2013 Average: 114.6
2013 Games Played: 21
Predicted Average: 118
Why should I pick him?
The deck wouldn't be complete without AFL Fantasy legend, Sweet Merciful Jesus himself – Gary Ablett Jnr.  The Little Master has averaged at least 111 points a season since 2008 – back when the likes of Libba and Fyfe were still in High School! The man has had the longest sustained fantasy excellence of any current or recent player in the AFL. Whilst at Geelong, he dominated in a team of superstar midfielders – averaging 111, 118 & 119 from 08'-10'. Then – when everyone thought he would fall from grace under the weight of expectation and mass defeats in a new (and very young) Gold Coast team, he smashed his doubters for six. From 11'-13' he proceeded to average 112, 125 & 114 whilst only missing 5 games. He is the full package – unrivalled fantasy scoring ability, outstanding consistency and Chuck Norris-like durability. And for those that are thinking "he's getting old" or "he's going to digress this year" – he's only just turning 30 this year and is still in peak condition so no way he's slowing down in 2014.
With the Suns on the rise, Gary will likely settle into a more roaming half-forward role more often as the likes of Prestia, O'Meara, Bennell and Jack Martin emerge into top-grade midfielders – however they're far from an A-grade unit without Gary in the picture so will still very much rely on him to lead the way in 2014. Sure, he might spend a bit of extra time forward, which may result in a few extra possessions per game (let's say 6-8 points for arguments sake) however what people fail to see is that with the talent in the middle around him – the ball will be up forward more often. And with Gary's freakish ability in the forward 50, we all know what that will mean – more goals! You don't need to be reminded how many points a player gets for a goal, do you? I should hope not!
Let's just say that a few less touches in the middle will be the least of your worries when Gazza is kicking bags of sausage rolls from half forward, all the whilst still amassing 28-30 touches. What I'm trying to say is… if you think his Fantasy productivity is going to drop in 2014, you've been staring at his glorious, shiny, bald scone too long!
GAJ will be right up there again this season, and I'm predicting a huge start to the season based on my research. I'll finish here with a short table showing his average over the past 2 years against his opening seven opponents. The 2014 column displays the projected score based on the previous two years. You be the judge.
Why shouldn't I pick him?
Let's be honest, there's no justifiable reason one would denigrate the reputation of Gary Ablett Jnr – he's a good bloke, an amazing athlete, and has been the best fantasy footballer of the last 6 years. We may not see another Gary Ablett again (at least until he spawns Gary Jnr Jnr).
The only reason coaches are off the Ablett bandwagon in 2014 has nothing to do with him, but has a lot to do with the guys chasing his tail in the AFL. This year there is a bevy of amazing young midfielders that are either under-priced, cheaper due to injury-affected 2013 campaigns or simply on the rise. The word of this preseason seems to be 'Value', which is breeding teams full of young, talented and more importantly cheaper options than Gaz himself.
With many AFL teams (here's looking at your St Kilda) opting for young policies to take them into the future – will you opt for experience and stability or opt for value, youth and potential in 2014?
Deck of DT Rating.
ACE – Regardless of the above, in true DT-traditionalist form – I believe every Fantasy midfield needs one of the top guys to settle the team… to provide leadership and to give you a warm feeling, knowing that everything will be okay when your young troops have a down day. Gary will be the guy that pumps out a 140 and gives you a smile on a gloomy Sunday. Sure, he'll spend more time forward this season – but so will many other fantasy guns with the new interchange rules. Lock Gary in at your top midfield spot and go make yourself a refreshing drink whilst you let the relief wash over you – you've just made your first good fantasy decision for the year. Ablett is an ACE in every sense of the word and every mode of the game. He'll be in all good teams by end of year, and with his starting draw – do yourself a favour by locking him in for round one and throwing away the key.
FOLLOW ME ON TWITTER: @McRathDT for my honest and unbridled opinions on AFL Fantasy. Let's get the deck discussion going, using the hashtag #DeckofDT.