Fantasy Cycling TDU S3 – Evans attacks
Cadel Evans blew away the oppostion in Stage 3, he appears to have GC in the bag. But there are still plenty of fantasy points on offer in next 3 stages. Trade in your sprinters for this stage.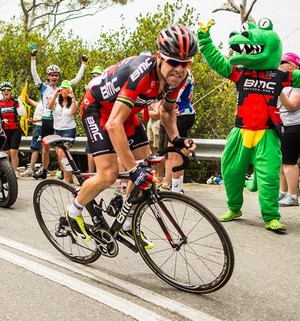 Stage 3 Review
What did we learn today from Stage 3?
Cabel Evans blew them away in the tough corkscrew climb and raced away with the Stage win.
Good day for fantasy coaches having finally got their teams together – Evans, Gerrans, Ulissi, Gesink and Porte all scoring and featuring in multiple jersey competitions.
Evans should be able to win GC from here with 2 sprints and Willunga hill stage to go.  All he needs to do is follow Gerrans and Ulissi on Willunga and get the same time as them.
Break didn't feature Will Clarke today.  But it did feature old stager Jens Voigt who was very happy to get the competitive rider award.  At 42 and in probably his last year any trip to the podium is worth savouring.
I had a better stage scoring 183 points.  So I'm happy with that.
How will Stage 4 unfold?
Stage 4 is a trip from Adelaide to Victor Harbor on the South Coast.  There is one KOM point about 50km from the finish.  The climbs in this stage are fairly easy.
Traditionally this has been a sprinters stage and I expect it to be again.
The intermediate sprints will become more interesting for the last 3 stages, as these carry a couple of seconds time bonus.  Gerrans and Ulissi might start chasing these if there is no breakaway.
Adam Hansen and Will Clarke will probably go for the KOM to try and get to be KOM leader.
The peloton will get back together and for a bunch sprint into Victor Harbor.  I expect Kittel to win, but most of the big name sprinters will be there at the end.  I expect Evans and Gerrans to ride fairly close to the front of the group to avoid any trouble – so they might even get more points for finishing in the high teens.
Trade Talk
Sprint finish means getting gun sprinters into our teams. I held over a trade from last round, so I want to bring in 3 good sprinters – Kittel, Greipel and someone else.  Kittel and Greipel are expensive, so I need the third trade to get enough cash.
However stage 5 is a climbing stage and has hilltop finish.  So I expect I will want to reverse my trades for stage 5 (to get the 3 spinters out again, and 3 all rounder / climbers back), and then reverse them again for stage 6 to get 3 sprinters back in.
This means ideally I would like to have 3 trades for each of the next 3 stages.  So I could end up buying an extra trade for 10 points in stages 5 and 6.  I think it will be justified in this situation.
So who is on the block – Porte and Thomas and probably Gesink out, and bringing in the big Panzers Kittel and Greipel, plus someone else who can get into first 20 finishers for about 14 credits.
Good luck.  If you have any questions of comments please post below or contact me by twitter on @NixTrader.  Also post your trades and your views on how the stage will play out.  It would be good to see what trades people are making.