AFL Fantasy open for 2014
AFL Fantasy is back bigger and better than ever! Sign in now to start creating your team and get your leagues sorted. There is less than 50 days (well it is a long time) until Round 1 starts, so get cracking.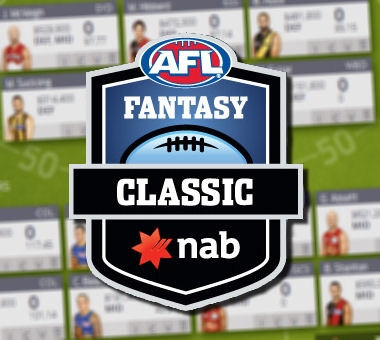 NAB AFL Fantasy is back, bigger and better than ever!
With over $75,000 up for grabs in cash and prizes, there are more games, more features and, for the very first time, you can register, build your team, and play all three games within the FREE app.
NAB AFL Fantasy Classic
The game you know and love returns in 2014 with a new name to reflect its position as the bedrock of your AFL Fantasy experience.
The OFFICIAL AFL Fantasy football experience:
New and improved design
Player headshots
Club logos and emblems
Greater AFL Fantasy stats integration and experience
More social interaction and user engagement in the game than ever before
Game features, many of them developed exclusively due to YOUR feedback:
A flat $10m salary cap – no uneven numbers or strange calculations to budget for when you select your side
Variable rookie pricing – if you want Jack Martin, you'll have to pay a pretty penny for him
Unlimited Dual Position Player moves when trading
The split Round 1 a chance to test and perfect your team – essentially, you get one free hit before the numbers start to count
Two trades per round, starting between Rounds 2 and 3
In bye rounds, the 'best 18' players score your points
Configure your league to your preferred settings
Prizes:
Major prize: $25,000 in cash thanks to NAB, a 2015 AFL Silver Membership thanks to AFL Membership and a 12 month AFL Live Pass voucher thanks to Telstra
Round prizes: 2015 AFL Silver Memberships thanks to AFL Membership and 12 month AFL Live Pass vouchers thanks to Telstra
All NEW NAB AFL Fantasy Apps
Completely redesigned App, optimised for your iPhone or Android smartphone
Still FREE to download & play!
Full web functionality and support for all the 2014 AFL Fantasy games
Register and manage your team from your mobile!