Matthew Lobbe – Deck of Dream Team 2014
He had a fantastic second half of last year where he rated in the top 5 of all ruckmen. Along with his club's improvement last year, Matthew Lobbe also improved. Given his poor start to last year he could be considered as underpriced. Should you pick him? Have a read and see if you agree with me.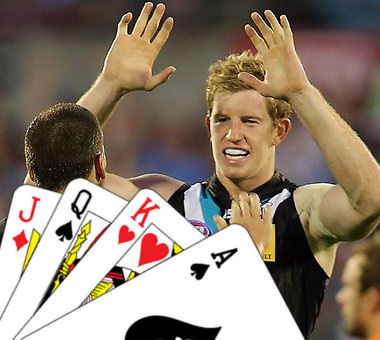 Name: Matthew Lobbe

Club: Port Adelaide
Position: Ruck
AFL Fantasy: $439,300
AFL Dream Team: $442,800
Bye Round: 9
2013 Average: 81
2013 Games Played: 19
Predicted Average: 88
Why should I pick him?
Matthew Lobbe has been long touted as the number one ruck at Port Adelaide but he hadn't really delivered the goods and this didn't really look any different at the start of 2013.  From what I saw of Lobbe in the SANFL in 2012 and in the preseason in 2013 I simply didn't think that he was ever going to make it as he seemed to lumber around the place.  He averaged only 60 from rounds 1-12 (where he played 8 games).  But just as Port's fortunes changed last year, Lobbe really started to relish his role and lifted to an average of 96 in rounds 13-23 where he played all 11 games.  In that second half of the year he was the 4th ranked Ruckman!
He has clearly now found himself cemented in the number 1 spot.  The way that Port used him in the second half of the season was to look for him around the ground a lot more than they had previously as he has shown that he has better hands than he used to and thinks through his disposals rather than just turning it over like he did in the first part of his career.  Whilst his number of marks dropped in the second half of the year, the way he used the ball when he got it was much better.
Further evidence of his confidence is that for rounds 1-12 Lobbe's Kick to Handball ratio was 0.7 whereas for rounds 13-23 he elevated that up to 1.3, this is part of what contributed to his improved scoring (his season's previous best average was 1.0).  Alongside that was that he started to dominate the ruck taps, for that first half he averaged 18.25 and for 13-23 he lifted that to 35 (his seasons best average before was 22.7).  It was almost as if he had two distinct seasons!  To top that off he also averaged 6.6 tackles over that second half of the year.
Below I have split out his season averages for you to show the remarkable change.  The only stat that didn't improve from a DT point of view was the Marks which he dropped by 1.5 per game (yes handballs are down but kicks are up so from a DT perspective I can live with that!)
Why Shouldn't I Pick Him?
Last year Port had a season out of the box and got under the radar of most clubs.  Interestingly it was the first half of the season when Port were under the radar that Lobbe had his poorest part of the season.  Those spikes in his production in that second half of the year means that other teams will now put more attention and I am worried that he may not be able to maintain those great performances.  If he slips back into those previous averages he will hurt your team based on his current price. I guess my point here is… can he maintain the rage or was this a flash in the pan.
Jarrad Redden.  He was a challenger to Lobbe a couple of seasons back but got injured last year and he missed most of the year.  Will he come back and resume the challenge?  I think he will.  However, it is Lobbe's job to lose.  But I don't think he will.  Redden will keep the pressure on, but Lobbe should be fine.
The biggest risk I see is Port Adelaide's form.  As a Power fan I hope that this won't be a factor but Port have a tougher draw this year and this will impact their DT scoring potential.  If they can continue to play their game and play well like last season and not be dictated to by the opposition too much then Lobbe's scoring will be ok, but if things get tight then they may be less likely to look towards their ruckman in a contest.
Deck of DT Rating
Queen – Lobbe should be a very popular pick this year with very good reason, the second half of his season last year was one that was out of the box and was up there with the top Ruckmen of the competition.  He is a ruckman on the rise and having paid his dues and matured slowly (like all ruckmen d0) he has come of age and should continue his great form of last season.  At the moment he is a massive chance to be in my starting team.  Look for strong performances in the preseason.  No excuses for him in the NAB Cup game vs Adelaide, it is at his (now former) SANFL home ground!  If you are looking for a bit of value (he is the 8th highest priced ruckman and about $50k less than Goldstein) then I say look no further than Matthew Lobbe.
FOLLOW ME ON TWITTER: @pkd73 for all things AFL Fantasy.  I will bring you everything I can, especially from the Adelaide based teams, both in the pre-season and of course during the year!  To discuss the deck on twitter use #deckofDT