Shane Mumford – Deck of Dream Team 2014
What does Denis Pagan, Liam Pickering, Kylie Minogue & Makybe Diva have to do with Shane Mumford? We have no idea! Hold on tight as Griff takes the scenic route to Mummy's 2014 fantasy relevance. Enjoy!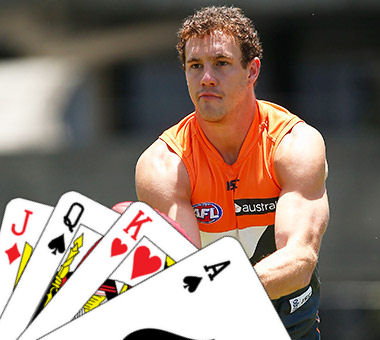 Name: Shane Mumford
Club: GWS Giants
Position: Ruck
2014 AFL Fantasy Price: $423,000
2014 Dream Team Price: $426,400
Bye Round: 9 (Carlton, GWS, Hawks, Port Adelaide, West Coast, Western Bulldogs).
2013 Average: 78
2013 Games Played: 19
Predicted Average: 90+
Why should I pick him?
Because Buddy Franklin signed a nine year deal! Shane Mumford's new daily commute (thanks to Andrew Ireland & Liam Pickering) will make him the best thing in orange since those hot blonde Dutch girls at the Australian Open. You know the ones!
Last year, injuries to Dean 'The Chin' Brogan and Jon 'The General' Patton forced the Giants to play Jeremy 'The… Legend?' Cameron at full forward. Although this worked out well for Cameron, far too often he would play his natural game and chase the footy, leaving the Giants with a paddock up front that would make Denis Pagan blush. Mumford fixes this. Jon Giles should go back to that ruck/forward role that saw him bag a goal a game in his debut season, and Mumford can rest in the goal square when needed, plucking lace-out grabs from Treloar, Whitfield and Shaw streaming through the middle. Not only does this help the Giants; it's good for Shane.
The 2014 season was one of frustration for Mumford. Carrying injuries for much of the first half of the season, he only average 67.1pts per game, from rounds 1 to 10. That's nearing Zac Dawson territory. But, after taking a month off to get his body right and finding spiritual guidance in the mountains of Tibet through meditation and Bikram Yoga (not really), Mumford came back with a vengeance, averaging 90.2pts from rounds 15 to 23, bringing home scores of 103, 107, 95, 91 & 134 in five of his last six games for the season.
Mumford will be the number ruck at the Giants, meaning he will play every game, if fit. Mumford is a proven scorer, averaging 80 in 2010, 91 in 2011, and 82 in 2012. Last season could be considered a poor season from the big man, as Mike Pyke (who you may not know played Rugby for Canada) became the number one ruck at the Swans whilst Shane struggled through injury and poor form.
He has been voted into the leadership group at the Giants, proving he will influence the team by being one of the few players at the club who are over 25 and allowed to rent cars without a surcharge. He will also take the game by the scruff of the neck (especially if it's a Selwood mid-duck), as shown by his near 4.5 tackles per game; elite for a ruckman. He has no issues winning the ruck-contests, averaging over 25 per game, and if he can get his disposal count up just a bit with a few more kicks (something that suits the Giants game better than the Swans), he can restore himself as one of the best ruckmen in the league.
Why shouldn't I pick him?
Because Buddy Franklin signed a ridiculous nine year deal. Now that Mumford is in orange, he's a little more unpredictable than when he was in red and white. Seen as surplus to the Swans needs, Mumford could be on the slide. He peaked in 2011 with his 91.4 season, but hasn't been able to reclaim those heights in the past two years.
Shane's also susceptible to the odd injury; and I mean odd. Like having lower back pain which is treated by cortisone injection to the spine, which leads to infection. Isn't that why Makybe Diva had to retire? Anyway…
He also has a tendency to be, eager, in his approach to smaller players. The same way a pit-bull is a little eager when it rips apart a stuffed rabbit. Sling tackles have been an issue for him in the past, well, more an issue for David Ellard's frontotemporal lobe, having been cited for such tackles twice. However, he does seem to have settled down a bit recently, possibly because he couldn't bend at the waist to sling anyone larger than Kylie Minogue.
Shane can also be a bit inconsistent, from mutton chops to clean shaven to rocking the full blown Rabbi beard, he's as unpredictable on the face as on the field, and scores in the 60s aren't out of the question with a few even featured in his 2011 season.
He also shares his bye with Dean Cox, Nic Naitanui, Matthew Kreuzer, Ben McEvoy, Matthew Lobbe, Will Minson & holy crap we are screwed no matter what we do with our rucks in round nine.
Deck of DT Rating
KING – Shane Mumford's move to the Giants is a win/win/win/loss when it comes to him, the Giants, AFL Fantasy pundits & the Swans. Nine Years. I mean; WHAT!? So he'll retire at 50? Thanks for the premiership ruckman Bloods! Anyway…
Shane will be a major influence on the field in orange and charcoal this season. He has a proven track record of being able to score big, and will be on the rebound from a disappointing season last year. He is a little up and down, but so are most tall men. Up and down; get it? Watch his pre-season and see how he gels with the team, but seriously, consider him.
He's more durable than Aaron Sandilands has been recently, he's more proven than Brody Grundy currently is, and he doesn't carry the same risk as Nic Naitanui (groin), Hamish McIntosh (back) or Billy Longer (soft) as your primary, or second ruckman.
Sure; he's a bit more expensive than all of those listed, but if the Swans can find $2mil per season for Lance 'Nine Years' Franklin and Kurt 'Home Sick' Tippett, surely you could find one fifth of that for one of the league's best ruckmen?
FOLLOW ME ON TWITTER: @RLGriffin85 for all things fantasy, and a lot of things which are not.