Fantasy Cycling S2 – Meet the Italians
Another day, another stage. Another evening where your mood is a product of how your team went. But with 2 trades tonight your team can soon become a lot better … sounds like a plan!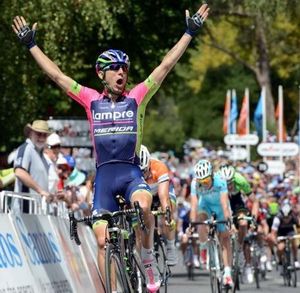 Stage 2 Review
What did we learn from Stage 2?  
Predictions of small group finishes by that guy who writes about cycling for DTTalk should be treated with scepticism.
Will Clarke, a.k.a. Pacman, is proving a nuisance gobbling lots of in-race points before the peloton gets there – 50 fantasy points in 2 races is impressive for someone priced at 9.1 credits.  While I expected Drapac and UniSA to have bolters every day, I expected it would be different guys.  If it is always 'Pacman' then we should buy him.
With the big climbs early in the race, and a leisurely pace in the peloton, most riders had plenty of time to get back in touch even if they were dropped on the climb.  However, the uphill finish still made it hard for specialist sprinters.
Meet Diego Ulissi – 79 fantasy points in 2 races.  24 years old, twice world junior road race champion, with good recent form in Italy (3 wins), and the only designated climber at the TDU.  At 16.1 credits, he was always a pretty good buy for the first 3 stages.
Meet Francesco Gavazzi – 51 fantasy points in 2 stages.  28 years old. This one is a bit of a surprise to me as he seemed to be pretty quiet in 2013.  But if you got him at 16.9 credits you would be happy.
While Gavazzi slipped under my radar, I did notice this group selfie when the Italian Astana team went to the beach as soon as they arrived.  These beach tackle positions require manual intervention so this photo is obviously intended to amuse their mates back home.  I think Gavazzi is on the right.
Stage 3 – Adelaide Hills (Norwood to Campbelltown)
This stage rolls through the undulating Adelaide Hills but without any major climbs until the end.  This stage is all about the last 10km and Corkscrew Hill.
With average gradient 9% this will split up the peloton and give an opportunity for the strongest climbers.  Then the last 6kms to Campbelltown are all steep downhill at 5%.  Some riders are better at steep descents than others, usually the riders who started off riding mountain bikes.  Ex MTBer Cadel Evans looks a standout for this.  I'm also looking forward to young Slovenian Mohoric lighting it up (watch for a lime green madman).
Trade Talk 
Stage 3 advice:
Dump pure sprinters if you still have any,
Evans and Gerrans are must haves,
Dump other OGE riders they are all going to ride for Gerrans,
Consider Pacman – Will Clarke if you think he will go again,
I'm planning to dump Bakelants for Ulissi,
Those who are in contention for GC will pull out all stops as they only have stages 3 and 5 to make any ground. There are 65 riders still within 21 seconds of Gerrans.  So this stage might be quite lively.
If you already have a very strong all rounder climbing team, then consider holding over one or both trades to load up on extra sprinters for next stage which is expected to be a bunch sprint.
Good luck.  If you have any questions of comments please post below or contact me by twitter on @NixTrader.  Also post your trades and your views on how the stage will play out.  It would be good to see what trades people are making.