Fantasy Cycling for TDU – CheatSheet!
Stage 1 lockout is almost here, 11am Tuesday Adelaide time. Don't miss out. Here is cheat sheet to help with last minute team selections.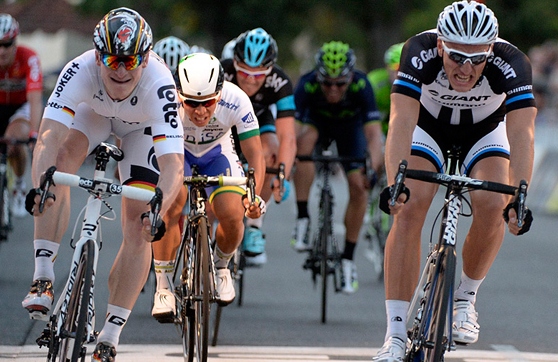 Tuesday is race day.  Stage 1 of TDU in the Barossa Valley.  Lockout is at 11am Adelaide time.
The code for DTTalk ProCycling league is 77336. Don't leave it to last minute to register or make changes – those servers could get busy at lockout.
Sunday night was the prelude – 50km People's Choice Classic.  This was just a warm up and it doesn't count in TDU.  It was won be the big German sprinters Kittel 1st and Greipel 2nd.  These are the 2 fastest sprinters at TDU, they are also expensive fantasy prospects.  Greipel is 30.5 credits and the most expensive rider, Kittel is 24.7, the 5th most expensive rider.  Kittel is both faster and cheaper – so is better value.
The Course
You can see the course diagram here.  http://www.cyclingthealps.com/#tour-down-under-2014-stage-1
It's 135 kms and is almost 3 laps of same route.  The big difference is the 3rd lap has a short but steepish climb called Menglers Hill.  Then it's about 13 kms to the finish.
The big question is whether the finish will be a bunch sprint or not.  If it is then Kittel should win again.  But if the big sprinters get split from the leading group over Menglers Hill, and can't catch up, then the race opens up for other riders.
I drove Menglers Hill Monday and there was a women's race there.  The hill is difficult because there is a steep bit at the very start and then the hill just keeps going without giving the riders much chance to recover.  At the womens race there were lots of splits and then nobody gained much time during the last 10km to the finish.
Kittel and Greipel are both well over 6 feet tall and weigh 80kg+.  They are all muscle but gravity works anyway – mass is mass.  Climbing is about power to weight ratio and I think the big Panzers will be split off from the leading group on Menglers and not be able to get back on.  Also they rely on their lead out trains.  So they need their support riders to get over the climb as well in the leading bunch.
So for my team I'm going to gamble that the Panzer Division (Kittel and Griepel) don't make it to a sprint at stage 1, so they are out of my team for the first 3 stages.  Stage 2 and Stage 3 are hilly stages so they are not going to be bunch sprint finishes either.
Table of Riders
The table below has all the riders for TDU and their values (how many credits they cost).  The riders are grouped in team order, the left hand column ranks them by their price.  The riders are also identified by type as used by road.cc – AR for all rounder, PC for points classification (i.e. sprinter), KM for climber, and DS for domestic and where the rider doesn't fit in previous categories.
Road.cc has decided TDU is a race for all rounders, so all rounders are priced a bit higher for TDU than they are for other races.  The 2 columns on the right show how many fantasy points I want my riders to earn based on their price (i.e. between 1.07 and 1.30 points per credit).  See the last article for how I worked this out – http://dreamteamtalk.com/2014/01/14/fantasy-cycling-for-tdu-game-open/
So in my view the Panzers  (Greipel and Kittel) aren't going to get me 25 to 40 points each in Stage 1, so they are out.  I'll probably trade them in for stage 4.  This is controversial and many fantasy managers will see it differently.
Remember we have 2 trades a day, and we can save them to use later.  We can even buy more for points if we are desperate.  So we can fix our teams if we get a bad start.
Picking Our Starting Team
First picked for me is Caleb Ewan, cost 3 credits.  He's the little guy in the picture above coming third.  So he can sprint with the world's best sprinters, and he can also climb pretty well because he is so small (climbing is all about power to weight ratio).  Ewan won the U23 Australian Road Race title over about 137kms with about the same amount of climbing as the first 3 TDU stages.  And if you need more – his average lap time was faster than Gerrans, Evans and Porte who finished on the podium for the Elite Mens Road Race (although the elite men did 5 more laps). Ewan will get me 4+ points a race and allows me to buy more expensive riders where I need to.
Next up is Simon Gerrans, cost 19.3 credits.  He has won TDU twice before, he is in good form winning last weeks national road race title.  He also wins stages and this course with modest climbs suits his strengths. He can climb well enough to stay with the lead group and then sprint away from them at the end.  So yes I think he can get me 20 to 27 points per race.
Next up is a second rider from OGE (we can only have 2).  I've gone for Daryl Impey at 21.1 credits.  He is a similar rider to Gerrans in that he can climb and sprint.  Other options for the 2nd OGE rider are Clarke (I can't see him scoring high enough), Durbridge (OGE will use him as a pacemaker on the road, not at the finish) and Matthews (3rd highest price is too high, plus is rumoured to have bad back).
Then 2 riders from Sky.  Richie Porte at 22.7 credits and Geraint Thomas at 17.8 credits.  I think these guys will finish in first 20 places for each of the first 3 stages, hopefully high enough and with enough KOM points to meet their quota.  Both can climb and have good endurance.  Geraint Thomas crashed a few times last year and did not finish races so he is relatively cheap.
The last 4 become a bit harder. I will name a group of riders who I think will finish in the lead groups for the first 3 stages.
Cadel Evans will be with Porte at the finish of the first 3 stages, but at 26.4 credits he is pretty expensive.
Robert Gesink will be there as well, he is a bit cheaper at 17.2 credits.
Diego Ulissi at 16.1 credits,
Jan Bakelandts at 22.8 credits.
However, all of these will blow your salary cap.  So you will need some cheaper riders such as:
Jack Bobridge, 11 credits – Aussie on comeback trail with Belkin
Matej Mohoric, 3 credits – Young Slovenian, won U23 world champ road race ahead of Ewan.  Cult status for his manic descending skills.  If you see a lime green madman that will be him.
Frank Schleck, 3 credits – on comeback trail after year out.
If you want to start posting your team, or making any other comments do so below.  Also twit me up with questions on @NixTrader, and follow me for ongoing Fantasy TDU relevant cycling news.  I'll also be tweeting fantasy relevant information live from the races.  If you are following me and I mention Panzers you will know I mean the big German sprinters Kittel and Greipel, who I will keep an eye on hoping my gamble comes off.
Will post another article tonight with review of today's race, plus trade options.
Links of Interest 
1.  Route maps & profiles: Great work by CyclingTheAlps.com to produce route maps, profiles and satellite photos of the TDU stages –
http://www.cyclingthealps.com/#tour-down-under-2014-stage-1
They have a flyover for the various stages on youtube.  I love the way the flyover speed slows down at feed stations and when it gets to hills.  They have even added a game for your amusement.  Beware about opening this link at work – it may be very distracting!
2. My "Know Your Jerseys" for TDU article is also being updated on an ongoing basis as the latest team jerseys are announced.
http://dreamteamtalk.com/2014/01/09/fantasy-cycling-for-tdu-know-your-jerseys/
3. Twitter list with stream of tweets from all the TDU riders and the teams.
https://twitter.com/belinda8888/lists/tdu2014
I love this.  Constant stream in different languages, about all manner of things from travel cockups to encounters with local wildlife – all recorded with selfies.
4. DTTalk Cycling home: To easily find a list of all my articles on Fantasy Cycling for TDU (e.g. if you want to review something in another article), use this link.
http://dreamteamtalk.com/category/2013/resources-2013/leagues/cycling/