Dion Prestia – Deck of Dream Team 2014
Today, McRath looks at a young favourite who is fresh of a breakout year in the AFL. Gold Coast Sun, Dion Prestia is tough as nails and is on the rise. He's not cheap – but gives you a unique option who you'll love to watch rack up the touches on the field as much as he will for your Fantasy team.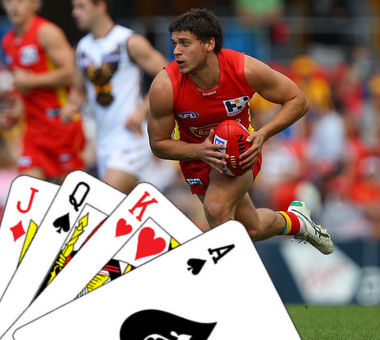 Name: Dion Prestia

Club: Gold Coast
Position: Midfielder
AFL Fantasy Price: $523,600
Real Dream Team Price: $527,700
Bye Round: 8
2013 Average: 96.6
2013 Games Played: 20
Predicted Average: 102
Why should I pick him?
Going into his fourth year, Dion Prestia is starting to come into his own as an AFL footballer after having a perfect 'third year' breakout season in 2013. Take his stats as a precursor:
The balance in his scores was textbook for a breakout season, with his massive ceiling giving off positive signs that those low scores will disappear and his consistency will increase with natural progression and his teams' success.
Prestia is the guy that every team needs and the fans love. He's not going to get many Brownlow votes, but he'll still appear near the top of the stats sheet each week and the coach and fans will love him for it. Tough as nails and always hungry to find the pill, he'll be at the bottom of the pack and the top of the club best & fairest (Prestia was 2nd in 2013 behind the one and only Sir Gary).
Another tick in the 'pros' column is the fact that 'Presti' was only tagged once in 2013 and wasn't given any 'jobs' after Round 7 – so he pretty much had free reign in the midfield, picking up the extra points on offer in the process. With a few guys ahead of him in the tagging duties and more than a few ahead of him in terms of being tagged – this is one guys that you'll seldom have to worry about being 'locked down'.
Finally, whilst on the topic of having free reign, Prestia has already shown that he has many pig-like qualities – he loves to rack em up (recording 8 games of 25+ touches, including 4 of 30+ with one of those that massive 42 touch, 157 point game); he also loves to tackle (recording 12 in R10 v Geelong and an avg of 4.3 per game); AND he gets his fair share of marks, too – with an avg of 3.9, nearly all of those uncontested! Could we be looking at the next Dane Swan? Big call I know, but many of my esteemed colleagues agree that he's something special. He's definitely worth a spot as a big unique for 2014.
Why shouldn't I pick him?
The one thing staring us in the face when looking at picking a Gold Coast midfielder is that we are no longer looking at a midfield full of kids struggling to handle the rigours of AFL, relying on Uncle Gary to rescue them. This is a team full of talented, hardened and hungry young men who are fit and fighting for time in the midfield.
Ablett, O'Meara, Swallow, Bennell, Martin, Harbrow, Stanley and Rischitelli. Fully fit, Coach McKenna has a tough gig trying to fit them all in – and Prestia may be forced to drift forward/back at times in 2014 to accommodate more time in the midfield for some of the above. Sure, each player will be developed with a bit of versatility – but at over $500k, you'd want assurances that your man is playing in the guts.
As touched on by others in previous articles, the other main risk here is the 'Tom Rockliff effect'. After such a huge year for a young player, it can be tough to back up the internal and external expectations by going one better. Increased attention, less freedom – Prestia is at high risk of this occurring in 2014. Although this is definitely no exact science as each player handles the 'mental stuff' differently. The only question then becomes – will Prestia rise to the fantasy elite in just his fourth year or fade into obscurity and DT-ambiguity? Your own answer will determine whether he makes your shortlist.
Deck of DT Rating
KING – Dion Prestia is a Fantasy Jet. He's ticking all of the boxes on his way to Fantasy prominence. With the Suns on the rise in 2014 and his spot in the midfield cemented, jump on board and watch him continue to improve across the board. Anyone that can go close to a 100 average with only 6 x 100's has a lot of upside. With increased consistency and continued progression a near-certainty this season, 'Presti' is a brilliant, unique pick for your AFL Fantasy/Real Dream Team side – so chuck out the cookie-cutter and throw him into the mix.
FOLLOW ME ON TWITTER: @McRathDT for my honest and unbridled opinions on AFL Fantasy. Let's get the deck discussion going, using the hashtag #DeckofDT.