Gary Rohan – Deck of Dream Team 2014
Will this be the year number 6 draftee Gary Rohan delivers? Anthony takes a look at whether you should be taking the gamble.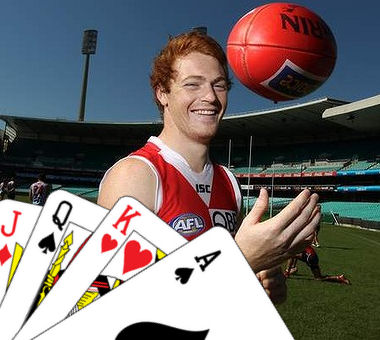 Name: Gary Rohan
Club: Sydney
Position: Forward
AFL Fantasy: $138,400
AFL Dream Team: $176,600
Bye Round: 10
2013 Average: 32
2013 Games Played: 3
Predicted Average: 70
Why should I pick him?
Did you not see that price? Let that sink in for a moment… $138,400! That's cheaper than you will pay for most top 10 draft rookies this year. The difference being that this will be Rohan's 5th year in the AFL system!
With some serious pace behind him and an almost demonic attack on the ball, a fit Rohan is all but guaranteed a place in Sydney's best 22. Can we say that about any other forward rookie around his price range? No seriously? Can we? Maybe ask Jeppa… but in the mean time Rohan will certainly do his job earning you some cash and providing coverage from the bench.
While he may not have set the world alight from a fantasy perspective in the past (much more on that later) the games he's shown potential in have been enough to warrant a gamble. His first game of 2012 saw him net coaches a handy 81 points, although that was against a debuting GWS. 'What's he done lately?' I hear you ask. His last game of 2013 saw him score 41 points which doesn't look too impressive on it's own. But take in to account the fact that Rohan was being used as a sub, slowly building up his match fitness again and didn't come on till the 3rd quarter… for me that's some form to be a little excited about. That was 41 points from a quarter and a bit playing as a forward.
Why shouldn't I pick him?
So what's the catch? Why's he so cheap?
Rohan has played 23 games. That wouldn't be a bad thing if he'd only played one season, but 23 games over 4 seasons is definitely concerning. Rohan was plagued by injury through his early seasons, spending a lot of games 'hamstrung' (see what I did there?) and finally looked to be clear of those issues going into 2012. Then after using his body as a battering ram for the first couple of games Rohan snapped his tibia in a freak accident which partially prompted the confusing 'keep your feet when attacking the ball rule' and saw Rohan miss the rest of 2012 and majority of 2013. Returning to only play the last 3 games of the 2013 home and away season. This many games missed alone was enough to see Rohan's price receive a serious discount. But while we can rule out the broken leg as a freak accident the fact remains that prior to that Rohan had a bit of trouble keeping his body fit and on the park.
Rohan has never been a prolific scorer. His 81 against a debuting GWS is his highest score. But apart from that we've never really seen anything too impressive. Once again though at an average of 7 games a season so far and injuries affecting we've never really seen what a fit Gary Rohan is capable of when stringing games together. On the facts and stats alone though we can see that he has averaged 44 points points per game over the course of his career. This is including many games of vests/injuries. So considering he is priced at 32 points per game, even if only maintains his average, he'll still earn a little cash from your bench.
Deck of DT Rating – 10
Ok, while I don't think Rohan has earnt the value of a royal card or Ace yet, I've ranked him as a 10, because while he may not be that valuable on his own right now, you still need a 10 to make a Royal Flush!
As explained above, if you are starting with Rohan, do not start him on the field. Wait a couple of games watching him on your bench. Worst case scenario is that he scores his career average of 44 and earns you a little cash. Best case scenario is that this is the year we finally see the former number 6 draftee play unhindered to his full potential! This year I wouldn't be surprised to see Rohan playing forward again with stints through the middle to utilise his pace (especially if the recent news of Jetta's surgery lingers on)  so as long as he can avoid that vest I don't see why we won't have a nice fat cash cow to milk before the byes!
FOLLOW ME ON TWITTER:  @Anthonydsmith86 and don't forget to hashtag #DeckofDT