"The Traders" on AFL.com.au
Yesterday some exciting news was announced – Roy, Calvin and Warnie will be heading up the AFL Fantasy content on AFL.com.au. Under the name of "The Traders", they'll be delivering daily content on the official AFL website.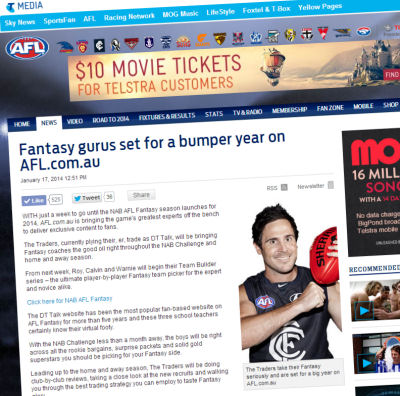 After 7 seasons of DT Talk, Roy, Calvin and Warnie will now also provide AFL Fantasy content in an official capacity over on AFL.com.au.
This is something we've been working towards over the last few years and we're excited that we now get to work for the AFL doing what we love. The content we'll be providing will be some of the old favourites and a bit of new stuff that will hopefully now make the AFL site a credible source of information and advice for fantasy coaches. The Traders is our collective name (due to the official AFL product dropping the Dream Team name). The name fits perfectly for Calvin the Tradie wearing his green vest. Boom tish.
One of our main goals is to keep it very fun!
We have to thank the DT Talk community for their support over the years. We really enjoy what we do and it makes it worthwhile to know that people enjoy watching/listening to us, reading posts and getting involved in the broad community via the comments here and also over social media.
Most of all, our big group of writers on the site have been sensational! It's great we can have a heap of different voices with different views on the games… and always be entertaining. Big thanks to everyone who contributes.
So it sounds like we're shutting up shop… not at all! DT Talk will continue to provide fantasy content across all forms of fantasy AFL and sport! Some things will change here (for example our live Thursday night show is now an AFL product), but there will be more added to the stable of already great content. Stay tuned!
Congrats goes to Tbetta who has a gig with writing for the Assistant Coach for Virtual Sports' AFL Dream Team. He's one of the best  and longest serving writers here at DT Talk! Don't stress though, we'll hear from him on our site throughout the year as well! Keep an eye out for other writers popping up writing for other things through the year, too. Some excellent reward for effort.
Anyway… bottom line is that DT Talk will continue and this community will hopefully thrive! We're having the best pre-season ever (sounds like that's straight out of a press conference for each club at the moment) and this year will be huge with the variety of games on offer to play. We're looking forward to starting our gig with the AFL and we hope that everyone here will be across everything we do; both at AFL.com.au and at dreamteamtalk.com.
Cheers,
Roy, Calvin and Warnie.