Alex Fasolo – Deck of Dream Team 2014
Like the 35.9% of coaches who currently own him in the Drawing Board feature, I'm well aware of Fasolo's value and potential… So why is he currently not much more than an afterthought for my initial squad?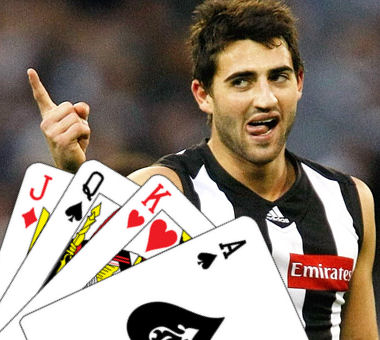 Name: Alex Fasolo
Club: Collingwood
Position: Forward
2014 AFL Fantasy Price: $208,400
2014 Dream Team Price: $239,300
Bye Round:  Round 8 (shared with Adel, Geel, North, GCS, Rich)
2013 Average: 48.6
2013 Games Played: 3
Predicted 2014 Average: 65* (unvested average)
Why should I pick him?
An interrupted pre-season curtailed Fasolo's season before it even really began, playing just the 3 games at AFL level undeniably underdone. Once sent back to the VFL, he struggled with form, fitness and discipline, eventually surrendering to a serious navicular injury and wasn't sighted for the rest of the season. Disappointing from a 2013 standpoint, the silver lining is that we can pick him up on the cheap in fantasy this year, priced at an average of 38.5 in AFL Fantasy (thanks to a 21% discount) and 43.8 points in Dream Team (10% discount).
That's miles below his best. In 2012, he played 21 games at an average of 72.5 points – nothing mind-shattering, but considering his price tag in 2014, very encouraging. His scoring was what you'd expect from a small forward specialist; mostly 60's and 70's, with a couple of big games, like his 100 against Gold Coast and 118 versus the Bombers, littered across the season. Unexpected however, was his consistency for a goal-centric player; he dipped below 60 just twice the entire season, one of those scores being a red vest.
Collingwood had a huge turnover as a club this off-season, clearing out older stock like Daisy Thomas, Heath Shaw, Alan Didak and Andrew Krakouer. Aside from Shaw, that's three half-forward threats off the depth chart. Fasolo played that hybrid role perfectly in his first two seasons, and in a perfect world, he'd be lining up close to the big sticks for the Pies in Round 1.
Why shouldn't I pick him?
Unfortunately, it's not a perfect world. Like your crazy ex-missus, Fasolo has a ton of baggage.
Fitness is the root of all my concern with Fasolo as a fantasy option this year. In a recent injury update,  the key news was that Collingwood are apparently "in no hurry to rush Alex Fasolo back into the full training" and, according to Eade, "We're just going to take our time with it, but he's ticked every box so far, so we're pleased with his progress."
Reading between the lines, that's not great news, despite all the positive platitudes. Just like the Eagles were 'pleased' with Nic Naitanui's progress in the pre-season last year, this should be setting off serious alarm bells where his Round 1 chances are concerned.
Not surprisingly, this has been reflected in most punters' Round 1 expectations. In both the AFL website's preview and the Herald Sun's preview, although dated, Alex has been left out due to injury concerns. I'm not sure that there's any doubt that Fasolo is a best 22 lock when fully fit, but that 'when' is a significant factor – and all signs point to later rather than sooner. Plus, let's not forget the high chance that he'll be reintroduced via the substitute vests when he finally does regain enough fitness to play at the top level.
Also, it might not be relevant to you, but his arrogance is kind of overpowering.

Deck of DT Rating.
JACK – Like the 35.9% of coaches who currently own him in the Drawing Board feature, I'm well aware of Fasolo's value and potential. However, the risk associated with his fitness issues (that therefore impact his job security and vest likelihood) are too great, and he's currently not much more than an afterthought for my initial squad. A solid NAB Cup display will be the minimum requirement to propel him back on the radar, and even then, it'll only be in AFL Fantasy, where he's cheaper and the rookies are harder on the hip pocket.
The Deck is as much about who not to pick as who to pick – consider this your first  'Move On' notice where Fasolo is concerned.
FOLLOW ME ON TWITTER: @Tbetta9 for all things fantasy.