Brandon Ellis – Deck of Dream Team 2014
He's lost his DPP status this year but does Brandon Ellis still deserve a spot in your midfield? Anthony takes a look at our first Tiger for the Deck.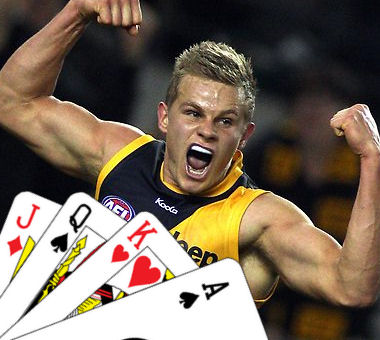 Name: Brandon Ellis
Club: Richmond
Position: Midfield
AFL Fantasy: $429300
AFL Dream Team: $432,600
Bye Round: 8
2013 Average: 75
2013 Games Played: 20
Predicted Average: 95
Why should I pick him?
Heres a few of the category's Ellis is ticking to be a walk up selection this year for me.
Underpriced – Ellis wore the dreaded vest 5 times last year for an average of 22 over those games, putting a serious dent in his seasons average. Take away those 5 games and you're left with a tasty looking 98 point average over 15 games. You'll be paying for a player priced at 75 points per game.
Ceiling – 6 games out of those 15 he went over 100 which is always handy, but when the Tigers are junking it up Ellis is always involved and loves getting forward for a goal. Netting a handy 143 and 155 last year.
Unique – Ellis found himself in a lot of Fantasy back lines last year, but this year he loses his DEF status and is only available as a MID. This is turning a lot of coaches off the young cub, which could make him quite the sneaky POD.
Tag Free* – Well not completely, but we'll touch on that asterisks later. But in a midfield also consisting of Cotchin, Deledio and Martin you can usually bet this is one of your players who won't cop the oppositions best tagger each week.
Best 22/Potential – 3RD YEAR BREAKOUT ALERT – Currently tearing up the track in his 3rd preseason in a young team, Ellis has cemented his spot in the Tigers best 22 after proving what he can do without the vests.
Why shouldn't I pick him?
He's looking perfect right? But wait, what was that asterisks about? Does anyone remember The Tigers vs Blues game in round 21? I think Ellis does, he probably still thinks he see's Armfield out the corner of his eye every so often. Ellis started that game with a bang! 40 points in the first quarter and a raking goal from outside 50! Then enter Armfield who kept Ellis to 15 points for the rest of the game. As I said above, he won't get the oppositions best tagger, but we can't expect him to be running free on the wing every game either. Hopefully he's putting work into dealing with close attention over the pre season.
Honestly I'm scraping for the bottom of the barrel for reasons not to pick him here, but the round 8 bye is very MID heavy, with players like Selwood, Swallow, Swan, Pendlebury, Beams, Ablett Jnr, Cotchin, Dal Santo and Thompson to name a few, structure may be worth considering.
Deck of DT Rating
KING! – That's right, I'm calling it early! I might have a man crush on this kid since bringing him in for round 6 last year and watching him go bang! But I honestly think by this time next year we'll be throwing his name around with other premiums. Lock him into your mids and gloat over your mates who don't read this site yet. Worst case scenario is that he averages 95 and makes you cash, best case is that we see a lot more of his ceiling numbers!
FOLLOW ME ON TWITTER:  @Anthonydsmith86 and don't forget to hashtag #DeckofDT