Jarryd Roughead – Deck of Dream Team 2014
The Big Rough may have lost his wingman, may have lost his Ruck status…. but does that mean we now ignore him? Or does he become more valuable to your team?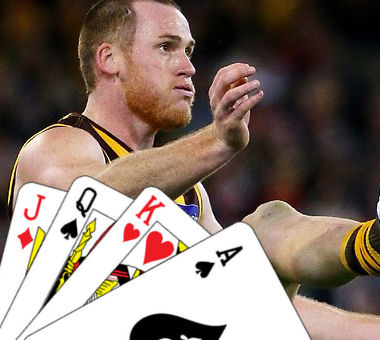 Name: Jarryd Roughead

Club: Hawthorn
Position: Forward
AFL Fantasy: $470,100
AFL Dream Team: $473,800
Bye Round: 9
2013 Average: 87
2013 Games Played: 22
Predicted Average: 95
 Why Should I Pick Him?
Buddy who?  Last year the Coleman Medal finished up at Waverley but it wasn't with the big No23, it was Big Rough who took that honour home.  He was their main man last year as Buddy had an off year and in 2014 nothing will change, in fact, it will only get better.  He will be the number one target up forward.  However, this doesn't mean he will go massive either.  When looking at the scores from last year, there were three games where Buddy didn't play but Rough did.  In those games he scored 96 vs Port at AAMI, 79 vs Bulldogs at Aurora and 87 vs St Kilda at Etihad.  I must say when I saw this I was a bit surprised and concerned.  However what I think we will find this year is that the forward structure will change a little which may see him settle into more of a routine rather than being second fiddle (sometimes even third behind Gunston).
He does have the protential to go big but he did only hit the 100 on 5 occasions last year but when he got to 100 he always hit 110 as a minimum.  As a Rough owner last year though, the one thing I noticed was that he could be on next to no score for most of the game and then come home in a rush as he kicks some goals at the end to finish on a respectable score.  For the entire season last year he scored 1,908 points with 32% (or 612) of those points coming from goals (68 Goals x 9 points because to get the goal you have to have a kick too!).  Good thing he won the Coleman!  Plenty of goals means plenty of points!  Having said that, he did spend a reasonable amount of his time in the midfield on Ruck duties last year, this year without Buddy he will be stationed up forward a lot more which will give him the chance to kick more of those goals and boost his score even further.
Why Shouldn't I Pick Him?
So I just finished saying that it was great that he is the main man now, but what that means this year is that he will now get himself the best opposition defender.  He will get the double team that used to go to Buddy.  So this means that he will find it harder to get the ball on his own.  And when Rough can't get the ball he does struggle.  As you can see from my table above whilst he had 5 scores over 100 he also had 9 scores under 80 which included a 43 in rd21 which was of course the second week of DT Finals!  That came against Collingwood where he had only 13 disposals and 1 goal.  I can say from experience that he can be a very frustrating, some games he had next to no score at three quarter time and comes out and slots a couple of +12's and then he is back in your good books again!
One of the big changes for Rough this year is that he has lost his Ruck eligibility.  This was a massive bonus for him last year in that we could use him to swing players around and also was invaluable for the bye rounds.  He now needs to stand alone against the other forward options including Dangerfield, Dusty, Cloke, Buddy and Tippett.  Whilst he can hold his own against them, but he is priced at 86 where as both Buddy and Tippett are priced at 78 and then we have Warnie's Boy Colin priced at 81.  So he won't represent the best value but there will still be value in him as the season progresses so don't give up on him.
Deck of DT Rating: King.  Big Rough is a guy that you really need to consider having I know many people will forget about him, but I think he will be a must have before the season finishes.  He will be the go to guy and should be good for a few goals a game which means that he will get his points.  Yes he had some poorer games, but I think this year will bring some certainty to his role which should assist in his point scoring by relaxing him.  He will score well and will be in the top 10 scoring forwards next year fairly comfortably I think, plan to get him in as soon as you can.
FOLLOW ME ON TWITTER: @pkd73 for all things AFL Fantasy.  I will bring you everything I can, especially from the Adelaide based teams, both in the pre-season and of course during the year!  To discuss the deck on twitter use #deckofDT