Brent Stanton – Deck of Dream Team 2014
Calvin won't like it, but Stanton has pig-like tendencies. Over the last two seasons, he has scored over 140 on eight occasions – just one less than Swanny. The Bomber is a fast starter but should you pick him in your AFL Fantasy side?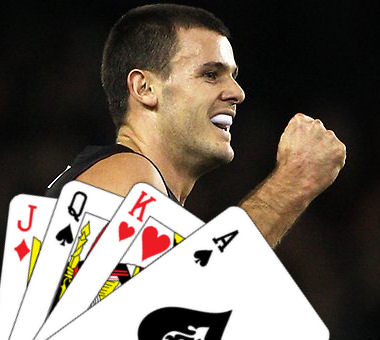 Name: Brent Stanton
Club: Essendon
Position: Midfielder
AFL Fantasy: $560,300
AFL Dream Team: $564,700
Bye Round: 10
2013 Average: 103.4
2013 Games Played: 21
Predicted Average: 109
Why should I pick him?
If we could be selective with the numbers we chose to talk about Brent Stanton with, then we probably would have crowned him a fantasy pig before Swanny got the title.
Over the last couple of years, we have seen some thumping scores posted by the Essendon midfielder. His ten best scores over the previous two seasons were: 193, 175, 153, 149, 149, 144, 142, 140, 130 and 126. They're the sort of scores that win you your league match ups… especially if you're ballsy enough to whack the C on him.
In thirty-five of his last 61 games, he has scored over 100 AFL Fantasy points. This is a decent strike rate when we see so many massive scores. Stanton is very durable missing no more than two games a season for the last 8 years.
Over the past couple of seasons, Stanton has been known to be a fast starter. As the table on the right shows, there is a huge discrepancy from his first ten rounds to how he finishes the season. The 2012 numbers (final average 106.5) showed a massive difference. Last year's would have shown a bigger difference as that 114.7 figure includes a 51 where he was injured and subbed out of a match.
From these trends, starting with Stanton seems to be what we need to do… and trading him out around bye time. The Essendon bye works perfectly for this sort of strategy this year as it's in Round 10; trade him out for a Round 8 or 9 bye player.
Why shouldn't I pick him?
So I talked up his big scores? Stanton is prone to some stinkers, too.
These can often come from the tag. Last year against Carlton, Curnow kept him to 61 and 52 while Raines restricted him to 78. After Round 14 in 2012, he struggled through the next six games where he couldn't score more than 85 points. In the last round he scored 109; his first ton for two months.
I talked up his excellent start he had to the last two seasons, so I thought I'd look into how he has gone in his last three matches against his opponents leading into the Round 10 bye.
As the table shows on the right, there aren't too many sides there that you would back him in to smash it against. With the 'match day' feel of Round 1 (where you get unlimited trades leading into Round 2), he wouldn't be a bad option against North Melbourne judging by his history but North are the hardest fantasy team to score against according to the Prospectus.
Stanton's next two opponents are Hawthorn and Carlton who haven't let him score too well in the last couple of times he's come up against them. Maybe he won't start the season with the same bang as outlined previously.
The other thing that table really highlights is his inconsistency. Out of those nine opponents, the Bulldogs are the only team has he scored 100+ against in his last three matches. While there has been some promising 90+ scores along the way, if we're paying over $560K we'd want to bank in on an average well over 100 from the start.
Deck of DT Rating.
KING – Thanks to his high ceiling, I think I've had Brent Stanton in my side each year for the last 4 seasons. Unfortunately my feelings towards him are mixed. He has smashed me big scores but he has cost me along the way. Stanton is a frustrating player – I think Calvin has been on the wrong end a few times! At this stage he's in the mix for the Round 1 team I'll put together, but due to the Hawks and Blues in the next two games, I'll probably pass due to the value in the midfield. There aren't many players who are capable of scoring like he can… in a pig-like manner, selfishly picking up cheap +6's around the ground.
FOLLOW ME ON TWITTER: @WarnieDT for all thing AFL Fantasy (and more). Got something to say about the deck? Use the hashtag… #DeckofDT.