Jack Steven – Deck of Dream Team 2014
He won the 2013 Best and Fairest, scored more than 140 points on multiple occasions, and is coming into his sixth season. Jack Steven is on the up – but is he in your team? Griff looks at the pro's and con's of picking this Saint.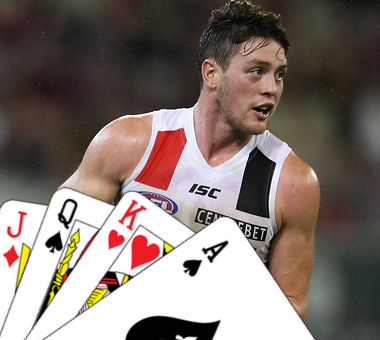 Name: Jack Steven
Club: St Kilda
Position: Midfielder
2014 AFL Fantasy Price: $532,400
2014 Dream Team Price: $536,600
Bye Round: 10 (Lions, Dons, Dockers, Dee's, Saints & Swans).
2013 Average: 98.2
2013 Games Played: 22
Predicted Average: 107
Why should I pick him?
Last year's Best & Fairest winner for St Kilda comes into 2014 for his sixth season at AFL level. Taking two years to get a decent run in the Red, Black & White, Steven has been slowly building his reputation and ball winning ability for the past three years, managing a minimum of 20 games across those years.
The man with two first names has been steadily improving over his short career, with averages on 80, 83 & 98 in 2011, 2012 & 2013. But what's more impressive is his improvement during 2013. If you break his season into three you can really see his growth. Between rounds one and six he maintained his 2012 average of 84.3. During the middle of the year he was consistent with an average of 97.3 between rounds seven and sixteen. But it's the way Steven closed out the year that has me excited; averaging 111.3 from rounds seventeen to twenty-three, including premium scores of 115 against the Power, 124 against the Cats, 125 against the Swans & smashing out a huge 148 against Fremantle in four of those seven games.
If Steven can boost his bottom end scores he could easily improve on his 2013 average by a significant margin. A few more running goals, or link-up mark and kick combinations will see him push his average well above 100pts. Averaging 27 disposals per game, and less than a goal per game, he does have significant room to move, especially in his average marks (3.7), goals (0.7) and tackles (3.9). A few more kicks than handballs wouldn't hurt either, with only eleven kicks for every ten handballs.
Why shouldn't I pick him?
The one thing Jack must work on is how he handles a tag. With Nick Dal Santo now in blue & white, and Hayes slowly on the way out, Steven will be getting extra attention from some of the competitions best taggers. He managed 79pts against Raines in round nineteen last year, when he was hitting his straps, and his scores suffered when he had extra attention.
For coaches, it's his tendency to get run-with roles that's currently of concern. Last season he was sent to play a negating midfield role against Ablett, Heppell, Swan during the first part of his season, resulting in some undesirably lower scores (92, 74 & 75). Towards the back end of the season though, Jack was doing far less tagging. As he was the one being tagged.
Steven had eight games (36% of the season) in 2013 where he scored 85 or less (almost 15pts less than what he is priced at), so his consistency isn't great. That said, the pay-off is a high ceiling, with six scores over 110pts last year.
He appears to have a nice early run, with games against Melbourne, GWS, Adelaide & Essendon, however he has struggle against these teams in the past in games for premiership points. His highest score against any of these teams was against GWS (109pts) last year, and his next highest score against these teams was Melbourne (102pts). Put simply, Steven may struggle in his first month with the Saints draw.
Deck of DT Rating
KING – An in-an-under ball winner who can will the ball & sneak forward and kick a goal, Steven is more akin to a Supercoach selection than an AFL Fantasy/Dreamteam player, however this does not mean he should be discounted. He needs to work on lifting his poorer scores, much like Ryan Griffen in previous years, but like Griffen, with Steven there is a huge upside, and not much downside. He is certainly one to watch in the preseason, and don't be afraid to take him in your draft team.
FOLLOW ME ON TWITTER: @RLGriffin85 for all things Fantasy. Got something to say about the deck? Use the hashtag… #DeckofDT. Fantasy Pre-season is here!