Colin Sylvia- Deck of Dream Team 2014
If you are looking for a high risk, high reward guy as a point of difference, maybe the Colin Sylvia roller-coaster is your kind of ride. Roy looks at the new Fremantle recruit in Deck of DT.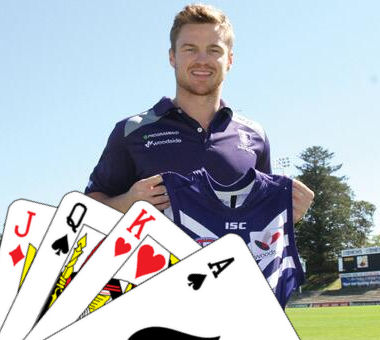 Name: Colin Sylvia
Club: Fremantle
Position: Fwd/Mid
AFL Fantasy: $443,600
AFL Dream Team: $447,100
Bye Round: 10
2013 Average: 82
2013 Games Played: 19
Predicted Average: 89
Why should I pick him?
Firstly, I am writing about Sylvia to please the Boss Warne Dawg, who has unhealthy and unjustified love for this guy. Having said that, I can remember Sylvia having a couple of good years so I will crunch some numbers.
He has averaged over 90 three times in his career with a personal best 96 coming in 2010. During that year he was justifiably considered in the elite bracket for forwards registering 8 scores over 100 out of his 15 played. The most impressive thing about his tons was the fact he went on with them, registering 6 over 110 including 124, 124, 125 and a whopping 149.
To think that Sylvia managed 3 straight years averaging above 90 with the Demons is very impressive given their struggles. Yes, his last 2 years have shown a decline with averages of just 76 and 81 but after a career of playing with a battling club, something had to give. My positive spin on this decline is that he is now available for a relatively cheap price given his proven scoring ability, especially in light of his move to a more successful club where people can probably hit him with the ball when he gets open.
At the Dees, he quite often attracted negative defensive pressure, but that will not happen at the Dockers as he is a long way down the line.
Why shouldn't I pick him?
Old Colin can be a loose unit at times and any silliness will not be tolerated by Ross Lyon, so he will need to toe the line to play each week.
Sylvia can have absolute stinkers that would drive his coaches up the wall. At times, especially when tagged (which shouldn't happen at Freo) he can appear to give up and his score can reflect that attitude. In round 2 vs the Bombers, he had just 33 without a tag from 7 touches in a prime example of the frustration he can cause.
He never plays a full season! Despite the fact he never seem to miss big chunks of the year, he has never played 20 games in a season. In fact between 2005 and 2013 he has played between 15 and 19 games every season, which in typical Sylvia fashion, is kind of good, but kind of annoying from a coaches perspective. I'm not sure whether to label him extremely durable, or extremely injury prone?
Deck of DT Rating.
Queen – If you are gutsy enough to bring Sylvia into your team it is every chance to be a success. As my New Years Resolution is to not select frustrating players that cause me sleepless nights, I will stay away from Warnie's mate Colin. Personally I can see him flourishing in the environment Lyon has created over there as they try to build on the success of 2013.
FOLLOW ME ON TWITTER: @RoyDT for all things DT. Got something to say about the deck? Use the hashtag… #DeckofDT.