Tom Liberatore – Deck of Dream Team 2014
2013 was the Year of the Pup – a classic third year break-out from the highly regarded father-son pick in Tom Liberatore. A close look at his production last year revealed a couple of trends that has me intrigued about his prospects this year – but will it be enough to transcend the 2012 Rockliff Effect?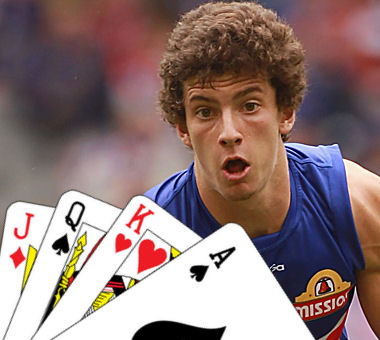 Name: Tom Liberatore
Club: Western Bulldogs
Position: Midfielder
2014 AFL Fantasy Price: $527,000
2014 Dream Team Price: $531,100
Bye Round: Round 9 (shared with Carl, GWS, Haw, Port, WC)
2013 Average: 97.2
2013 Games Played: 22
Predicted Average: 107
Why should I pick him?
2013 was the Year of the Pup – a classic third year break-out from the highly regarded father-son pick in Tom Liberatore. The raw numbers associated with his rise read like statistical porn; per game, he ranked 3rd in contested possessions, 1st in clearances and 10th in tackles. Not surprisingly, this flowed onto to a marked increase in fantasy production where his average sky-rocketed almost 20 points per game, reinforced with a perfect 22-game attendance record.
A closer look at his 2013 production revealed a couple of trends that has me intrigued about his prospects this year. He started the year off with a bang, notching back-to-back 120's to launch himself into fantasy relevance. You might remember he had a -5BE leading into the first price change, which had some coaches jumping on the quick-buck bandwagon with Libba, often alongside Westhoff. Unfortunately, these brave traders weren't rewarded with his form over the next twelve weeks, dishing up 8 scores under the 80-point mark in that time. These were offset by three scores north of 115, displaying his hefty ceiling but mostly serving to highlight the frustrating inconsistency you'd expect from a young player toiling in the midfield of a struggling club like the Bulldogs.
Round 16 onwards was a different story.
An avalanche of 113 DT points was the fruit of Libba's labour in the last eight games of the year, a sustained period of consistent production at an elite level that we hadn't seen from Tom before – his lows of 27 touches and 89 fantasy point were testament to that. There's no obvious cause-and-effect explanation behind his significant uptick in production at the tail end of the season, so I'm chalking it down to increased maturity and confidence in his ability. Simply, natural improvement.
As the numbers earlier implied, he's an inside specialist. In and under, down and dirty, the rough and tumble – this is where he excels, and that definitely works in our favour. Like other contested machines before him, Libba is frequently overlooked for the tag for more 'damaging' players. Priddis has had Kerr as foil, Boyd has escaped the tag while Cooney struggled with attention, and even Swan is let off the chain while opposition coaches lose sleep over Scott Pendlebury. With Griffen making the 'leap' into the AFL elite last year, Liberatore escaped the tag on all but one occasion (Daniel Jackson stalked him in R13 for 74 DT) last season, and we should expect that to continue in 2014.
Of course, with so many under-priced Premiums options in the midfield this year, early drafts are starting to look very cookie cutter. At just 9.1% ownership in the Drawing Board, Liberatore will give your side a much needed unique flavour.
Why shouldn't I pick him?
An injury to Griffen would certainly curb Liberatore's output, with Libba, Boyd and Cooney the only remaining tag targets left on the board. With the latter pair getting older, it could mean that Libba becomes the number one priority for stoppers in that scenario.
The 2012 Rockliff Effect is also a big concern for me, albeit from a completely superstitious standpoint. Over the past couple of years we have seen players regress significantly the year after breaking out – a new spin on the 'Second Year Blues' phenomena – with disastrous results. Rockliff deteriorated by 19 points per game after a breakout 2011, with Greene (a 19.7 point drop-off), Zorko (20.6) and Gaff (16.3) all following suit with a vengeance last year. The rationale may vary – injury, increased attention, role change – but the end result is the same: Disappointment.
In saying that, if anyone had immunity to the post-breakout curse, it'd be Libba. I'd much rather take the inside specialist (Tom Mitchell is another in the category), than an influential game-breaker like, say, Chad Wingard. When the chips are down, sometimes you can only rely on yourself… And there aren't many that can win their own ball like Liberatore.
Even if you're as confident in his ability as I am, it's still difficult to find room for the young Bulldog. With underpriced Mids like Watson, Beams, Murphy, Cotchin, etc. the flavour of the season, do you have the structure and/or salary capabilities to acquire his services? It'll be a squeeze, and it could ultimately mean sacrificing Swan/Ablett types for strictly 'better value' options like Libba.
Deck of DT Rating:
KING – Priced at a 97-point average in both AFL Fantasy and Dream Team seems like a bargain based on what we now know he can do. I have him pegged for a 10-point increase (see projected stats below) in 2014, and that's with modest projections – it'll be a lot more if he picks up where he left off last season and continues on this trajectory with his natural improvement.
At the end of the day, I can't see how he averages less than what he's priced at – I can't say that for many of the midfielders in his price range. However, I said the same thing about Toby Greene last year, and we all know how that turned out…
So, do you trust the numbers? Or will the 2012 Rockliff Effect scare you off?
FOLLOW ME ON TWITTER: @Tbetta9 for all things fantasy.