Matthew Leuenberger – Deck of Dream Team 2014
If you are on the prowl for a younger Cox, don't rule out Matthew Leuenberger. Roy looks at the Brisbane ruckman in today's Deck of Dream Team.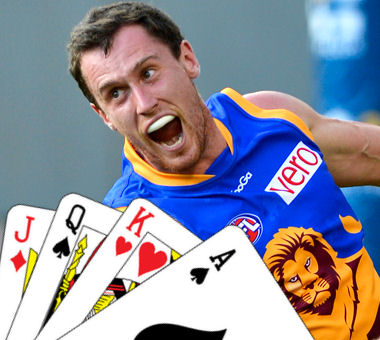 Name: Matthew Leuenberger
Club: Brisbane
Position: Ruck
AFL Fantasy: $461,500
AFL Dream Team: $465,100
Bye Round: 10
2013 Average: 85
2013 Games Played: 20
Predicted Average: 94
Why should I pick him?
At 26 years of age, and after missing the majority of 2012 with injury, Matthew Leuenberger is still developing and far from his best. In 2011, Berger had a breakout year where his average jumped from 78, to an elite 93. During that season, people were touting him as a mini cox and naming him up as the next ruck to be a walkup selection when we are finished grabbing cox at the start of each season. During that 2011 season he managed an impressive 9 scores over 100, including 110, 111, 118, 120 and 140 to go with another 5 scores between 90 and 100.
Last year, his return was full of the ups and downs you would expect from a big guy returning from a serious injury, but overall it was a success. There were some serious glimpses of the old Berger, especially in the back half of the season when he regained confidence in his body. After recording his first 100 for the year in round 15 with 122, he went on to score 3 more, along with a 99, giving every indication he is ready to roll in 2014.
Why shouldn't I pick him?
Last year Leuenberger had 4 games below 70 points which is unacceptable for a player that will come at a cost this year.
The Lions recruited Trent West and there is plenty of rumours circulating about the Lions wanting to play Leuenberger as a forward, pinch hitting in the ruck.
There is value out there in the rucks. Aaron Sandilands will basically walk into teams, leaving just 1 spot available and a lot of capable rucks are returning from injury with a discount.
Deck of DT Rating.
Queen – I think Matthew Leuenberger will play predominantly in the ruck and rest forward kicking a few handy sausage rolls, rewarding coaches that are gutsy enough to pay the big bucks. In the back half of the season, he looked sensational and it was easy to recall why we all got so excited back in 2011. If he remains healthy, I think a personal best average is on the cards for the big guy, who will be a far more unique selection than he was at the start of 2013. If you are a fan, don't hesitate to set and forget.
FOLLOW ME ON TWITTER: @RoyDT for all things DT. Got something to say about the deck? Use the hashtag… #DeckofDT.