Ten things we learnt from BBL Fantasy – Round 4
We're half way through the BBL season and the fantasy action is heating up. We've seen a few double round players do pretty well, but not all pay off. Feathertop looks at the round just gone.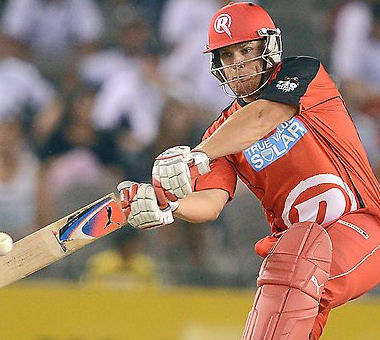 1.     The home ground factor doesn't seem to be making much difference
This week, the Sixers racked up the frequent flyer points playing at the GABBA and Adelaide Oval within four days. Despite this, they came out with two wins to push themselves to second on the ladder. Last round, both Melbourne teams won away from home without much difficulty and this is because, besides the occasional odd pitch, most BBL wickets are the same. Batsman friendly. So it doesn't matter whether you're playing in Queensland, Tasmania or Melbourne most pitches don't have the characteristic differences that they do in test matches and are easier to adapt to.
2.     Who can stop the Stars?
The Melbourne Stars continue to dominate the competition with a batting line up that has scored 200 or more when batting first and have chased down their required totals quite easily. Whilst teams might be able to take a wicket or two, their depth has created massive problems with six international standard batsmen. Their bowlers are another story all together, it does seem that Malinga is down on pace from last season and Clint McKay is getting spanked but with Bird and Hastings stepping up those cracks are being pasted over.
3.     The Thunder's woes are continuing
The Thunder are in massive trouble once again. Mike Hussey and Eoin Morgan have carried them since Khawaja's injury and Warner's test recall. Dilshan hasn't fired yet and with Morgan now unavailable, their inexperienced batsmen have to stand up. Jason Floros batted well in the last match but Kurtis Patterson, Daniel Hughes and Ryan Carters need to get amongst the runs in order to take the load off Hussey.
4.     Don't chase double round players for the sake of it!
Look, I understand the logic of trading in players twice but it does not necessarily mean you are guaranteed a good score. I know people who traded in Nic Maddinson this week for Simon Katich, whilst Katich scored 95, Maddinson ended up with -11 following a duck in the second game. Other players like North and Lee scored well over two games but Maddinson is a warning that nothing is certain even with two games.
5.     The Renegades have the bye this week
Pretty self-explanatory really… I would recommend trading out Murali. Whilst he has been steady, usually capable of getting you 40 points averaging a wicket and the 20 point economy bonus most rounds. Maybe it's worth bringing in fellow 40 year old spinner Brad Hogg who is a far more attacking spinner who should average more points.
6.     World Class internationals treading water
The number one ranked t20 batsman in the world, Alex Hales, has not fired in this competition so far. Besides a quick fire 40 in the rain cancelled match down in Hobart in round 1, Hales has been dismissed cheaply. I would recommend sticking with him until he goes off for international duties because when he gets it right. You're going to want those points. LasithMalinga seems to be struggling as well. I don't know whether he's carrying an injury or not but his pace is down and it seems he isn't having the same impact as he did in the previous season.
7.     Premiership Hangover?
Last year's champs the Brisbane Heat have been fairly lacklustre this season. Despite a strong side on paper, their batsmen haven't fired with Luke Pombersbach especially not in form. Their bowlers haven't been able to contain sides either conceding over 200 twice. It will be an uphill battle to even make the finals from here.
8.     Hobart will be happy to be on the park
Whilst the Melbourne Renegades have played five matches the Hobart Hurricanes have really only played two matches so far! With the match rained off in round one and the bye in round four, they'll be happy to just be out on the park this round and will face the Perth Scorchers tomorrow night.
9.     Aaron Finch has hit himself into form
Unless you are a Renegade supporter, this is bad. Really, really bad. Thankfully he will be off to for international duties soon!
10.   BBL Fantasy is a cruel game
You may have a great side on paper, you may have batsmen who hit 50 runs the previous week or you may just have traded someone out who was scoring terribly and then they've pulled out a massive one. This is mainly because t20 cricket is, in part, a game of luck. So don't fret if you pull out a terrible score every now and then because that's the game… or at least that's what I've been telling myself
Good luck in round 5!