Jared Polec – Deck of Dream Team 2014
Jared Polec is cheap and will be popular. However, is he going to actually get the gametime to be able to deliver you any points? He has a lot of potential, but then… so have a lot of players who never got a game.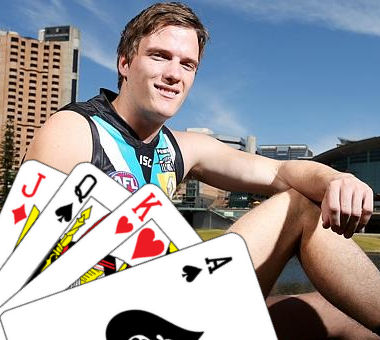 Name: Jared Polec
Club: Port Adelaide
Position: Midfielder
AFL Fantasy: $135,500
AFL Dream Team: $169,300
Bye Round: 9
2013 Average: 31
2013 Games Played: 1
Predicted Average: 55
Why should I pick him?
With the new pricing structure for the rookies this year, it is harder and harder to find guys that are going to get games that come at a bargain basement price.  Polec certainly fills the bargain basement price criteria.  He only played the one game last season where he got 4 kicks and 5 handballs against the Suns.  He has had issues with injury and a lack of opportunity with the Lions.  He was pick number 5 at the 2010 draft and has only played 16 games, there is certainly plenty of potential in this kid.
He is cheap.  He was picked at number 5 in the draft.  He has talent.  From reports I am hearing Ken Hinkley really likes him and is happy with what he is doing.  He has good outside speed and can break away from a stoppage.  This fits in with Ken's game plans and is part of the reason that Port were very keen to get their hands on this kid.
Why Shouldn't I Pick Him?
The biggest issue that I see with his scoring is game time.  I just can't see whose spot he is going to take in the Port Adelaide midfield.  The current midfield boasts Boak, Ebert, Hartlett, Wines, Wingard, Broadbent, Cornes (as tagger) Kane Mitchell (if he is upgraded during the year) and Moore.  Can he slot in there?  I am just not sure to be honest. In terms of players he is really competing with it would be guys like Tom Logan, Sam Colquhoun and Aaron Young.  At the moment he is probably on a par with these guys or slightly behind, but if he can complete the preseason and get going he may just edge ahead of them.  His advantage over Logan is that he is younger, and his advantage over the other two is a couple more years in the system.
I think that  it is going to be a case of wait and see how (and more importantly how much) he gets used in the preseason.  I predict that he will be the recipient of a number of vests throughout the year and I suspect they will be green, particularly at the start of the season.
The early signs of preseason weren't great.  He finished rear pack on the first time trial that he had with his new team mates and it didn't impress them or his new coach (whilst it was revealed he had been sick, it still wasn't a good effort).  He is in the perfect environment to get through this pre season with Darren Burgess he has a great knack of being able to get these guys to the level they need to be at.  Just look at the way Power players finished games off last year, if he can do this to Polec too then he should be right up there.
Deck of DT Rating
Jack –  I think that he is a really risky proposition, however it is his price and obvious talent that will get him selected on a large number of teams.  Overall I think he will be a risk worth taking, but I don't know that I would be taking the risk of needing him to play on your field.  Certainly as a bench cover-cash cow he should get the job done for you.  However, he is a guy that you will really need to watch very closely in the pre-season as I really want to see how he gets used (if at all)
FOLLOW ME ON TWITTER: @pkd73 for all things AFL Fantasy.  I will bring you everything I can, especially from the Adelaide based teams, both in the pre-season and of course during the year!  To discuss the deck on twitter use #deckofDT