United We Stand Golf Day at Huntingdale
Our friend Leigh Douthie (aka Cousins Coke and Ice) is a great bloke. His charity, United We Stand, has helped raise money for victims of the VIC and QLD floods. This year he's holding a golf day to raise money for victims of Typhoon Haiyan.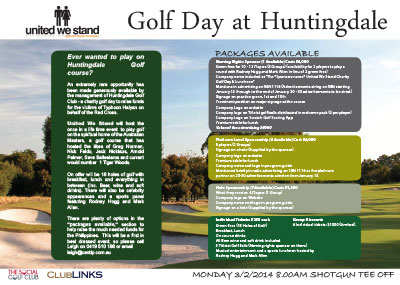 In 2011, The United We Stand – Flood Relief 2011 charity Cricket Match and Concert, officially raised $13,481 for the victims of the Victorian and Queensland Floods.
Ever wanted to play on Huntingdale Golf course?
An extremely rare opportunity has been made generously available by the management of Huntingdale Golf Club – a charity golf day and luncheon to raise funds for the victims of Typhoon Haiyan on behalf of the Red Cross.
United We Stand will host the once in a life time event to play golf on the spiritual home of the Australian Masters, a golf course that has hosted the likes of Greg Norman, Nick Faldo, Jack Nicklaus, Arnold Palmer, Seve Ballesteros and current would number 1 Tiger Woods.
On offer will be 18 holes of golf with breakfast, lunch and everything in between (Inc. Beer, wine and soft drinks). There will also be celebrity appearances and a sports panel (so far featuring Rodney Hogg and Mark Allen) for everyone to enjoy during the lunch.
Corporate packages and limited single tickets are available for the day. This will be a first in best dressed event, so fill in the attached PDF or call Leigh Douthie on 0419 510 188 to secure your spot.
Cheers,
Leigh Douthie
United We Stand
0419 510 188
leigh@cantip.com.au