Jack Ziebell – Deck of Dream Team 2014
I've had a few requests on Twitter for a Deck of DT on North Melbourne's Jack Ziebell. He wasn't really on my radar, but maybe he can break into that 100+ average territory in 2014.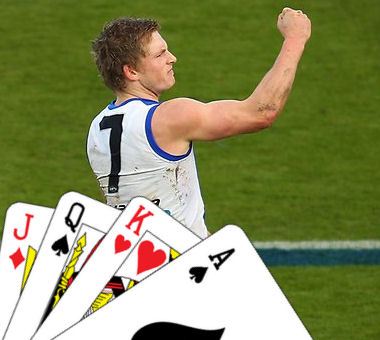 Name: Jack Ziebell
Club: North Melbourne
Position: Midfielder
AFL Fantasy: $513,100
AFL Dream Team: $517,100
Bye Round: 8
2013 Average: 94.7
2013 Games Played: 18
Predicted Average: 102
Why should I pick him?
Jack Ziebell goes into his sixth season of AFL as a 23-year-old. He arguably had his DT breakout year in 2013 taking his previous best average of 78.8 to 94.7 AFL Fantasy points.
After increasing his average by 16 points last season, I think he's got a bit more fantasy growth in him.
Of his 18 games last year, 8 of them were over 100 with a 128 v Adelaide and 141 v Collingwood in the final round. Over his last 8 games of the season he averaged 109 which included three that were slightly injury affected. Looking back, Ziebell was one of the better DT performers as a junior coming out of the Under 18 Championships as the second ranked DT scorer (behind Mitch Robinson). He averaged 96 points per game in his final year of TAC Cup in 2008.
I finally got my AFL Prospectus in the mail this week and turned to page 262 to see what the Freako had to say about Ziebell. "New interchange rule could see him rest forward, boosting his fantasy numbers." He already spent more time forward in 2013 kicking 20 goals. Of all of his stat lines, this was the only major increase, although his tackle count improved. His kick to handball ratio of 2.2 is something AFL Fantasy coaches should be keen on too.
The first line on him in the Prospectus said that his engine is the only thing holding him back as a midfielder, but from training reports it looks like he'll be leaner and meaner in 2014. Read into it what you will, but dropping 6kgs can only be a positive in trying to boost numbers across the board.
Why shouldn't I pick him?
Ziebell hasn't played a full season in his five years in the system due to injury and suspension. In 2013 he missed three games thanks to a reckless bump that got Jarryd Lyons high and due to being suspended for 7 matches over two years, copped the full whack (and more) from the tribunal. Suspension is a worry as he is one of the harder players in the competition. He had two broken legs in his first two years of AFL action. While these were his only major injuries, he often cops it in games and plays sore.
Durability and suspension is a risk with Ziebell.
Looking across his numbers in 2013, he had a few lower scores (68, 58, 72, 76, 79) that aren't really acceptable for midfielders; especially if we're paying over $500K for them. In saying this, his consistency has increased a lot in the last 18 months or so.
Deck of DT Rating.
QUEEN – If you're picking Jack Ziebell in 2014, you're expecting a further breakout from what he dished up last season. I think he's good for a 100+ average this year and he'd be worthwhile selecting for that increase and uniqueness (he's currently in under 3% of teams on the Drawing Board). I'm just worried about his durability and suspension issues. Even with two trades per week, it's a big risk for someone who won't be an uber premium while there are blokes that seem safer on paper than him for a similar upside.
FOLLOW ME ON TWITTER: @WarnieDT for all things fantasy (and more). Got something to say about the deck? Use the hashtag… #DeckofDT.