Luke Parker – Deck of Dream Team 2014
After a horror run with injury and the green vest in 2012, Parker showed us exactly what he is capable of in 2013. Anthony looks at the MID/FWD from Sydney and whether he should be under your AFL Fantasy consideration.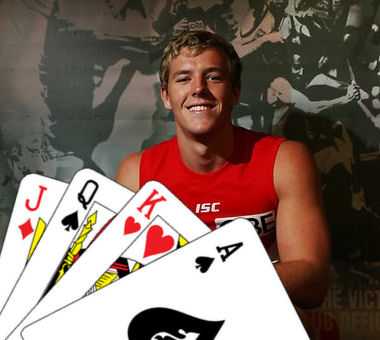 Name: Luke Parker
Club: Sydney
Position: Midfield/Forward
AFL Fantasy: $459,000
AFL Dream Team: $462,600
Bye Round: 10
2013 Average: 84.7
2013 Games Played: 22
Predicted Average: 90
Why should I pick him?
After a horror run with injury and the green vest in 2012, Parker showed us exactly what he is capable of in 2013. In the preseason he put focus into his running and endurance and it paid off massively with him playing every game, managing to stay completely vest free and improving on his previous years average by 14 points per game!
But now it's 2014 and Parker is no longer at a discounted price. Is he still worth a punt? I say lock him in!
As a pure mid there are far better options at his price range, but in 2014 we will be able to slot Parker into our forward lines and reap the rewards of all his time spent on the ball! Parker is also a tackling machine. Twice last year he made 10 tackles in a game! That's 40 points right there!!
Why shouldn't I pick him?
The curse of the resting midfielder! Like most teams last year, the swans put more effort into resting midfielders in the forward line instead of benching them. Parker played his forward role a little too well. 'Yes Parker, don't misunderstand, as dream team coaches we are very happy when our midfielders sneak goals among all their possession based scores, but when you play the role so deep that your only scores come from one on one goal square contests, that's a worry!' Parker ended up averaging a goal a game, but a lot of his low scoring games have come from being stuck one out in the deep forward line and not having the ball delivered to him. So if this trend continues, we may have to cop the occasional 'below 70' score.
Deck of DT Rating
QUEEN I honestly believe that Parker has a 5 – 15 point per game improvement in him for this year. He won't be your top scorer week in week out. But slot him in your forward line and I think you can look to bank a 90 point average from him. I also believe he has enough natural progression in him to take his average beyond 90 for the year. Heres where I may sound a bit 'conspiracy theorist' but here we go. I'm basing this on the fact that last years average of 84 was achieved by an average of 21 disposals per game. With the horror season that was Parker's 2012 (broken collarbone, jaw, many vests) I think we can say he really fought uphill to improve that year. So by looking at it that way, 2012 was his interrupted season, 2013 was a huge improvement into consistency, then I'm looking at 2014 as Parker's '3rd year breakout year'. Expect big things and feel free to blast me on twitter if I'm wrong!
FOLLOW ME ON TWITTER:  @Anthonydsmith86 and don't forget to hashtag #DeckofDT