Patrick Dangerfield – Deck of Dream Team 2014
It's ok… I know you have a killer of a hang over but we have something that we cheer you up. Patrick Dangerfield is a FWD/MID in 2014 and Calvin has all the reasons why you should/shouldn't be considering him in 2014.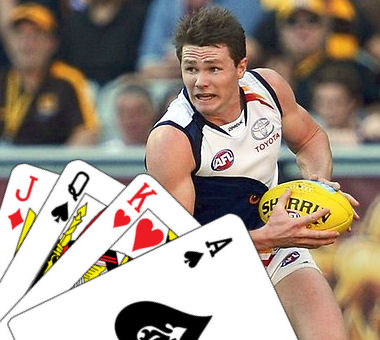 Name: Patrick Dangerfield
Club: Adelaide Crows
Position: Midfielder/Forward
AFL Fantasy: $534,700
AFL Dream Team: $538,900
Bye Round: 10
2013 Average: 98.7
2013 Games Played: 20
Predicted Average: 105
Why should I pick him?
What a gift we have been given in 2014. Shake off that hang over and check this out.
Patrick Dangerfield is named a FWD/MID and will be one of the most selected players in 2014 because of his new status. By making Danger a forward, from the current list of AFL players, only Nick Riewoldt (avg. 103) sits above him and we'd never look at him, making Danger our #1 man in 2014.
Dangerfield is also (slightly) under-priced. After his break out season in 2012 where he averaged a very solid 102, Danger should be pushing that mark again and most likely exceeding it.
In 2013, Dangerfield knocked up 110+ in 30% of his games in and 20% of his games he went above 120+ with two scores in the "Swan Range" of 140+.
The devil on my right hand should is telling me that Dangerfield will sit forward a lot in 2014 and get restricted midfield time. My answer to that is simple. He's the Crows' best player. Your best player needs to sit in the middle to win the ball. The Crows have recruited James Podsiadly and Eddie Betts and with Tex on the way back, Danger will be fine.
To me, it's a dead set no brainer. After losing Stevie J and Rocky to the midfield this year we must jump on Danger and if you don't you are taking one mighty gamble.
Why shouldn't I pick him?
So why is Dangerfield named as a forward anyway and should we be concerned?
YES – we certainly should be says the devil on my right hand shoulder (who now has the keyboard). Teams in 2014 are going to be restricted to 120 rotations a game. Like many stars of the game they are going to need to be rested forward, not on the pine (plus side to this also).
Dangerfield said recently; "With the introduction of the interchange cap, I'll maybe spend a little bit more time down forward." BUT then he said…"Hopefully with 'Tex' (Walker) and Pods and Betts in the side, it's more of a midfield role." Arggg, there you go.
But for Paddy, goals do not always equate to big scores. He bagged 4 goals for 100pts in Rd. 4 against the Bulldogs. He then snagged 3 goals for 98pts in Rd. 10 and 4 goals in Rd. 19 for 98pts. Now he did have other big games where he bagged decent scores, but just as long as we are aware… Goals + Danger do not always equal monster scores.
Deck of DT Rating.
ACE – Yep, a bloody ACE. He will be the number #1 averaging forward in 2014 and starting with him is an absolute must! But it won't come without its odd headache either. In 2013, a quarter of his scores were under 80… but he still held his average of nearly 100. It's well known that Dangerfield is not a super DT scorer and more suited to that other game that rhymes with 'Cooper Roach'. However, he is a must so lock him in.
FOLLOW ME ON TWITTER: @CalvinDT because I can make your fantasy dreams come true
Loading ...