Fantasy Cycling for TDU – Plan Your Race
OK Cycling Pro-Tour Managers, we need to start planning our race strategy. Here is stage by stage analysis so we can start working out which types of riders we need to trade in as the race progresses.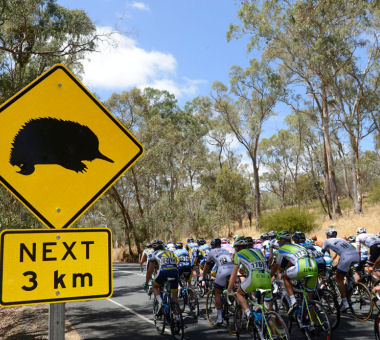 Only 2 weeks before this game opens, 3 weeks before the first race.  It's time to start getting our race plan together.
TDU have released updated stage maps with elevation profiles – you might like to look at them here.
http://www.tourdownunder.com.au/race-routes.htm
The table below summarises some of the information. The S and M waypoints are where riders get bonuses for being in front at various sprint or mountain locations along the route.  It is important to know where these waypoints are because often the group will break up as riders race ahead to chase the bonuses.  Then we are interested in whether a large group will reform before the end to make a bunch sprint finish.
The easiest stage to predict is Stage 6 – a flat curcuit race in the middle of Adelaide.  These are almost always a bunch sprint with the best inform sprinter winning – so probably either of the Germans Kittel (A-S) or Greipel (L-B).  The sprint guys will probably also fight out stage 4.  Stage 5 finishes with 2 climbs up Willunga Hill, so that will be won by climbers (maybe Gerrans (OGE) or Porte(Sky)).
So what will happen in the first 3 stages?  Well the teams with who won't win will chase sprint points and breakaways to get their sponsors logos into the media.  The teams with riders who can climb well but have enough speed to sprint away from the group at the end will be pushing a fast pace to chase down the breakaways and to drop Kittel and Greipel when the race goes uphill.  Oh and the GC winner will probably be decided in those first 3 stages as well.
We'll come back to these stages, but first a look at recent team announcements.  Here is a link to the current start list of team and rider names.  You might also like to start thinking about some fabulous puns to use to name your fantasy cycling pro-team.
http://www.tourdownunder.com.au/start-list.htm
Since my last article Europcar and Orica-Green Edge have announced their teams.
Orica-Green Edge Team announced
The Australian team Orica-Green Edge is of most interest to us.  This is their home race, they have their full squad (25 riders) training in Australia, but pick only 7 riders for TDU.  OGE will want to try and dominate this race against the other teams who haven't sent their strongest squads.  So who have they picked, or more importantly who have they not picked?
OGE have just signed a couple of good high mountain riders – Santaromita from Italy and Chaves from Columbia.  But they haven't picked them for TDU, instead they are sending them to Argentina for Tour de San Luis.  So what does this mean for us Fantasy Pro-Tour Managers.  Well, if OGE aren't picking their best climbers, then we shouldn't worry about spending big credits on pure climbers either – most of them have stayed away from TDU anyway as the hills are not that big.
So who have OGE picked.
Simon Gerrans and Daryl Impey (moderate climbers who can sprint a bit as well),
Simon Clarke (moderate climber, but can also go into breaks or ride solo ahead),
Matthew Goss and Michael Matthews (2 sprinters, Goss out of form maybe in decline, Matthews younger and in-form),
Luke Durbridge (current Aust time-trial and road race champion), and
Mathew Hayman (new signing – 35 year old Australian, 1 day racer who has been with Sky and Rabobank. OGE has named him as road captain),
What is their strategy going to be?  Well they have picked a team of riders who can all get over the TDU bumps without losing ground (except maybe Goss), and all ride at the front of the group pulling it along at a decent clip, and all ride in sprint trains at the end, with a few options for who takes the final sprints.  So I think their strategy is to treat the first 3 days as separate one day races, moving on at a decent clip, try and wear out a lot of the other riders, and then organise who attacks or sprints depending on who is feeling freshest when they get to the last 30kms.
What Have We Learned for Our Team Selections
Don't waste credits on pure climbers – this TDU isn't the race for them.
OGE have helped in one way by clarifying how the race will play out, and this suggests it might not be worth spending big credits for Greipel or Kittel early in the race.  Maybe trade one or both in for Stage 4 on.
It could be difficult deciding which OGE riders to pick as we can only select 2 riders from each team.  Probably best to wait till prices come out to decide.
The first stage is important because winners get extra points in effect because they get the leader's points was well.
For Fantasy Scoring we are better off trying to pick and trade riders who will score a lot of points in each stage.  The riders leading the various jersey competitions don't get many points, even if they win the comps at the end.
If you need to refresh on the various jersey competitions, or the likely fantasy scoring system then refer to the article from last week.
http://dreamteamtalk.com/2013/12/26/fantasy-cycling-for-tour-downunder/
That's it for next week.  Next article we will start to look at various riders.
Remember Bay Crits on this week in Geelong & Williamstown, Victoria.  Riders to watch Goss, Durbridge and Ewan.
Next week RoadNats – Australian National Road titles around Ballarat, Victoria.  Riders to watch:
Evans (BMC),
Porte & Sutton (Sky),
Gerrans, Durbridge, Goss, Clarke, Hayman, Matthews (OGE) [ i.e. all their TDU starters except South African Impey],
Dennis, von Hoff and Morton (Garmin),
Ewan (in U23 events) – (Uni of SA wildcard), and
Drapac squad.
Note – t

he Elite Mens Road Race will be live on SBS TV, January 12th.