Nathan Fyfe – Deck of Dream Team 2014
One day Nathan Fyfe is going to be in most of our teams, and probably with a C on him. Is he ready to take the next step to stand alongside Swan and Ablett in 2014?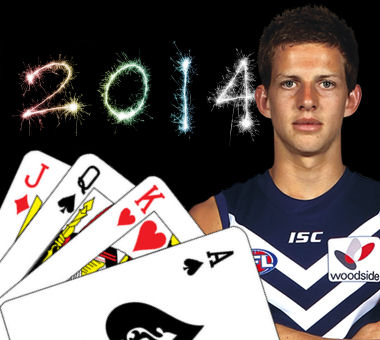 Name: Nathan Fyfe
Club: Fremantle Dockers
Position: Midfielder
AFL Fantasy: $530.900
AFL Dream Team: $535,100
Bye Round: 10
2013 Average: 98
2013 Games Played: 19
Predicted Average: 105
Why should I pick him?
One of the exciting things about playing fantasy sports is selecting a player before they break out. Even more satisfying in my opinion is selecting an already established player to take his game to the elite level. Now when I mean elite, I am talking about a 110+ average who you can comfortably put the C on. These guys are rare, as we know and it is interesting to see when the level jump occurred for our favorites: Gary Ablett (7th year after averaging 98 in his 6th year), Dane Swan (7th year after averaging 102 in his 6th). Truth be told, there are only a handful of players with the potential to be that good, and realistically, not many will get close enough to touch them, but this guy certainly has the ability to do it at some stage in his career.
Nathan Fyfe is an absolute freak at his best, but has not yet shown the consistent numbers to warrant selecting him at an already high price. Over his 4 year career, Fyfe has averaged 68, 98, 89 and 98 (more impressive that Swan and Ablett during the same period of their career), showing that he has the foundation to be an elite scorer as he further develops at the top level. Last year he managed 10 games over 100 out of the 21 he played, with a further 4 games in the 90s. He is starting to develop a good ceiling which was evident in his scoring of 112, 116, 128 and 131 throughout the year and he looks to have become one of the best players in the competition.
At his best, he looks like an unstoppable force as we witnessed vs the Eagles in round 16. In that game he racked up 30 touches, 8 marks, 4 tackles and a goal for an impressive 131. If this type of outing can occur more regularly, he may be knocking down the door of a high % of teams.
Why shouldn't I pick him?
In 2012, durability was a major concern with Fyfe, managing just 9 games for the season after a brilliant start in round 1 vs the Cats where he scored 124 with 30 touches, 6 marks, 8 tackles and 2 goals.
Looking at the history of other guns like Ablett and Swan, he will not take his average to the 110+ mark for a couple of years yet, meaning better value can be found elsewhere.
The biggest reason not to pick Fyfe is the tag. Although I have no doubt that one day he will be able to shake a tagger with ease, at this stage, despite often still playing well, he doesn't pump out big scores with the added attention. Last year he recorded sub par (for a premium) scores of 87, 86 and a really disappointing 77 vs the Demons.
Last year he recorded 7 scores under 90, which will need to improve to warrant selection.
Deck of DT Rating.
Queen – Due to the fact he is a gun, and naturally improving at this stage of his career, I think Fyfe is under priced. In terms of selecting him this year, it is a pretty hard sell as he is a hard guy to categorize. He is not yet ready to be the guy you throw the C to, and he doesn't offer the same value as guys who have reached those 110+ heights before in Marc Murphy and Jobe Watson. Keep an eye on his pre season, but at this stage, I think there is better value than his 5-8 average points per game increase.
FOLLOW ME ON TWITTER: @RoyDT for all things fantasy.